7 Most Affordable Places to Live in Ghaziabad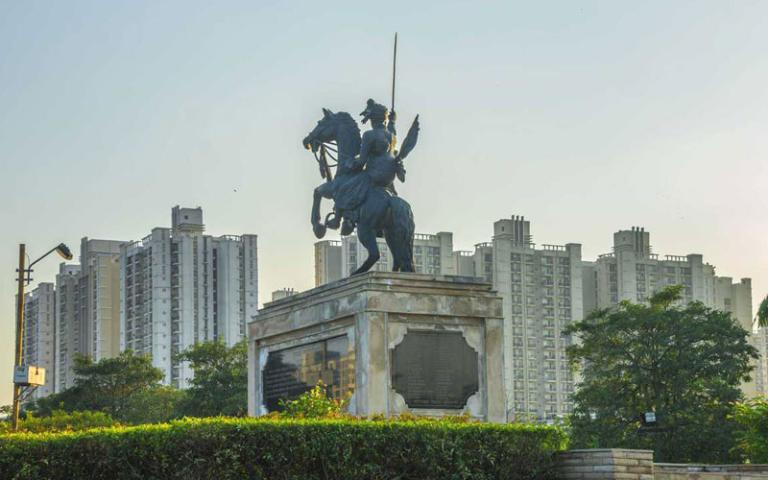 Woohoo! Planning to relocate in Ghaziabad, which is known as the second fastest-growing city in the world and the cleanest and beautiful city in NCR. Ghaziabad was earlier known the "Gateway of UP" due to its large and well-planned industrial city, good connectivity through roads and railways, and well-established commercial, industrial and educational center of western Uttar Pradesh and the presence of main rail junction for North India makes this city more suitable for all generation. As it is located nearby to the national capital, its rainfall and temperature are almost similar to Delhi.
Ghaziabad boasts of a massive number of top-class schools with many people from neighboring states growing here because of the best educational hub being set up here and making the future security of their dear ones. Ghaziabad has given great academic results from the last 5-6 years. That's the reason the literacy rate of Ghaziabad is almost 93.81%. Ghaziabad is the second most magnificent business city in Uttar Pradesh after Kanpur. Tyagis and Brahmins comprise of 1.2 lakh. Gujjars have nearly 80,000 votes in the voting demographic. Ghaziabad has lots of famous places in the city are Ghanta Ghar, Navyug Market, Sarai Nazar Ali Model Town, Gandhi Nagar, Nehru Nagar, etc. This city was connected with the Indian Independence Movement from the Indian Rebellion in 1857. During that resistance, there were savage clashes between the British and Indian sepoys on the banks of Hindon, and the revolutionaries checked the pushing British powers touching base from Meerut.
After Noida and Delhi, metro connectivity has been finally established in Ghaziabad, which connects all the city areas within Ghaziabad, which helps people to travel anywhere at quite affordable rates without investing too much time. To be very frank, Ghaziabad is slowly becoming one of the first choices of people when it comes to finding reasonable accommodation in a good and safe locality with all facilities available within the estimated budget.
When it comes to finalizing a perfect residential area in Ghaziabad, it's obvious you might get jumbled due to the increasing population, and you will fail to recognize which residential area will be more suitable for you and your important ones. The mission of people arriving in this city is in search of jobs or higher education, etc. at this prompt is what made it the most popular among the youths, and slowly it is gaining the attention of other people as well who want to find a better residence over here.
No doubt, finding a suitable residential area almost depends on your daily life requirement, but before signing your new home contract, you must have enough knowledge about the affordable and safe localities to be free from any future problems after shifting in your new home. We have seen several cases where people always use to be so confused due to lack of knowledge and time to make an inquiry about their new residential area, and at last, they use to sit tensed due to the wrong selection of the place. That why we have done in-depth research about the developed and economical residential localities in Ghaziabad, where you can restart your life with all the facilities and enjoyments available for your daily life survival near your doorstep.
---
Indirapuram
Indirapuram is one of the preferred and well planned residential area in Ghaziabad. This community has become famous mostly among working professionals in the IT hub, who prefer staying here due to the secure connectivity to Delhi and Noida. This area also has Metro connectivity running through, which helps people to stay well connected to all the areas of Ghaziabad as it is known for the best accommodation at competitive prices.
Essential places for daily requirements:
Schools: Cambridge School Indirapuram, JKG International School Indirapuram, Indirapuram Public School, Delhi Public School Indirapuram, Presidium School Indirapuram, and many more.
Companies: Magicvilla India, Orbit9 IT Solutions, SL IT Solutions Web Design Company, Nexcen IT Services P Ltd Big Data/Web/ERP, etc.
Hospitals: Shanti Gopal Hospital, LYF Hospital, AmiCare Hospital, Eternity Hospital, Shree Narayan Hospital, etc.
Places to visit: Swarn Jayanti Park, Hamara Holiday Pvt Ltd, Swarn Jayanti Park, etc.
Nearby Parks: Gyan Khand 1 Jogging Park, B N Tripathi Water Tank Park, Central Park, Niti Khand 3, etc.
Malls: Shipra Mall, Indirapuram Habitat Centre, Aditya Mall, Harsha City Mall, Brand Factory, etc.
---
Vaishali
Vaishali has developed as a significant residential option as Delhi continues to get jam-packed. This locality offers comparatively affordable apartments with the latest amenities and global standards. The areas in Vaishali that are closer to the metro line have not only registered a steep rise, but even rental costs are fast rising due to proximity to Noida-Greater Noida and Metro connectivity. This area has become more favorite due to the presence of top schools, hospitals, parks, malls, along with the metro network, which has increased relocation demand in Vaishali.
Essential places for daily requirements:
Schools: Sun Valley International School, KR Mangalam World School, Vanasthali Public School, Bal Vikas Public School, Vaishali Public Junior High School, etc.
Companies: Ingeniocity IT Services, ARS IT Solutions, Ruddersoft Solutions Private Limited, Spageo Technologies Pvt. Ltd, and many more.
Hospitals: Max Super Speciality Hospital, Chandra Laxmi Hospital, Sarvodaya Hospital & Trauma Centre, Paras Hospital, etc.
Religious Places to visit: Mahakaleshwar Mandir, Laxminarayan Temple, Durga Mandir, etc.
Parks for refreshment: Central Park, Children Park, Ambedkar Park, etc.
Malls: Mahagun Metro Mall, Shopprix Mall Vaishali, Super Shopping Centre, Angel Mega Mall, etc.
---
Vasundhara
Vasundhara is one of the most well-known residential areas in Ghaziabad with all the facilities necessary for the proper functionality of the city. Vasundhara is home to a large number of housing properties available at competitive budget categories. This area is also known as a brilliant place where lots of shopping malls, restaurants, Movie theaters, and more have been established where you can enjoy your time with your beloved ones.            
Essential places for daily requirements:
Schools: Seth Anandram Ghaziabadia School, Amity International School, Kidzee Learning Tree, Vanasthali Public School, Adharsheela Global School, The Modern School, etc.
Companies: Trendy IT Solutions, Sigma Mentors IT Solutions, Oaky Web Pvt Ltd, Prabhuti Systems Pvt. Ltd., Synergy Telematics Pvt Ltd, and many more.
Hospitals: Vasundhara Hospital, Jain Hospital and Research Center, Atlanta Mediworld, Naina Shanti Hospital, etc.
Places to visit: Swaminarayan Akshardham, Journey India Online Day Tours, Travelogy India, US Cinemas, etc.
Parks for recreation: Dr. Bhimrao Ambedkar Park, Aadarsh Park, Children's Park, etc.
Malls: Reliable City Center, Vishal Mega Mart, SG Beta Tower, City Mall, etc.
---
Kaushambhi
Kaushambhi is one of the reasonable residential locality which is well-connected through the Metro and rail connectivity and hence has been attracting home buyers. Professionals working around these areas always try to live in Kaushambhi as they get a perfect house at an affordable cost. Kaushambhi has a large number of hospitals, malls, parks, renowned schools, and healthcare facilities across Kaushambhi, which helps people to accommodations available nearby your home.
Essential places for daily requirements:
Schools: Ramagya Roots, Petals World School, Mother's Pride Kaushambi, Snuggles Play School, etc.
Companies: FineSoft Technologies, LoginAt Solutions Pvt. Ltd, Wish A Cloud, StoutWeb Pvt. Ltd., and many more.
Hospitals: Yashoda Super Speciality Hospitals, Kamal Hospital, Kamal Hospital, Indira IVF Ghaziabad, etc.
Places to visit: Pvr Edm, Swaminarayan Akshardham, Kamasin Devi Temple, Ghoshit' Ram Vihar, etc.
Nearby Parks: Kaushambi Park, Dabur Park, GDA Public Park, etc.
Malls: East Delhi Mall, Angel Mega Mall, Wave Mall Kaushambi, etc.
---
Crossings Republik
Crossings Republik has homes ready for you at decent rates, and hence it has become a popular choice for those looking for affordable homes in Ghaziabad. Situated on National Highway NH-24, this integrated city project is well planned and offers all modern-day facilities with schools, banks, post offices, malls, hospital metro, hotel, police station, fire station, etc.
Essential places for daily requirements:
Schools: Sapphire International School, Gurukul The School, EuroKids Pre-School Crossings Republik, Sunikot High School, Millennium Kids Daycare Crossing Republik, etc.
Companies: IT Piller Technologies, iSaptarshi Technologies, Mac Systems, SiiT Group, Wantro, and many more.
Hospitals: Valentus Prakash Family Health Clinic, Adyan Ultrasound, Pari Hospital, Vrindavan Hospital, etc.
Parks for refreshment: GH-7 Park, Crossing Republik Green Belt, L block park, etc.
Malls: Panchsheel Square, Crossing Republik Mall, Smark Mart, The Core Mall, etc.
---
Nehru Nagar
Nehru Nagar is a suburb located in Ghaziabad and is close to many other areas of Ghaziabad. Nehru Nagar is one of the developed locality with the presence of several reputed educational institutions, hospitals, shopping areas, and recreational centers. There are several residential projects in the area, including SVP Group Krishna Kunj and SVP Group Gulmohar Enclave, and that's the reason property price is quite affordable in Nehru Nagar as compared to other areas.
Essential places for daily requirements:
Schools: Holy Child School, Sanskar Public School, Sushila Model School, Gandhi Ideal School, Donna Bell School, Sunder Deep Global School, and many more.
Companies: Vitarka Solutions, iYaSoft Solutions Inc., Cloudwev Technology, Espesima Technologies, etc.
Hospitals: Yashoda Hospital, Bansal Hospital, Sudarshan Hospital, Pannalal Shyamlal Hospital, Lions Eye Hospital, Lokpriya Hospital, etc.
Parks for recreation: Gandhi Nagar Park, Kavita Park, Shiv Park, RDC Park, B-block Park, etc.
Malls: The Opulent Mall, Mahaluxmi Mall, Reliance Trends,  Max Fashion, etc.
---
Raj Nagar Extension
Raj Nagar Extension is one of the preferred residential areas of Ghaziabad. This area is also known as active educational institutes and commercial centers with various top universities; that's why it has become one of the best choices for students and office-goers.
Essential places for daily requirements:
Schools: Parevartan School, CSHP Memorial Public School, Silver Pearl Pre School, Presidium School Raj Nagar, S D Public School, etc.
Companies: SEO Company GZB, Mexcellent Software, Bitsatom Technologies Private Limited, Jyolab IT Solutions, IT Perfect Solutions, and many more.
Hospitals: Apex Healthcare And Research Centre, Navjeevan Hospital, Avamed Hospital, etc.
Nearby Parks: KDP Park, SCC Heights Park, B Block Park, etc.
Malls: VVIP Style, KW Delhi 6, Migsun Migente Mall, Fashion feets, etc.
---
We agree that finding a perfect and affordable residential area in Ghaziabad is quite challenging tasks, because of a growing everyday population due to which the charges of properties are also increasing promptly. That's why we have done comprehensive research and found some of the top suburban areas to live in Ghaziabad, where you can have all the amenities needed for daily life. You will also love to visit famous places, or you can also do some exercises and meditation to be always fit in the nearby located parks. Now, we hope that the areas as mentioned above, and the critical guidelines will help you to select an appropriate dream residence where you can enjoy your life with your dear ones happily.