Retirement Plans? Best Cities to Move to for the Longest Vacation of Your Life
The best cities in India for retirees and senior citizens.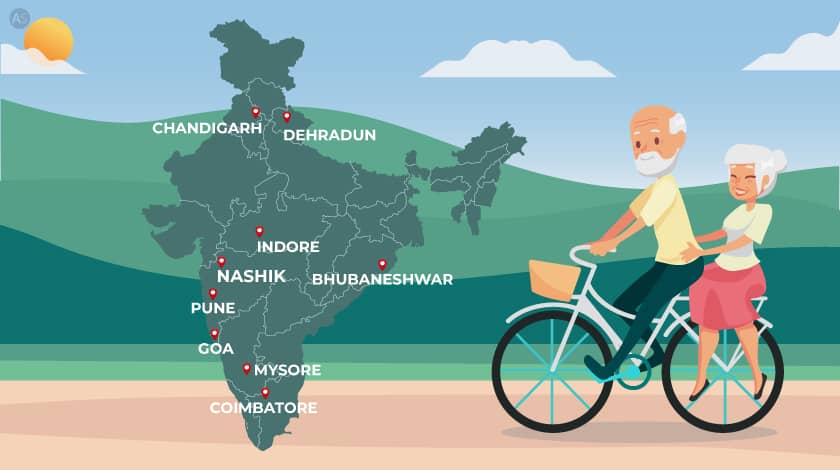 Retirement is one long vacation. It is your reward for a lifetime of hard work and where you spend it can make or break it. You really don't want to be spending it in the congested, crowded and polluted spaces of big cities, where life doesn't wait for anyone. You will want to find a city which is almost hazy and sheepish.
Vast green spaces, a very sociable atmosphere, moderate living expenses and a slow pace are some of the characteristics you will want in a city you are planning to retire in. You want to get away from the hustle and bustle of city life that has dominated your career. Keeping that in mind, these are the best cities in India to settle down in when you are retired.
Mysore
Mysore is a retiree's paradise and the best city in India to settle down in once you are done with your career. It isn't crowded, quite inexpensive to live in, has facilities that rival any metropolitan city in the country and wide green spaces that you will fall in love with at first sight. It is extremely safe and well administered, you also have access to world-class medical facilities and suburbs that don't cost an arm and a limb while providing every amenity you want as a senior citizen.
Nashik
The quaint Maharashtrian town of Nasik is a hidden gem for retirees. Nestled among the hills, it has great weather, and the citizens have an innate respect for the elderly in the city that makes it one of the most favoured destinations in the country for retired personnel. In contrast to big cities, this small town has excellent air quality and is clean to a fault. It is also well-connected to the rest of the country and has great medical facilities.
Chandigarh
Chandigarh is a great city to live in, especially for families and it gets even better for senior citizens. It isn't large or crowded, it has excellent hospitals and parks and a moderate climate to boot. It has numerous clubs that retirees can go spend their evenings in. The city also boasts some of the lowest crime rates in India.
Bhubaneswar
Bhubaneswar is another city that people don't speak of as a wonderful place to live in but should be included in the dialogue. This little town in Odisha has the lowest electricity rates in the country and is given the title of World Bank Model City. A unique aspect of this city is its rich cultural heritage. There is not a single boring day in the city and add amazing healthcare and breathtaking scenic views to this, you get a retiree's haven.
Dehradun
Dehra Dun is known for its upscale education institutions and tourist attractions more than anything but the city is also one of the best destinations in India for senior citizens. World-class healthcare, low cost of living, friendly neighbours and a home surrounded by picturesque mountains, what's not to like about this city in Uttarakhand?
Coimbatore
Living among the towering Nilgiris should be a great way to spend your retirement, don't you think? That's exactly what you get from Coimbatore. That and a number of other things like great infrastructure, brilliant healthcare facilities, well-connected airport and railway services and climatic conditions that are as erratic as a stone.
Pune
Pune is one of the best cities to live in India, period. Whether you are a career-oriented individual or a person looking to raise a family or a senior citizen ready to live behind the crowded spaces of whichever big city you hail from, the city has something for everything. World-class healthcare, extensive public transport, lush green spaces and a moderate cost of living are what define this city. So, it doesn't come as a surprise it does well in the ease of living index.
Goa
What's not to like about Goa? That's a rhetorical question, there's nothing we don't like about the place, except perhaps the weather. With beaches lined with golden sands, colonies that were specifically designed for retirees, infrastructure that can rival pretty much any city in India and excellent health care, it is definitely the place to go to if you want to spend your retirement 'chilling,' as the kids nowadays call it.
Conclusion
If you are retiring soon and are currently making your retirement plans which include relocating to a more scenic and peaceful town, you aren't short of options. Any of the cities listed in this blog meet these aspects and also provide the infrastructure and healthcare that you will need as a senior citizen. So pick one that you like and enjoy your big vacation!