Moving to Delhi? Here are The Pros and Cons You Need to Know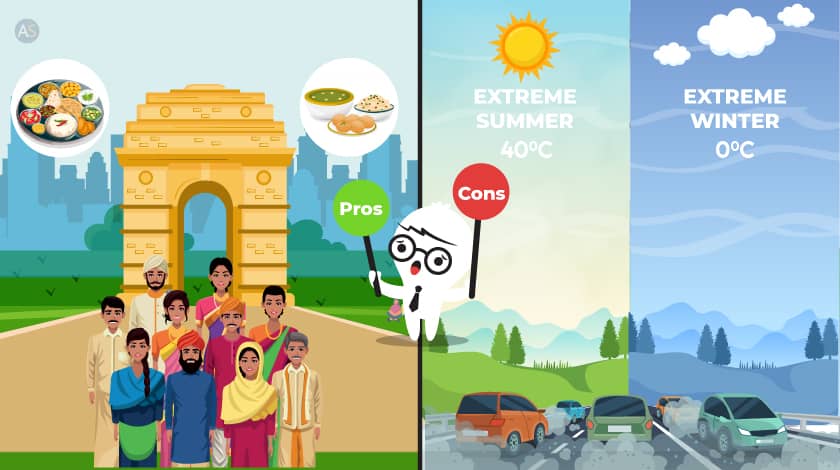 Delhi, the seat of power of the national government and one of the largest cities in the country is a dream destination for many. The city has endless career opportunities for work-oriented youngsters, plenty of educational institutions, parks and infrastructure for families and excellent medical facilities and communities for retirees and senior citizens. The city seems to have something for everybody.
If you are planning to move there, there you might want to check the downsides of Delhi as well, since it is not entirely sunshine and rainbows. This blog lists out some of the pros and cons of moving to Delhi and living there, so that you understand what is great and what is not about life in the Capital City of India.
Pros
Diversity
Delhi is a melting pot of cultures, languages, and traditions. It offers a diverse range of experiences, from its rich history to its bustling markets, and from its street food to its fine dining. You can also meet people from different parts of India and the world, making it a great place to broaden your horizons and learn about different cultures.
Career Opportunities
Delhi is a hub for various industries, including finance, IT, media, and healthcare. It also houses many government organizations, international businesses, and start-ups. This makes it a great place for job seekers and entrepreneurs to explore new opportunities and expand their horizons.
Infrastructure
Delhi boasts a well-developed infrastructure, including an efficient public transport system, an extensive road network, and a world-class international airport. It also offers modern amenities like high-speed internet, shopping malls, and entertainment centres. This makes it easy for residents to get around and access essential services.
Food
Delhi is famous for its delicious street food, which includes chaat, chole bhature, kebabs, and biryani. It also offers a wide range of international cuisine, including Chinese, Italian, Thai, and Japanese. The city has some of the best restaurants and cafes, making it a foodie's paradise.
Tourism
Delhi is a popular tourist destination, with historical landmarks like the Red Fort, Qutub Minar, and India Gate. It also houses various museums and art galleries that showcase the rich history and culture of the city. The city offers plenty of opportunities for sightseeing and exploring, making it a great place for adventure seekers and history buffs.
Cons
Pollution 
Delhi is infamous for its high levels of air pollution, which can cause respiratory problems and other health issues. This is due to various factors, including vehicular emissions, industrial activity, and crop burning. The city's air quality has improved in recent years, but it still remains a major concern.
Traffic
Delhi's roads are notoriously congested, especially during rush hours. This can make commuting a challenging and time-consuming task. The city's public transport system, while efficient, can also get crowded during peak hours.
Cost of Living
Delhi is one of the most expensive cities in India, and the cost of living can be high. Housing, food, and transportation can be expensive, and the city's high standard of living can make it difficult for some to afford a comfortable lifestyle.
Safety
While Delhi is generally safe, it's important to take necessary precautions to avoid becoming a victim of crime. Petty theft and pickpocketing are common in crowded areas, and women can sometimes face harassment on the streets.
Weather
Delhi experiences extreme weather conditions, with hot summers and cold winters. Temperatures can soar to over 40°C in the summer months, and drop to below 5°C in the winter. The city also experiences heavy rainfall during the monsoon season, which can cause flooding and traffic disruptions.
Conclusion
Moving to Delhi can be an exciting and challenging experience, with its mix of culture, history, and modern amenities. However, it's important to consider both the pros and cons of living in the city before making a decision. While the city offers numerous opportunities for career growth, cultural experiences, and adventure, it also has its fair share of challenges. By considering these factors and taking necessary precautions, you can make the most of your time in Delhi.