Good And Bad Things About Living In Delhi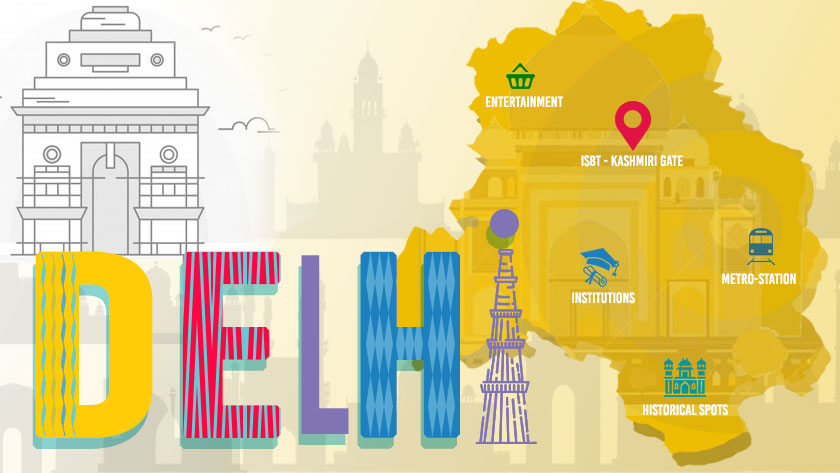 Are you thinking about moving to the national capital of India "Delhi"? If YES, know some things about living in the capital city, before you make a relocation. Delhi has been the best-loved living place for most people in the country with a rich culture and history. It is the pulse of the nation and it is one such city that could teach you more than what an education could provide.
It has more options for jobs, businesses, education, entertainment, historical spots, religious places and for many other things. There is a large inflow of migrants over the years from other cities, states and other countries. Here are some good and bad reasons about living in this great city.
Good things about living in Delhi
National and political capital
Delhi has been the national capital of India, for centuries. However, it was officially formed as the capital of India in 1911, as the union territory in 1956, and as National Capital Territory (NCT) in 1992. For more details, refer this link: Delhi. Delhi includes Noida, Greater Noida, Ghaziabad, Faridabad, Gurgaon, Baghpat and Sonepat as National Capital Regions (NCR) with most modern settlements.
Because of its centered location, it pulls more people from all regions of the country. The total population of Delhi NCR in 2019 is estimated around 60 million. To know more, refer this link: Delhi Population.
It is also considered as the political capital of India. All the Government and political bodies such as Rashtrapati Bhavan, Parliament, Red fort, North and South Block, etc, are being functioning in the city. Delhi is the home for many good politically conscious politicians and citizens. There are lots of political parties in the city.
The major ones like Barathiya Janatha Party (BJP), Indian National Congress (INC) and Aam Admi Party (AAP), determine their ruling power through the elections conducted by Election Commission of India. Political meetings and celebrations are conducted at these places with the party leaders and ministers gathering from all over the country.
The people and their multicultural events
Generally, the people of Delhi are sweet, friendly and helpful. The city represents the country's diversity on having many people communities with different castes and religion. On the Independence Day, the Prime Minister of India addresses the nation from the Red Fort and many people celebrate this day by flying kites all around the city to express their symbol of freedom.
The city is very popular for conducting large protests and expressing its pain against any injustice or unlawful acts of people such as gang rape, murder, political party, corruption, etc.
Most of the festivals are celebrated with excitement together by the people in Delhi and it is known for its complex culture. Religious festivals like Diwali, Mahavir Jayanti, Buddha Jayanti, Moharram, Eidul-Fitr, Krishna Janmastami, Chauth, Holi, Durga Puja, and Christmas Guru Nanak's Birthday are celebrated every year. Even, some of the greatest weddings in the world are conducted in the city, with a huge list of guests.
Jobs and businesses
The city provides some large tycoons for growth and for onsite opportunitie. It has more job opportunities in various sectors such as Government, private, manufacturing, oil and gas, automobile, television, entertainment, textile industries, education, food and beverage, hotels and restaurants, engineering, research and development, IT, ITES and other multi-national companies.
Among the NCR regions, Noida and Gurgaon are the major hubs for multinational companies and its services. According to a news report, there are almost 1.3 million unemployed people living in the capital. To know more, refer this link: Unemployed graduates in Delhi.
Delhi is also the best city to start a new business. The powerful consumer market is always ready to invest more in the valuable assets such as real estate, commercial market, precious stones and metals, imports and exports, etc.
Now, the city has modified into a shopper's place and visitors today, find fashionable and artistic conscious city along with Indian, Chinese and American brands. The developments in the city for past two decades have made some people richer. For new business opportunities in the city, refer this link: Business ideas to start in Delhi.
Education and institutions
The city is very famous for offering high-end education and top-level educational institutions for students. It has a literacy rate of 86%. To know more, refer this link: List of literacy rate. Some of the premier institutions in Delhi are Delhi University, AIIMS, IIT, Delhi Technological University, GGSIPU, Jamia Millia Islamia, etc. It makes the best city for education in India with almost 6000 schools. 
Historical spots and monuments
Delhi is the home for lot of amazing historical monuments, mesmerizing structures, tombs and forts, which say something significant about the city. Some of them are Parliament House, India Gate, Old Fort, Qutub Minar, Red Fort, Humayun's Tomb and Rajghat, which lets tourists and visitors find about the rich cultural heritage of the city. Know more on Delhi Tourism.
The Mughals have built many monuments that tell many stories about their origin and their religion with complex architectural work. Hauz Khas village is a peculiar place for enjoying the evening with energetic music, rooftop cafes, exotic food and variety of drinks. Hauz Khas Fort is also a wonderful spot for taking pictures and enjoying photography.
Religious or spiritual places
Delhi city is a religious hotspot that features many temples, mosques, churches and gurudwaras. All these spots are visited by locals and tourists from other parts of the country and the world, without any spiritual discrimination. Some popular religious spots to visit in Delhi are:
Temples: Kali Mandir (Chittranjan Park), Bhairon Temple, Hanuman Temple (Connaught Place), Hanuman Mandir (Jhandewalan), Jhandewalan Mandir, Kalkaji Temple, Sai Baba Mandir, Chhatarpur Mandir, Shri Jagannath Mandir, Digambar Jain Lal Mandir, Lotus Temple, Akshardham temple and Gauri Shankar Temple.
Mosques: Hazrat Nizamuddin Auliya Dargah, Jama Masjid, Fatehpuri Masjid, Moth Ki Masjid and Chiragh I Delhi Dargah.
Churches: The Cathedral Church of the Redemption, St. Stephen's Church, Central Baptist Church and Cathedral of the Sacred Heart.
Gurudwaras: Gurudwara Bangla Sahib, Gurudwara Sis Ganj, Gurudwara Majnu Ka Tila, Gurudwara Nanak Piao and Gurudwara Rakab Ganj.
Shopping and an entertainment hub
The capital city of India is even famous for cheap and reasonable shopping conditions. It contains lot of areas where you can purchase things at affordable costs. Some famous spots in Delhi are Chandni Chowk, Lajpat Nagar, Kamla Nagar, Janpath, Karol Bagh, Delhi Government's emporiums and Sarojini Nagar.
Chandni Chowk is now a crowded wholesale market and this place is also famous for its street food varieties. Then, take a walk by the lanes to the nearest Wedding Market. All the markets and big malls in Delhi are flooded with variety of goods. You could bargain for cheaper rates at Sarojini Nagar, Janpath or Khan Market.
If you are a craft and art lover, visit to DilliHaat, which is a large craft store and open food plaza spread over 6 acres in the city. It looks like a classic village and you can explore an array of artifacts, handicrafts and cultural traditions from various states of the country.
Less priced and delicious street food
Many people love Delhi for its varieties of mouthwatering and delicious street food. Dishes such as spicy chaat, golguppas, hot aloo tikki, fresh samosa, chilling kulfi, momos, juicy tikkas, biryanis and stuffed paratha covered with butter are very popular in Delhi. There are number of eating joints and stopovers in the city, where people only visit to try tasty local food varieties.
Delhi is also popular for roasted and fried tandoori kebabs. Hot mutton shaami, mutton seekh and chicken tikka are the excellent kebab varieties available at Defence colony market or Qureshi's in Alaknanda. Shahjahanabad, well known as Old Delhi, is also famous for its aloo tikki, pav bhaji, kebabs, etc.
Chandni Chowk is also a heaven for street food, as you can find different dish varieties like fried crisps, papdichaat at Natraj DahiBhalleWallah, deep fried dough at Jalebiwallah, sweets, etc. There is narrow lane around the corner from Jalebiwallah with very old restaurants who are experts in preparing different varieties of stuffed parathas. If you want to experience a midnight drive and taste great food varieties, visit Murthal, an ideal spot located near the city on the way to Sonipath.
Museums, parks and gardens
Delhi is even popular for its great museums like National Museum, Philatelic Museum, Indian Air force Museum, Shankar's International Dolls Museum, National Science Centre, Nehru Planetarium, Kiran Nadar Museum of Heart, National Rail Museum, Tibet House, Indira Gandhi Memorial Museum, National Handlooms and Handicrafts Museums, National gallery of Modern Art, National Gandhi Museum, Archaeological Museum and Indian War Memorial Museum and many more.
The famous parks and gardens in Delhi are Lodhi Gardens, Buddha Jayanti Park, Japanese Park, National Rose Garden, Deer Park, Central Park at Rajiv Chowk, Garden of Five Senses, Jahanpanah City Forest, Indraprastha Park, Talkatora Gardens, Swarn Jayanti Park, Mughal Garden, Nehru park, Children's park and Yamuna Biodiversity Park. Thousands of people and tourists visit these places each day to spend their leisure time.
Metro and other transportation
Being one of the most crowed cities in India, Delhi has good connectivity of transportation. The famous Delhi Metro known as "Delhi's Lifeline" provides fast, cheap, clean, safe and comfortable journey around the city. It has been proven to be the best means of public transport in the country.
The next good means of transport are auto rickshaws and they offer economical and convenient way to move around the city at very cheap costs. Apart from metro trains and auto rickshaws, there are cycle rickshaws, private taxis, DTC (Delhi Transport Corporation) buses, ring railways and highways for transportation.
Additionally, there are 3 airports in Delhi known as Indira Gandhi International Airport (Palam), Safdarjung Airport and Hindon Airport. 
Weather and climatic conditions
The subtropical climate of the city is good and enjoyable. Delhi people are used to bear 45°Celsius during summers as well as 1°Celsius during winters. In spring, only during 4 days of the year, the city looks beautiful with flowering trees and scented breezes. The remaining days are experienced with the seasons like smog, extreme heat, terrific cold and rain. 
Delhi is also considered as the second most avian rich city in the world as you can find lots of birds all over the city. It is also the leafiest cities in Asia with huge forested parks like Jamali Kamali with medieval ruins.
Bad things about living in Delhi
Even though, Delhi is popular and good for many things, it has some bad and negative things as well. Some of the bad things you could possibly hate about the city are:
Most of the city looks dirty and the air is also not clean.
It is mostly over-crowded, and few people have no good manners.
The city is always noisy and polluted with a huge traffic. Delhi tops 4th on the list of worst traffic flow in the world. Refer: Mumbai tops the list of worst traffic flow in the world.
Accommodation and real-estate prices are too costly.
During summer, the city will be too hot whereas in winter, it will be too cold with fog.
Although, Delhi is the capital city and highly secured, it lacks in safety for women.
Beside these few drawbacks, Delhi is a lovely place to live and enjoy your life on your terms.