Kochi: Your Ultimate Guide to Living in God's Own Country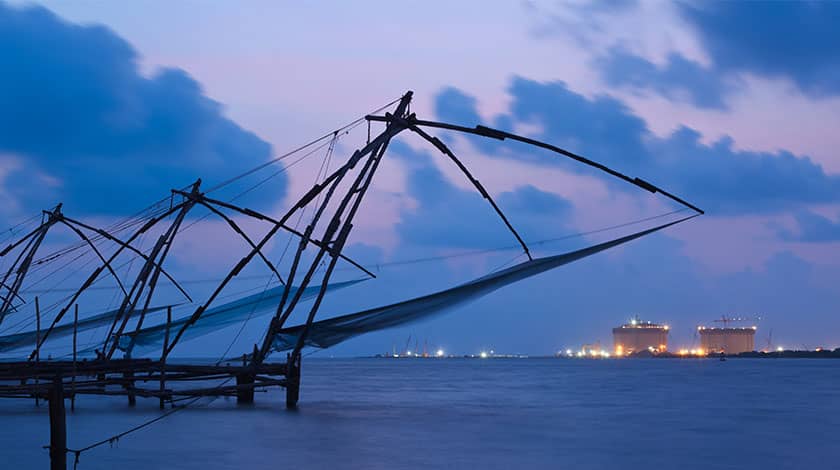 If you're considering moving to Kochi, the commercial capital of Kerala, get ready to be amazed! Kochi is a dynamic city that perfectly combines tradition and modernity, featuring beautiful backwaters, colonial heritage, and mouth-watering cuisine. 
But, before you start packing, it's essential to have a plan. Moving to a new city can be stressful, and there are many things to think about, such as finding a place to stay and figuring out the transport system.
Don't worry, though, because we've got you covered! In this blog post, we'll give you a complete guide to moving to Kochi. No matter who you are - a student, a young professional, or a family - our guide will help you get the most out of your move to this stunning city. So, sit tight, relax, and let us help make your move to Kochi as easy as possible!
Climate
Kochi's weather is a mix of hot and humid, with heavy rainfall from June to September. During monsoon season, flooding can occur. The city experiences a tropical monsoon climate with temperatures ranging from 20°C to 35°C throughout the year. But, if you prefer cooler weather, visit during the winter months (December to February), where temperatures drop slightly to 20°C to 32°C.
Transportation
Kochi has a well-developed transportation system, with several options available for getting around the city.
Bus: The public bus network in Kochi is operated by the Kerala State Road Transport Corporation (KSRTC) and private operators. The buses are an affordable and convenient mode of transport, with regular services available to most parts of the city.
Auto: Autos, also known as tuk-tuks or rickshaws, are a popular mode of transport in Kochi. They are easily available and can be hailed from the roadside. However, it's important to negotiate the fare before getting in, as autos in Kochi do not have meters.
Metro: The Kochi Metro is a rapid transit system that connects various parts of the city. The metro operates on a single line and covers a distance of 25 km, with 22 stations.
Cab: Cabs, including both traditional taxis and ride-hailing services like Uber and Ola, are readily available in Kochi. They are a convenient and comfortable mode of transport, but can be relatively expensive compared to other options.
Ferries: The ferries in Kochi are an affordable and scenic way to get around, with services running from early morning until late at night. The Kerala State Water Transport Department (KSWTD) operates a network of ferry services that connect various parts of the city, including Fort Kochi, Vypeen Island, and Willingdon Island.
Railways: Kochi has a well-connected railway network, with trains running to and from major cities in India. The two major railway stations in Kochi are Ernakulam Junction and Ernakulam Town.
Airport: Kochi has an international airport, Cochin International Airport, which is located about 30 km from the city center. The airport is well-connected to major cities in India and several international destinations.
Accommodation
Kochi offers a variety of accommodation options to suit different budgets and preferences. The most common types of accommodation available in Kochi are apartments, flats, PGs and independent houses.
Rental prices in Kochi vary depending on the location, size, and amenities of the property. Some popular areas for accommodation in Kochi include Kakkanad, Vytilla, Panampilly Nagar, and Marine Drive. These areas are well-connected, and offer easy access to essential amenities such as supermarkets, hospitals, and schools.
In addition to long-term rentals, there are also several short-term accommodation options available in Kochi, such as serviced apartments and guest houses. 
Overall, finding suitable place for accommodation in Kochi is relatively easy, and with a little research, you can find a place that meets your requirements and fits your budget.
Food
Kochi is a paradise for food lovers, with a wide range of delicious cuisines to choose from. The city is known for its seafood, and you'll find a variety of dishes made with fresh catches from the Arabian Sea. From traditional Kerala dishes like fish curry and appam to international cuisines like Chinese and Italian, Kochi has something to offer everyone.
Some popular local dishes to try in Kochi include puttu and kadala curry, a breakfast dish made with steamed rice flour and chickpea curry, and thoran, a vegetarian dish made with vegetables, coconut, and spices. For non-vegetarians, the spicy and flavorful beef fry is a must-try.
Kochi also has a thriving street food scene, with vendors selling everything from savory snacks like samosas and vada pav to sweet treats like jalebi and falooda.
If you're in the mood for something more upscale, there are plenty of fine dining options in Kochi as well, with many restaurants offering a fusion of local and international cuisines.
Language
Kochi's official language is Malayalam, spoken by the majority of the population in Kerala.  However, due to its cosmopolitan nature and history as a port city, Kochi has a diverse linguistic landscape, with several other languages being spoken and understood.
English, Hindi and Tamil are widely spoken and understood, especially in tourist areas and by the younger generation who have migrated to Kochi from other parts of India for work or study.
Besides these languages, various regional languages are spoken by different communities in Kochi, such as Konkani, Tulu, and Gujarati. Many people in Kochi are multilingual and can speak more than one language fluently.
Language is not a significant barrier in Kochi as most people are comfortable communicating in multiple languages.
Culture and Entertainment
Kochi boasts a fascinating blend of history and culture, and there is no shortage of cultural attractions to explore. The city is renowned for its picturesque beaches and backwaters, which offer an abundance of outdoor activities, such as boating and fishing. 
In addition, Kochi is home to several malls that cater to all entertainment needs, including shopping, dining, and cinema. The largest mall in India, Lulu Mall, is situated in Kochi, alongside various multiplexes and theaters that showcase the latest Bollywood and Hollywood releases, as well as regional films and art-house cinema.
Music lovers will find Kochi to be a haven, with both local and international artists performing at numerous venues across the city. Throughout the year, Kochi hosts several festivals, such as the Cochin Carnival and the Kochi-Muziris Biennale, which celebrates contemporary art, music, and dance.
Kochi's performing arts scene is also thriving, with several theaters and performance spaces showcasing a diverse range of genres, including theater, dance, and comedy. The Kerala Folklore Theater and Museum is a must-visit for those interested in traditional performing arts, showcasing the rich cultural heritage of the region.
Healthcare
Kochi has a well-developed healthcare system with a mix of public and private hospitals and clinics. The government-run hospitals in Kochi are the General Hospital and Medical College Hospital, which offer affordable medical services.
There are also several private hospitals and clinics in the city, such as Aster Medcity, Amrita Hospital, Lakeshore Hospital, etc., which provide advanced medical treatments and facilities. These private hospitals are more expensive than the government-run hospitals, but they offer higher quality medical care.
Overall, healthcare in Kochi is of a high standard, and the city has a well-developed healthcare system that caters to the needs of both locals and visitors.
Education
Kochi is home to a wide range of educational institutions, including schools, colleges, and universities. 
In terms of primary and secondary education, Kochi has several well-established schools that follow different educational boards such as the Central Board of Secondary Education (CBSE), Indian Certificate of Secondary Education (ICSE), and Kerala State Education Board. Many of these schools have a strong academic record and offer excellent facilities and extracurricular activities.
Kochi is also home to several renowned colleges and universities that offer undergraduate and graduate programs in various fields. Some of the top institutions in the city include Cochin University of Science and Technology (CUSAT), Rajagiri College, NUALS, etc.
Overall, Kochi offers a vibrant and diverse educational landscape, making it a great destination for students of all ages and backgrounds.
Also read: Cost of living in Kochi
Conclusion
Moving to Kochi can be an exciting and fulfilling experience. The city's rich cultural heritage, breathtaking natural beauty, and modern amenities make it a great place to call home.
We've crafted a comprehensive guide to equip you with everything you need to ensure a seamless transition to Kochi. From housing and transportation to healthcare, education, food, and entertainment, we've got you covered. So, dive in and discover all the vital information and resources you need to settle down in this vibrant city, and savor all the unique experiences it has to offer!