The Complete Guide To Pack And Move Your Kitchen Properly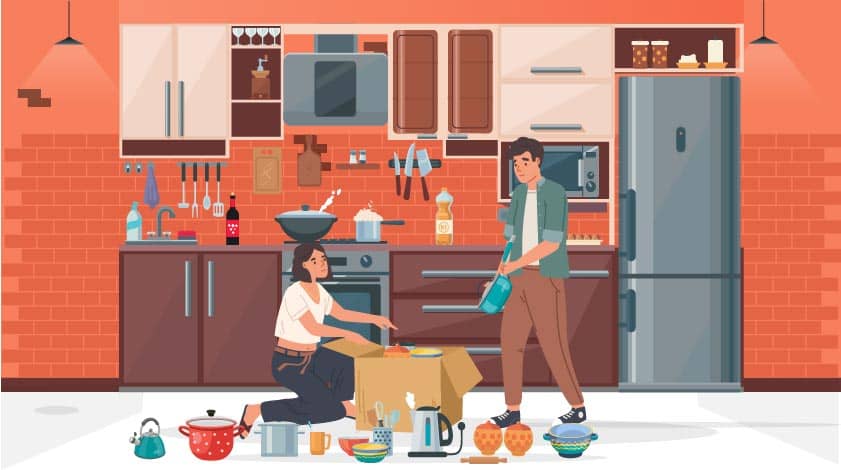 Packing kitchen for your upcoming move could be a daunting experience; it's the most difficult room in your entire home with lots of cabinets, different types of items, and so many other things. A slight mishandling will damage your favorite crockery or appliance. 
Home shifting becomes much easier when you properly plan and know how to pack your kitchen items. Don't worry; we've got your back. We have done enough research to provide you with the complete kitchen packing and moving guide.
Read the article to know how to categorize your kitchen items, how to declutter unwanted items, properly clean your kitchen items, how to pack, move, and unpack them. 
---
Step 1: Categorize Your Kitchen Items
Utensils
Containers (Large containers, Medium containers, Small containers, Spice box, Oil dispenser, Salt & Pepper shaker)

Steel Utensils (Kadai, Cooker, Cooking pots, Milk pan, Pans, Plates, Spoons, Glasses)

Non-stick Utensils (Tava, Frypan, Saucepan, Kadai)

Ladle & Spatula 
Cutlery
Appliances
Fridge

Microwave

Water filter

Kettle

Induction Stove

Dishwasher

Toaster

Egg boiler

Sandwich Maker

Blender

Mixer

Grinder

Electric Cooker

Exhaust Fan
Gas Appliances
Cylinder

Gas Pipe

Gas Regulator

Gas Stove
Pantry Items 
Masala & Spices (Raw & Powdered)

Dal & Pulses

Atta, Rice, Oil

Packed food items (noodles, pasta, instant soup) 

Bottled food items (Health drinks, Ketchup, Spreads, Mayonnaise, Juice)
Fresh Items
Fruits and Veggies

Dairy (Milk, Curd, Butter, Cheese)

Egg 

Idly/ Dosa batter

Paste (Ginger garlic, Tamarind, Tomato)
Fragile Kitchen Items
Glassware (kitchen containers, microwave cookware, bakeware) 

Ceramicware (coffee cups & mugs, dinner set) 
Silverware 
Other Kitchen Items
Wisker

Greater 

Tong

Measuring Cups

Chopper

Mortar and Pestle 
Get instant free quote from professional packers and movers for a secure and smooth kitchen Shifting
Step 2: Declutter and Clean Your Kitchen Items Before Packing
#1 Utensils
How to declutter: Firstly, sort out all the broken, damaged, or extra utensils you have in your kitchen and declutter all the items. Packing and moving these unwanted items will just add additional stress while moving. 

How to clean: Utensils like kadai, cooker, cooking pots, plates, ladle, non-stick utensils, or others will be used on a regular basis; it won't require much cleaning. Wash your vessels and kitchen containers, as usual with dish wash soap and water, wipe them with a dry cloth.
#2 Kitchen Appliances
Check the working condition of your appliance & electronics and other devices that have been unused.
Sort out the appliances that you no longer need; sell the usable ones online on OLX, Quikr, etc., and dispose of those that are not working.
Follow the below hacks to clean the rest of the appliances that are finalized for moving:
Fridge: Dispose of any rotten fruits, vegetables, or spoiled food items. Remove shelves and wipe your fridge with a wet cloth. Defrost your fridge overnight and keep a few lemon slices to get rid of bad odour.

Microwave: Remove the rotating plate and spray a mixture of baking soda, lime juice & water, inside & outside the oven; let it sit for some time. Gently scrub away oil & masala stains and wipe it thoroughly. 

Exhaust Fan: Make sure you have unplugged your fan. Mix baking soda and toothpaste, and apply it all over the exhaust fan, let it sit for some time, then scrub the tough oil stains away by using lemon, and wipe it off using a dry cloth. 

Water Filter: Read the instruction manual to know the cleaning process of your RO purifier. Spray cleaning liquid on the outside to wipe away dirt; empty the filter & unmount it.

Other Appliances: Small kitchen appliances can be replaced with multipurpose appliances, e.g., multipurpose mixers can replace regular mixers, grinders, juicers, blenders, etc; likewise, you can replace your Coffee maker with a 2-in-1 Coffee-Tea maker. These small appliances don't require much cleaning; still, read the user manual once for cleaning instructions. 
#3 Gas Appliances
Gas Stove: If you have old burners, stand, or tray, sort out and throw them away. Take dish wash soap and scrubber to scrub away all the dirt, and wipe them away with a wet cloth.
Note: Call a professional to check if there is any leak or damage in your gas pipe or regulator, and get it replaced.
#4 Fresh Items
Stop buying groceries 1 week prior to your move, else you will have to throw fresh and perfectly decent food, as it may get spoiled during the move. 
Try to cook to finish them all, or you can give them away to your friends/ relatives. If there is anything left, you have no other option, but to fling them.
#5 Fragile Kitchen Items
Check for any cracks or damages in your glass/ceramic ware & get rid of all those broken items.
If you have any unused ceramic or glassware, which is in good condition, you can give it to your friends/ relatives.
#6 Silverware
If you have any dent, damaged, or very old silverware, you can exchange it and buy new ones.
Silverware gets oxidized over time, you can use some toothpaste and a sponge scrubber to bring back its shine.
---
Step 3: Preparing to Pack Kitchen for Safe Moving
Basic Kitchen Packing Tips
Kitchen utensils are usually sturdy and don't require much packing; pack small crockery like spoon, knife, fork, whisker, greater, etc., in big steel containers.
Use original boxes to pack appliances, or use a similar sized box and fill the empty spaces with packing peanuts, shredded papers, etc.
Pack your other kitchen items in smaller cardboard boxes, as it will be easy to carry them.
Disconnect the gas stove from the cylinder and pack the burners and stove stand in a carry bag. 
Packing Supplies Needed for Kitchen Items
Steel kitchen containers

Robust carton boxes

Bubble wrap

Foam sheet

Packing peanuts

Shredded papers

Cotton cloth

Carry bags

Duct tape

Labels & markers
How to Pack Your Kitchen Items as per Their Type
How to Pack Kitchen Utensils for Moving
Place all your small utensils like ladles, cups, glasses, salt & pepper shaker, etc., in a big steel container.

Use big cooking pots to pack other small cooking pots/ vessels.

Wrap your non-stick utensils with foam sheets and pack them into sturdy cartons & seal them tight.
How to Pack Kitchen Appliances for Moving
For shifting within the same city, not much packing of appliances is needed due to short distance moving. However, for long-distance moving, prepare your appliances before packing and they must be wrapped properly and packed in sturdy carton boxes.
Pack kitchen appliances in the original boxes in which they came during purchase.

If you don't have those boxes, use an apt size box of strong & sturdy quality to pack them.

Wrap your appliances with foam sheets/ bubble wrappers, and fill extra spaces with shredded papers or packing peanuts.

Seal both sides of the box with strong duct tape and label them.
How to Pack Gas Appliances for Moving
Disconnect your cylinder from the gas stove, and pack the gas pipe and regulator in a carry bag.

In another carry bag pack the burners, drip tray, and stove stand.

Wrap your stove with bubble wrap, to avoid any scratches or damage. 

Although cylinder doesn't require much packing, you need to handle it very carefully as it is flammable. 
How to Pack Pantry Items for Moving
Keep your dal, pulses, atta, and other pantry items in their containers & seal them well.

If you have a habit of stocking up your groceries, keep them separately in empty sealed containers. 

Arrange all your sealed kitchen containers in a cardboard box, seal the box from both sides, and label it. 
How to Safely Pack Fragile Kitchen Items 
Use bubble wrap to pack fragile items like glass canisters, glass bowls, jugs, ceramic cups & saucers, coffee mugs, teapot, dinners sets, etc.

Place them in a robust cardboard box, fill empty spaces with cushioning materials, and seal them with strong packing tape. 

Don't forget to label these boxes as 'FRAGILE' & 'This Way Up' to avoid any breakage.
Best Way to Pack Silverware 
As silver gets oxidized easily, wrap your silverware in cloth pouches or cotton cloth, and place them in a robust carton box.

Seal both the sides of the box and label them with some code name, so only you will know what's in that box; this is a safety precaution to keep your valuables safe while moving.
How to Pack Other Kitchen Items
Items like whiskers, graters, tongs, etc., can be packed with your cutlery, and other kitchen utensils. 

Keep the blades inside the chopper, cover the lid, and seal it with tape, so the lid doesn't open and the blades don't hurt anyone.

Mortar and Pestle, are heavy, so pack them in a sturdy carton box, and tape them from both sides.
How to Pack Cutlery for Moving
Cutlery can simply be packed in a Ziploc and kept along with other kitchen utensils. 
Remember to label all the packed cutlery to avoid misplacing them.
---
Step 4: Arrange Your Kitchen Items in the Truck
Unpacking your kitchen items first will help you get rid of major stress, as the kitchen has a lot more items than any other room in your home.
Make sure you load kitchen items last and unload them first. 

Don't stack heavy boxes on lighter ones; place huge boxes first and keep the lighter ones on top.

As placing heavy boxes on the lighter ones might damage other goods due to their weight; it will also be difficult to unload them.

Load your fragile items after all other household goods are placed in the truck.
Movers won't shift certain items like flammables and valuables; make sure you shift your silverware and LPG cylinder by yourself.
---
Step 5: Unpack & Setup Your Kitchen Items
Unpacking Utensils, Cutlery, Pantry, Silverware & Other Kitchen Items
Start from unpacking basic items first, like cutlery, cups, glass, plates, etc., other items like cooking pots, etc., can be unpacked later. 
Remove tapes used for sealing your containers, and arrange them neatly on the kitchen/pantry shelves.

Unpack your utensils, silverware, and other items one by one, and arrange them in your cabinets.

Rinse your vessels once, as there would have been a lot of dust during transport.
Unpacking and Arranging Fragile Kitchen Items
Place the box upright & open it; take out your glass & ceramic ware one by one & remove the bubble wrap.

Wipe them down with a cloth and arrange them in your kitchen as required.

You can also label your glass containers and place a few of them on the kitchen platform to make your kitchen aesthetically appealing.
Unpacking and Arranging Kitchen Appliances
Unpack each appliance carefully, wipe off the dust, and arrange them in your kitchen platform and cabinets:

on the platform: Microwave, Mixer grinder, Induction stove, Electric cooker, Kettle  

inside cabinets: Sandwich maker, Blender, Egg boiler, Toaster 

Call professionals to mount your water filter and exhaust fan back.
Note: Don't turn on the fridge as soon as it is delivered; leave it untouched for at least 4-5 hours to allow the gas & chemicals to settle down.
Unpacking and Fixing Gas Appliances
LPG's are highly flammable, a small mistake can lead to a nasty disaster.

Call a professional to fix the gas pipe & regulator; check if there is any leakage in the pipeline or any repair is required.

Let them know where you want the stove & cylinder to be placed, they will do it for you. 
---
Your home shifting becomes a lot more easy and smooth when you know how to pack and move your kitchen items. The kitchen is the most difficult room in your entire room, as it has a lot of big, small, heavy, and fragile items; each has different packing and handling requirements. Your kitchen items must be the last thing you pack and the first thing you unpack; if there are some things you don't use on a daily basis, you can pack them beforehand. 
Even if you hire professional packers and movers you must do certain pre-move tasks such as categorizing your kitchen items, decluttering, and cleaning them, to have safe and smooth kitchen moving. It would take some time to get adjusted to your new kitchen, but soon you will get used to it. You can look for some recipes online and start by cooking some delicious desserts.
In India, it's considered auspicious to cook desserts first at your new place, as it is believed that the sweetness of the desserts will fill your life with sweet moments and memories.