Taking Care Of Yourself And Your Family Health During A Move?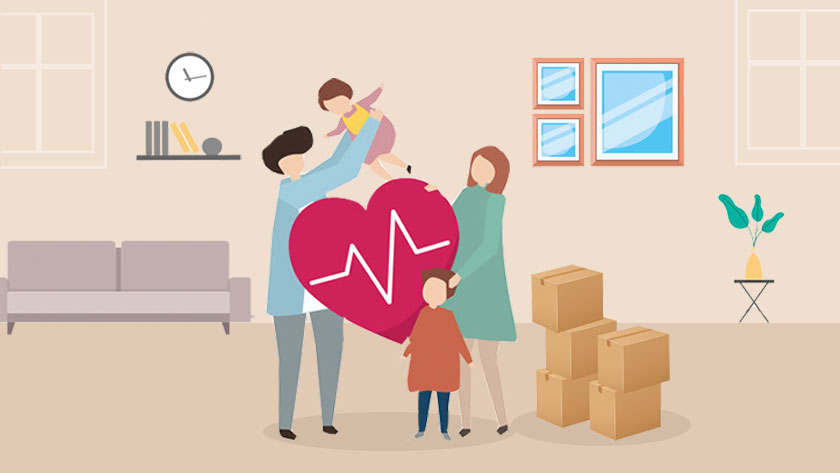 When you expect a healthy and a safe move, it is very essential to take care of your health conditions if you are relocating to your new home. It is not only important to look after your own health, but it is also very significant to take care of your family members' health and certain other things. In this article, find out some useful information from the sections provided below, which helps you to look after the health conditions of yourself and your whole family during any busy relocation.
Most Common Methods
Keep your mental health strong initially
Do not take things simple about your mental health conditions. To be healthy during a complete moving process, it is very essential to take care of your emotional health as well. Taking some necessary steps to keep your mental health very strong should be your first task to execute. Both your mind and soul are involved in determining your body's health condition.
Below given are some ways to improve your mental health to stay emotionally healthy during the shifting process.
Refresh your mind to feel relaxed
Refresh your mind by following some de-stressing activities to reduce your stress levels and to feel relaxed. Few methods or ideas for reducing your stress are
Spend some time for exercising and workouts like walking, running, yoga or playing your loveable sport, which would help you to stay active during the process.
Take deep breaths, several times a day by deeply inhaling the air through your nostrils and releasing out through your mouth.
It is better to turn off your TV or PC, put down your mobile and to just relax for a few minutes in a day.
Try to read any book of your interest before your bedtime to avoid thinking more about your relocation process.
Take your own time to minimize your stress
Try to take care of yourself and reduce your stress levels by following some ways such as, consulting a doctor regarding your mental health, doing some meditation, taking a hot bath, getting a massage, attending a music or dance class, going out for shopping or hanging out with your friends.
Take a day off from your job
It is recommended to take a day or two off from your job to avoid unwanted trouble and pressure during your shifting task.
Rest and sleep is more essential
Try to take enough rest, and sleep well for 7 to 8 hours a day to keep your mind and body more healthy and strong. Do not forget to intake any medications prescribed for your sleep or stress-related problems.
Have a healthy diet
It is necessary to maintain a healthy diet during your move, by following some healthy food habits and avoiding certain food habits. Eating healthy during the process will allow you to maintain a high energy level to manage all your packing and other physical tasks. Below mentioned are some ideas to have a healthy diet and to avert an unhealthy diet.
Take good and nutritious food
Believe this or don't believe! There are some good vegetables and food varieties that have been established to reduce your stress level and stabilize blood sugar. Some of the stress lowering nutritious foods are green leafy vegetables, blueberries, avocados, cashews, milk, dark chocolates, pistachios, yogurt, oatmeal, salmon, meat, boiled eggs, and turkey breasts.
Don't avert your breakfast
You may be busy with your work or getting ready to office, it is not good to skip the habit of having breakfast. Averting your breakfast could create a bad impact on your body and mind. Taking your breakfast during the right time in the morning is something you should not avoid. Doesn't matter how much busy you are, spend a few minutes to have your breakfast which makes you feel more energetic and healthy during the whole day when moving.
Try to avoid junk foods
Yes, it is true! It is worse to follow unhealthy food habits such as taking junk foods or snacks like burgers, pizzas, baked products, oily fried snacks, etc. These junk foods usually contain ingredients with low energy value. Unhealthy eating would leave you with less energy and no immunity. So, do a little planning to prepare and have your home cooked food during your relocation.
Stay hydrated all the time
It is better to have more amount of water, particularly when you are moving during summer seasons. Generally, in summer, your body gets dehydrated very soon and also creates some unpleasant feelings in your body. Hence, try to consume plenty of water and you can take other foods in liquid form as well. Try to avoid carbonated drinks and sodas while moving, as they are very low in nutrition and high in sugar.
---
In Critical Health Conditions
Look after your family member's health as well
It is very crucial to take care of yourself or your family members' health, when anyone is going under serious health issues such as pregnancy, illness, special diseases, etc.
When anyone is pregnant
More care should be taken while moving to your new home when you or any of your family member is under the pregnant period. Take some safety and security measures before planning to move. Plan some things during pregnancy by fixing a favorable relocation date, getting medical and safety suggestions by your doctor, calling your relatives or friends to look after you or your pregnant family member, making some preliminary arrangements for the person at the new home, etc.
When anyone has special health problems
It is safe to take some precautionary measures, when you or any of your family member is affected by any special health disorders or diseases like asthma, physically challenged, overweight, tuberculosis, HIV infections, mentally retarded, etc. If you are not sure about how to look after your family member, get suggestions from any health specialists and arrange someone to take care of your affected family member before your move.
Don't forget to pack your useful medications
Stay alert about taking your medications properly during the move. It is good to pack and take the required medications before the moving day because it would be helpful for you to medicate yourself or your family member with special health problems.
---
When Having Special Family Members
Make arrangements for your special family members
It is significant to take care of your special and lovable family members such as your kids, old parents or elderly persons during your move.
When you have kids
It would be safe for your child when you make some prior arrangements before and after your move.
If your child is a toddler, make some preparations for removing away any poisonous products from their reach, filling the milk bottle with boiled milk, taking safety napkins, baby bed, small blankets, baby food, medicines, etc.
If your kid is a preschooler or a toddler, make some arrangements for taking some healthy snacks, juices, fruits, chocolates, medicines, etc.
If your child is a teenager, take some snacks, chocolates, headrest pillows, juices, chocolates, medicines, good songs, etc.
When you have your old parents or elderly persons
It would be a very kind and secured act when you do proper arrangements for your senior family members before and after your shift. If any of your senior members is not able to take care of themselves,
try to get a wheelchair to help them move.
have a supporting stick to make them stand, support and walk slowly.
arrange someone to look after them safely.
arranging a separate room near your room at your new home, etc.
Don't forget to take the medicines and necessities they use daily such as face masks, napkins, toilet bags, paper, etc.
---
Additional Methods
Look after your hygiene and be away from bad habits
It is important to be alert about your hygiene and avert some of your bad habits if you have any, that affects your good health conditions during the move.
Take care of your hygiene
It is good to be hygienic, as it reduces the risk of getting ill and do not forget to wash your hands with any good hand sanitizer before every meal. Carry a few spare clothes, towels, and other essentials always with you, particularly when moving during winter seasons.
Try to avoid your bad habits
Kindly say a strict "NO" to  some of your bad habits like cigarette smoking, alcohol consumption, intake of any illegal drugs, etc. Sometimes, these things might create secondary health issues or trouble during the relocation process.
Clean your new home and do pest proofing
It is vital to clean your new house and perform some pest control techniques to feel yourself healthy before you relocate to your new home.
Clean the whole house and the yard properly
Cleaning your new home provides more safety to you and your kids to stay free from minor infections. For your satisfaction and to feel fresh at your new home, clean all rooms and kitchen once again, even though your house was already cleaned to avoid small insects, bugs, smells, etc. Do not forget to clean your yard at home, as you and your child can play in the yard without any trouble from mice, voles, yard debris, wood piles, etc.
Take some pest control measures to make your home pest free
It is even good to keep your home, yourself and your family members free from the pests and poisonous insects. So, executing pest-proofing techniques at your home such as sealing the possible pest entry points, checking and fixing the crawl space available on the roof or attic and by cutting the tree branches that are near your house. If possible, call any pest control company to fumigate the whole house without causing any damage to floors and walls.
Be safe during your relocation
However, staying healthy when shifting your home also means that being safe throughout the whole relocation process. Here we are going to discuss taking care of your physical health and safety.
Prioritize and arrange your things before the moving day
It is better to plan about packing and moving your things during your relocation to reduce your moving stress. Write down the things that should be properly organized and packed, based on the priority. Therefore, proper planning will allow you be free from stress or trouble and to even concentrate on some of your other tasks.
It is necessary to look after your safety
It is not only important to look after the safety of your households, it is very essential to take care of your own safety during a move. When you shift your households, you should take some safety measures for yourself by:
Wearing a face mask to be away from dust and other airborne infections.
Wearing a pair of quality padded work gloves to gain grip to avoid accidents, protect your hands from wounds and to avoid more sweating.
Wearing a pair of comfortable sport shoes with ankle protection and anti-slip soles would help you to prevent major accidents.
Clearing the exit paths when carrying huge goods to the moving truck, from all the rooms would aid you to prevent damages or injuries while you shift.
Using few proper lifting ideas when shifting heavy households and appliances would help you to avoid any personal injuries.
Using the right moving equipment like moving straps, furniture sliders and dolly would help to carry the heavy loads to the moving truck  and to avoid severe damages or wounds.
If you lack of these required lifting and moving tools or if you are unaware about handing these equipment, do not risk your health by trying these tasks. Kindly, leave the job for expert packers and movers in your city.
Hire movers to execute safe shifting
To look after the health and safety of yourself, your family members and also to minimize your stress during the move, it is brilliant to hire a professional moving company to do the task for you. Hiring packers and movers will help you to take care of your family members' health and safety as well. Be aware of fake moving companies and hire genuine movers to complete your task without any problem.