How To Plan For Last Minute Home Shifting?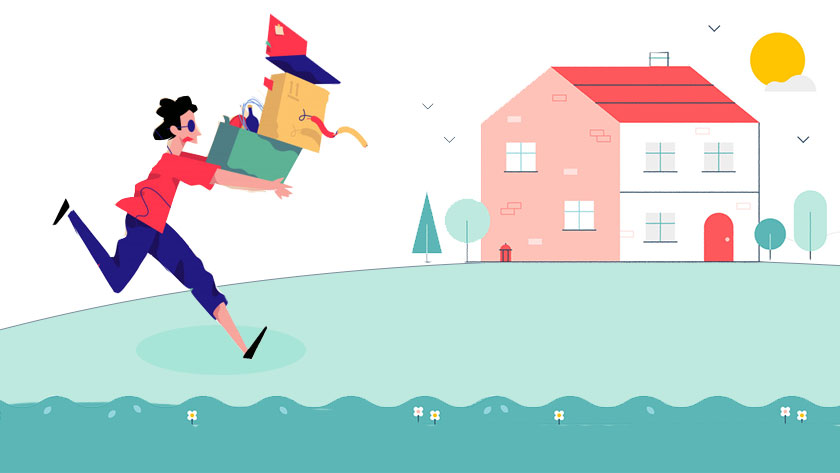 Sometimes, your situations may force you to make an emergency move in less time and more budget. Whatever reasons it could be, moving your belongings less than two or three weeks may become very stressful, and this would make you take more pressure on your head. Don't get worried. Usually, last minute shifting is hard but possible. No matter, where you want to shift and how you are going to do, there is only a minimum time left to perform your task and every minute is more valued to you.
So, you have to plan and take the necessary steps fast. There are many ways available for making your last minute move without any stress or trouble. You can shift your home quickly and safely by following the below-given checklist.
Plan your last minute move in 4 Easy Steps:
Find New Home
Finding Relocation Solutions
Quickly Pack your Household
Leave your Home the Right Way
Shifting in an emergency needs more effort and dedication for performing your moving task comfortably. Plan smartly to handle your household belongings and to carry out your moving process safely. When you plan about moving your items during final moments of your relocation, it is essential to prepare a moving checklist, not to forget anything which is more useful.
List out all things in a notebook or your phone, that requires to be planned, prepared, packed and thrown, before your shift to a new place. Prioritize them according to your importance and the time of requirement, as the time is minimal and precious for anyone.
Find your new home:
It is challenging to decide between buying a new home in your new place, as you have to think and plan a lot. Instead, you can rent an apartment, until you make a correct decision about buying a new house according to your requirement and budget. So, start searching for a new home at your new place, with the support of local real estate experts or by viewing some rental listing websites.
There are property and rental listing websites like housing.com, 99acres.com, magicbricks.com, indiaproperty.com, nestway.com, commonfloor.com, etc.. You can register your details, list your property and rent or sell your property on these websites, without wasting your precious time. Also, you can get information about purchasing or renting a new house in your new place.
Finding Household Relocation Solutions?
Determine your budget
Moving your belongings during last minute would probably cost you high, take more time to compare the estimates and to search out for free boxes. But, you have to work on your budget to avoid unwanted expenditure to perform your last minute activities like, finding a new rented home, packing your items, hiring a good packer and mover.
Get help from your friends and relatives
Call your friends or relatives to help you in sorting and packing your households quickly, as you are performing a final moment relocation. They can also help you by finding a new buyer or a suitable tenant for your old home, as soon as possible.
Get all the packing materials in advance
Plan about your items you want to pack and buy all the packing supplies required for your move such as new boxes, packing tapes, colored tapes, markers, scissors, bubble wraps, etc., from any nearby hardware store.
Make an open first box (essentials):
It is important to pack and carry some essentials required for the first couple of days after you have shifted into your new house. Take some essential items such as toiletries, changing clothes, cosmetics, medicines, etc.. You can keep this box open and use those things until you move and settle at your new home.
Don't spend unnecessary time looking for a mover:
Check for any last minute relocation service providers on the web, near your place and get quotations from them or you can even tell them to start the process quicker. Prepare an inventory list of what things you would be moving, and this would be very helpful for your moving company if you want to save more time.
Never stop asking your moving companies:
During your last minute shift, ask your moving companies about the moving insurance, contract document and on extra charges. Do not sign under paperwork and ask your moving company to explain to you clearly, if you don't understand anything in the contract agreement.
Schedule your moving company:
After consulting many moving companies for your last minute move, choose your right moving company soon based on positive reviews, good ratings, and feedbacks. Then, ask them to come to your home to survey your movables and to provide you with the final estimate. Discuss your moving day and finalize a particular date with the moving company to shift your items immediately within a week.
How to quickly Pack your items?
If you didn't find time to get the required packing supplies for packing your things, you could make use of your clothes to wrap your items. You can use socks for glassware products and thick sweaters or blankets for cushioning of your delicate items. You can even leave your clothes on hangers, and then, you can flatly lay them inside a trunk or a packing box.
You can also use trash bags to pack your clothes, blankets, towels and you can quickly wrap your non-fragile items, as well. As they have more space and take various shapes, you can be able to place them in-between your furniture and other moving boxes. If you want to pack your things with trash bags, use sturdy and durable quality bags to hold your items safely. These things can save space and time.
If possible, get recyclable packing boxes to pack your items quickly and efficiently, as they are safe and designed to store more items easily. Start wrapping the items that you won't use in the immediate future and you can pack things like picture frames along with books in smaller boxes as well. Do your packing room by room and place those boxes in a specific room or a spot, to organize and identify the boxes quickly.
Don't forget to pack your essential documents such as property, tax forms, certificates, etc. Also pack your precious belongings like jewelry, diamond, other valuables, etc., and keep them safe with you. Moving companies would not take any responsibility if your valuable products got stolen or lost. Don't forget to pack your baby, pet and plant necessities separately as well.
Label all your trash bags and boxes:
Try to label your trash bags and boxes according to rooms you have at your old home or based on the type of items. Use colored labels or tapes to identify and unpack your things quickly, after you have moved to your new home. Notably, it is critical to label your valuable and fragile goods to prevent them from any damage.
Leave some task for movers:
When you are moving in a hurry, pack all your necessities, useful products and valuables as possible as you can. If you have booked for any packer and mover, leave the remaining task for them. They can pack some things easily that you can't pack by yourself like furniture, electronics, and appliances.
Transferring your utilities:
It is better to call your utility service providers one or two days before your moving day and inform regarding your relocation. Call your utility service providers such as cable TV operators, internet service providers, telephone departments, electricians to disconnect their services to your old house. After moving to your new place, you can reconnect your services with new utility service providers as well.
Don't forget to take your light bulbs and other appliances:
On a moving day, do not forget to remove and pack your light bulbs installed in all rooms of your old house. There may be other appliances like water geyser, water purifier, fans, etc., to be removed during your last minute move.
Leaving Your Home The Right Way
Check the rental agreement and inform your house owner:
If your old house is rented, check your rental agreement clearly to know about how to break the contract during an emergency and how many days of the notice required to vacate the old house. Then, you have to inform your old house owner regarding your last minute move, to make all things clear between you both and about the final settlement.
Share on social network websites:
It is good to share the news on your moving on social media networks like Facebook, Twitter, etc., You may not have time to mail, chat or meet your friends and relatives for a coffee. Inform me about your shifting using these social networks to your friends or relatives, and they may even refer their friends to find you a new home if they have at your new place.
Sometimes, they can also find you're a new tenant for your old home or owners to provide you with a new home by making you connect with a friend they already knew. Most people don't believe in strangers, and they usually think in people who their friends refer. There are many possibilities to use the moving supplies and extra boxes used by your friends or relatives by connecting with them through social channels.
Clean, sell or donate all your unwanted belongings:
Try to de-clutter your home  and sort out the items that you don't want to use anymore in the future. Pack items separately such as things you want to throw away, donate and sell during a garage sale. You can even sell your large items like old furniture, pianos, etc., to used or old goods shop near your area. Put online ads to sell these products on ad websites like Quikr.com, Olx.in, Click.in, Locanto.net, etc.,
Change your address details:
Before doing your last minute relocation, it is essential to inform your new mailing address to your local area Govt bodies like the post office, ration shop, electricity board, etc., at both old and new places. It is better to inform your address and contact numbers to your banks, credit card departments, telephone departments, etc., as well. Don't forget to tell your close friends and relatives regarding your mailing address and contact numbers.
Clean your old home:
After completing all these tasks, do a double check to find out anything is left behind and clean your old house before the moving day. When it is impossible for you, it is good to hire housekeeping service providers immediately near your area to do the cleaning job for you.
Handover the keys:
If you are moving out from your rented home, contact your homeowner and make all things clear about your agreement and finally handover his house keys to him, before you proceed.