How to Setup Home Office for Productive Work From Home: A Step-by-Step Guide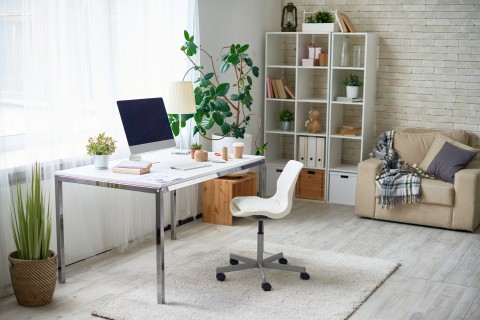 As the world continues to lean towards digitalization, work from home scenarios are becoming more prevalent. Whether you're self-employed, a remote worker, or occasionally bring your work home, having a designated and well-organized home office setting can significantly impact your productivity, work-life balance, and overall wellbeing.
We aim to provide a step-by-step guide for individuals who have recently moved and are struggling to setup home office. We will walk you through each stage of the work from home setup, providing different home office setup ideas, from planning and choosing the right room for the WFH setup, to selecting the right office setup furniture, organization and personal touches to the work space.
Also read: How to pack and move your home office
#1 Plan the Room Requirements
Setting up an efficient home office configuration requires planning, organization, and an understanding of what you need in a workspace to function at your best.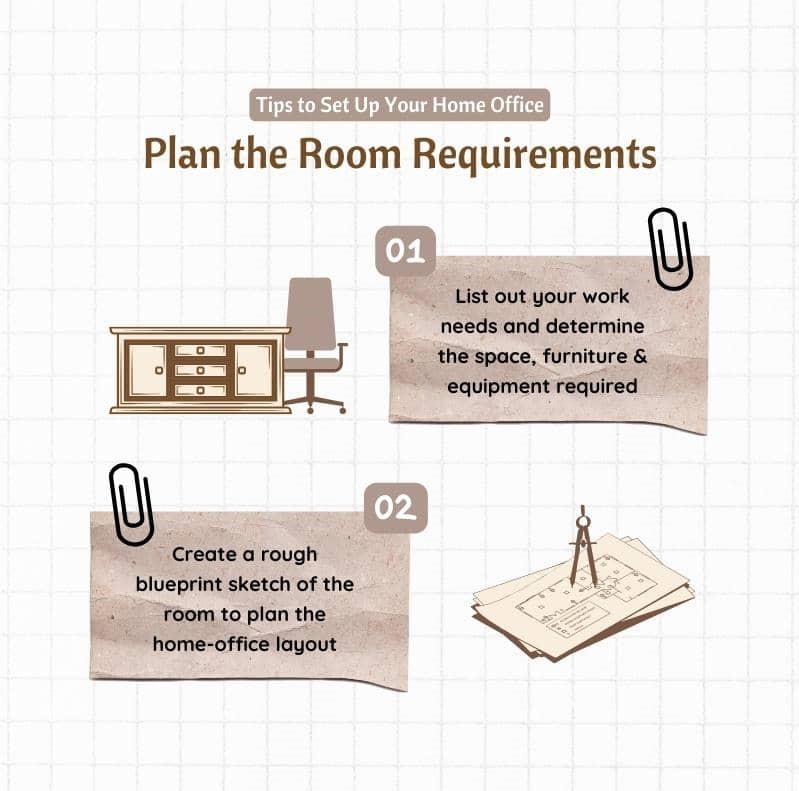 Determine the Nature of Your Work & Tools Required
Start your plan by understanding the nature of your work and the tools you need. Are you primarily working on a computer? Do you need a large workspace for drafting, drawing, or laying out physical documents? Do you require special equipment such as a printer, scanner, or additional monitors? Listing out your needs will help you determine the kind of space you require and the furniture and equipment you need.
Create a Blueprint of the Home Office Layout
You don't need architectural drawing skills for this; a simple sketch with measurements will do. Measure the room's dimensions and make a note of outlets, windows, and doors.
These factors will help you decide where to place your desk, shelving, and storage units. You'll want to ensure there's enough space to move around comfortably.
Also Read: Essential Vastu Tips for Your Office Space
---
#2 Choose the Right Room
Selecting the right room for your home office is a critical step in setting up a workspace that fosters productivity and comfort. Your choice of room can significantly impact your ability to concentrate, your efficiency, and even your health.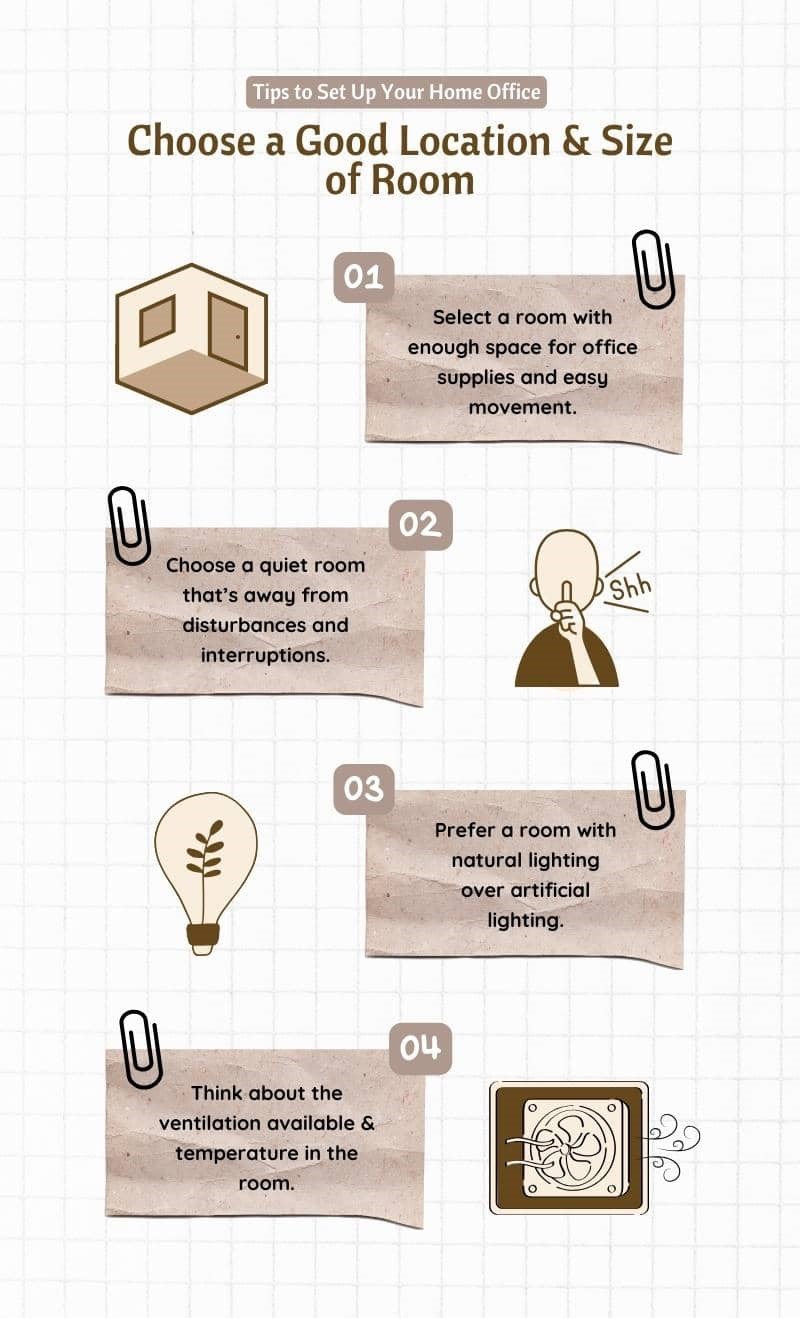 Determine the Size of Room Required
The room's size is an obvious factor to consider. It needs to be large enough to comfortably accommodate your desk, chair, storage units, and any other necessary equipment without feeling cramped. There should also be enough space for you to move around freely.
Select the Right Location for the Room
The room's location is equally important. If possible, choose a room that is a bit isolated from the main living areas to reduce interruptions and noise.
It's much easier to focus on work when you're not constantly distracted by household activities. For example, a room near the laundry room or living room, where noise levels can get high, might not be the best choice.
Ensure Proper Ventilation & Temperatures
Think about the room's temperature and ventilation. Working in a room that's too hot, too cold, or stuffy can be uncomfortable and distract you from your work. If the room doesn't have good temperature control or ventilation, you might need to add a fan, heater, or air purifier to your setup.
Tip: Remember to consider the position of the sun throughout the day as direct sunlight can cause glare on your screen and increase the room's temperature, which might become uncomfortable.
Make Sure there is Enough Lighting
A room with a window is a good choice as natural lighting is softer than artificial light, reducing the risk of eye strain. Proper lighting can reduce eye strain, prevent headaches, improve mood, and boost productivity. On the other hand, poor lighting can cause eye discomfort, fatigue, and even affect the quality of your work.
If you need additional lighting for specific tasks or to use during the nights, consider the following:
Task Lighting: Desk lamps are the most common form of task lighting that can help you perform tasks that require good lighting, like reading or writing. Choose one with adjustable brightness so you can control the light intensity as needed.

Ambient Lighting: Also known as general lighting, ambient lighting like ceiling fixtures, tube lights, etc., provides evenly distributed light in a room. Make sure the light is not too harsh or too dim for your workspace.

Accent Lighting: While not essential, accent lighting can add character to your office and help reduce shadows or dark areas. Floor or wall lamps can create a warm and inviting atmosphere.
Also Read: Consider These Home Automation Ideas for Easy Living
---
#3 Set up the Internet and Computer Systems
Properly setting up the office furniture and internet is essential to ensure your work is carried out smoothly, comfortably and with good productivity.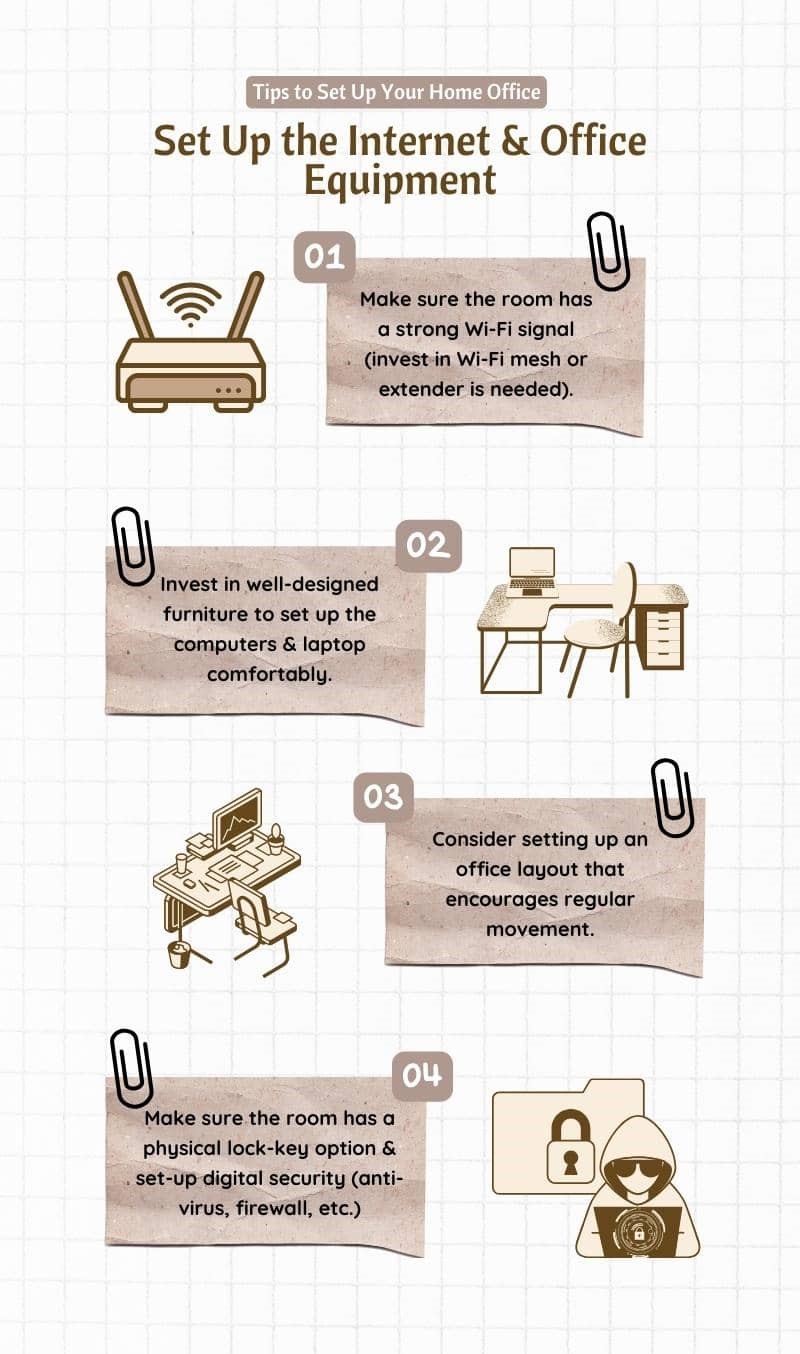 Check the Internet Connectivity
One of the first things you should ensure is a reliable and high-speed internet connection. Consider investing in a high-speed broadband plan and make sure your workspace has strong Wi-Fi signal.
If your Wi-Fi doesn't reach your office well, consider getting a Wi-Fi extender or a more powerful router. For tasks that require high bandwidth, you might want to consider a wired Ethernet connection for a more stable and faster internet connection.
Setup the Computers & Hardware
Depending on your work, this could be anything from a desktop computer with multiple monitors to a laptop with a docking station. Select a good office desk that has options for easily accessing multiple items that you may need at different times during your work day.
Also, think about your peripheral devices like keyboard and mouse; invest in ergonomic options for better comfort and preventing any physical strain.
Make Sure of Physical & Digital Security
Physical and digital security should be a priority for your home office. For physical security, make sure your office has a lockable door, especially if you're storing sensitive documents.
For digital security, make sure your computer is protected with antivirus software and a firewall, and that your internet connection is secure. Regularly backup your files in case of a technical failure, and consider encrypting sensitive data.
Setup the Office for Regular Movement
Sitting at a desk for hours on end is not good for your health. When setting up your office, consider a layout that encourages movement. This could mean placing the printer or file cabinet across the room so you have to get up to use them.
Also, consider investing in an adjustable desk that allows you to switch between sitting and standing. Remember to take regular breaks to rest your eyes and stretch your body.
---
#4 Organize & Personalize Your Workspace
By organizing your space effectively, you can streamline your workflow, easily locate what you need, and reduce unnecessary distractions, making your work-from-home experience much smoother and more efficient.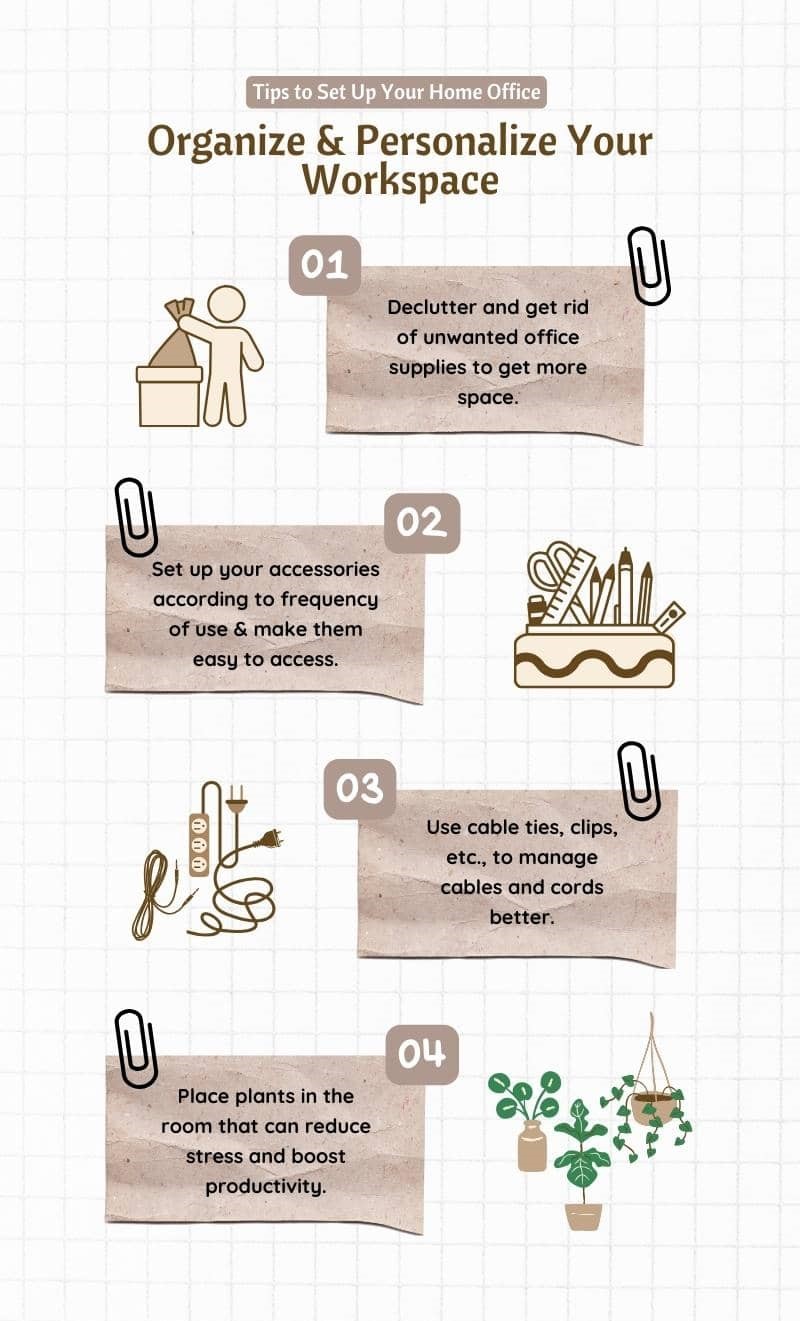 Declutter Unwanted Office Supplies
This involves going through your office items and determining what you actually need and use regularly. Unused items and clutter can distract you and take up valuable space.
It's recommended to keep your desk surface as clear as possible, with only the essentials on hand. Other items should be stored neatly in drawers, shelves, or storage boxes. It would be a good idea to declutter your room before the setup.
Organize Accessories Based on Frequency of Use
Try to keep your most-used items within arm's reach. This includes your computer, mouse, keyboard, notepad, and pen. Other items that you use less frequently can be stored away but should still be easily accessible when needed.
Manage Cables & Cords
Cable management is another critical aspect of organizing your workspace. Untamed cables can make your space look messy and even cause accidents. Use cable ties, clips, or tubing to keep your cords neat and out of the way.
Personalize the Space
Personalizing your workspace can make it feel more welcoming and enjoyable, which can in turn enhance your mood, reduce stress, and increase productivity.
Adding some greenery to your home office can also make it feel more inviting and has been shown to have numerous benefits. Plants can improve air quality, reduce stress, and even boost productivity and creativity. If you don't have a green thumb, consider easy-to-care-for plants like succulents or snake plants.
Also Read: How to Safely Pack & Move Your House Plants
---
Setting up a home office is an exciting opportunity to create a WFH setup that not only meets your work needs but also reflects your personal style and preferences.
This task can become even more challenging when you've just moved into a new home and are dealing with all the other logistical aspects of settling into a new space. So, make sure to hire professional packers and movers to move your household items as well as home office supplies safely and in a quick and easy manner.
While the pros take care of your relocation, invest your time in carefully planning the home office layout, selecting the right room, securing a reliable internet and technology setup, and personalizing the office setup in home to create an efficient, comfortable, and inspiring workspace.
However, beyond the visual and tangible elements, pay attention to acoustic management to reduce noise distractions, ensure a neat workspace with proper cable management, prioritize both physical and digital security to protect your work, and design a layout that encourages regular breaks and movement throughout your work hours.
Remember, every individual's work style and preferences are unique, so there's no one-size-fits-all approach to setting up a home office configuration. The most important thing is to create a home office setting where you feel comfortable, focused, and productive.