Tips to Safely Move House plants to your New Home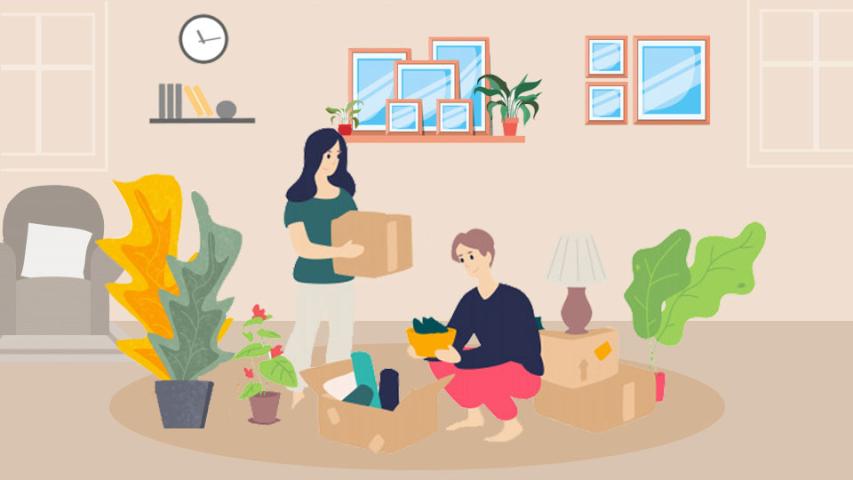 Packing and moving your houseplants is much like relocating with your small ones—you will have to take extra care to keep them protected during your entire relocation process, as they are sensitive just like your beloved ones, they will also need some time to adjust themselves in your new house environment.
No doubt, it's always a risky task to relocate your favorite plants in best of conditions, because sudden changes in temperature, light, etc. can damage them easily. But, it's true that with some careful planning, you can safely transport your houseplants at your new home and help them flourish there, to have a beautiful garden at your new destination.
The better care you will give your plants during the big moving day, the more easily and quickly they will adjust in your new house environment. We understand while relocating at your new destination, you will have plenty of belongings which needs your complete attention to pack and move them safely at your new address.
But when it comes to move your beloved plants, it's necessary to know the right way to relocate your plants that you can shift your leafy friends with complete protection, as they can't be pushed into a box; because they will need sunlight, water, and air to stay active during the transit. During relocation people always have to deal with several hectic tasks, like packing all items securely, loading them safely in a suitable vehicle, finding a trustworthy Movers and Packers, etc. and that's the main reason they fail to pack and move their plants correctly.
But there's no need to be tensed anymore, as we are here to guide you how you can relocate your Houseplants safely in your new home.
Before Moving day
The time of year
It's never a good step to relocate your plants in the summer season, as the temperatures will be so hot, and the air is dry, which can damage your plant's roots are due to warm days. You can successfully move your plants in summer also, but you will have to take extra safety measures to warrant that your plants are accurately sprayed and transported, and the roots never get damage due to sun heat.
If you have control to schedule your relocation and want to shift your desired plants without losing them, then try to arrange your upcoming move in any of the other seasons, which will help you to transport your plants in a more relaxed manner.
Try to trim your plants before moving
To support your plants, preserve energy during shifting in your new home, be sure they remain healthy as much as possible during the entire relocation process. One of the safest ways to move them safely is to trim all the dead and extra branches and leaves so that the plant will not waste any energy on spare parts, which is not necessary.
If you have trimmed your plants long back, then immediately trim them before moving day, so that you will not have face any difficulty during transit.
Re-pot your small plants in a plastic container
To move your plants easier on your back, remember to take them out of the heavy pots, as you will have to load heavy containers in moving vehicles and you will be on high risk as it can slip off and get damaged quickly.
That why it's always good to place all your plants in a durable plastic pot a few weeks before your actual shifting day, to relocate them with complete protection.
Water plants 2-3 days before the shifting day
Water plants sufficiently two or three days before moving day, so that your plants may stay moist during shipment.
Use proper materials to pack them
It's good if you use old bed sheets to protect your leaves from any unknown damage by keeping your plants stay healthy during the entire shifting process
You can also use a spray flask to mist your fragile plants without soaking the soil.
---
How to properly pack your plants:
At first, place a durable plastic bag over the pot and tie it at the base tightly to keep the soil contained safely.
Then, tape the lower part of the box well, and place your plants inside.
Fill the extra space with packing material or old newspaper, so that your plants can  breathe and remain secure during relocation
Label the box using dark sketch pens "Live Plants" or "Delicate."
---
On the big Moving day
Remember to place your plants in the end:
You must know how sensitive plants especially when you are relocating them in a new house due to a new and unfamiliar environment.
So, try to avoid keeping your plants sit in the moving vehicles for a too long time, especially in the hot or cold season, as it could harm their greenery easily.
Try to relocate them in your car (if possible):
Moving your plants with you is usually the quickest way to shift them at your new destination, and also you can take care of them from sunlight and sudden rain during transit.
Try to keep them in the same vehicle, to protect them entirely from any damage.
---
After Shifting in your new Home
It's evident some of your plant's leaves might turn yellow and fall due to transit. No need to be panic as this reaction is often a temporary protection instrument and it shouldn't be long until your plants start glowing again.
Once you've harmlessly relocated all your plants in your new residence, they'll surely need time to adjust there. Remember to immediately remove them from the plastic and place them in a safe area to water them.
If you have removed them from their pot into a plastic container for your relocation, never forget to place them aging in their pot after a week once they will start adjusting in your new home. If you place them back to the original container hurriedly, they may get damaged for sure.
We hope following the above-discussed tips for shifting plants will help you provide enough cares and proper attention during your entire shifting process. You can also hire a reliable Movers and Packers who can assure you to move your houseplants without any damage by packing and moving them properly using suitable quality packing materials.
"HAVE A SAFE JOURNEY WITH YOUR LEAFY FRIENDS."