3 Easy Steps to Pack Mirrors for Relocation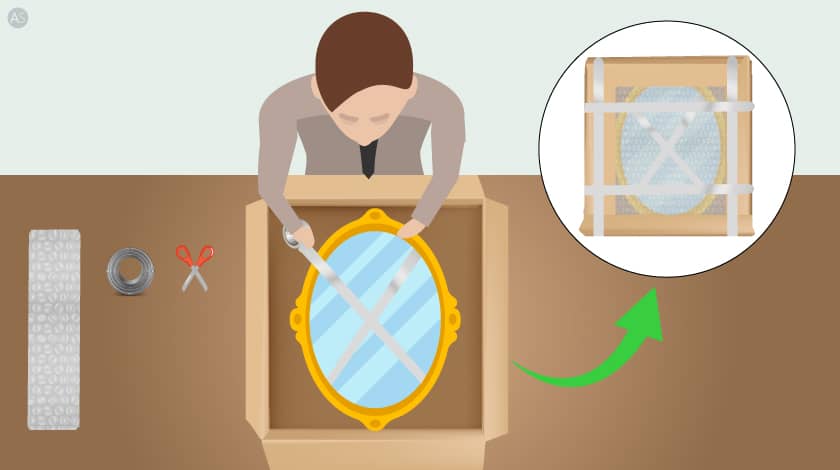 Fragile household objects like mirrors, cutlery, etc., require extra care and proper handling while packing and moving because they can easily get shattered if not properly packed well. Therefore to move mirrors safely, you must plan ahead of time and use high-quality packaging materials.
This blog will walk you through the process of packing mirrors for relocation to ensure their safe travel.
Packing Material Required for the Move
Marker

Mirror box

Cardboard

Bubble wrap

Packing paper

Packing peanuts 

Painter's tape
How to Pack Mirrors Effectively?
Step 1: Prepare Your Mirror
Place the mirror on a clean surface, such as a dining table or on a clean floor. 

Lay your mirror face-up and draw a giant "X" with painter's tape across the face of the mirror from corner to corner.

You can run the tape horizontally and vertically along the reflective surface in a grid pattern which will significantly increase the protected area.
Note: This "X" or grid pattern method is simply a protective measure for added protection.
Step 2: Pack Your Mirror
Use a foam or cardboard corner protector to affix the corners of the mirror before you start wrapping it.

Place cardboard on the sides of the mirror as a protective shield to absorb any impact and keep the mirror from bending. Tape the cardboard to the mirror with packing tape.

Wrap the mirror carefully with packing paper, then again with bubble wrap. Make sure the bubble wrap is flat on the surface and covers every inch of the mirror.

After your mirror is wrapped well, tape them with packing tape.

Crumple a few packing papers, and create a bed of padding on the bottom of your mirror box.

Gently slide the wrapped mirror inside the box and cover any empty places with crumpled packing paper or packing peanuts. Make sure there is no empty space in the box since this can cause the mirror to shift and possibly break during transit.

Tape up the box and gently shake it to see if anything moves. If it does, open the box and add additional padding.

The final step is to secure your mirror box using packing tape. Label each side of the box with "FRAGILE" and "DO NOT LAY FLAT" using a permanent marker.
Step 3: Place Your Mirror 
Make certain that your mirror is never placed lying down and that nothing is stacked on top of it. It will shatter because it cannot withstand the pressure of another object. When moving, place your mirror on its side.
Conclusion
By following these simple steps, you can ensure that your mirrors are protected during the moving process. While it may take a little extra time to properly pack a mirror, it's well worth the effort to prevent damage and save yourself the headache of replacing a broken one. With the right packing materials and a little care, your mirrors can arrive at your new home in one piece and ready to be hung on the wall.
If you don't want to invest time and effort in this packing process, you can easily hire a professional mover as they are experienced and equipped well enough to handle any type of relocation without causing any damage to your fragile goods.