How to Pack and Move a Studio Apartment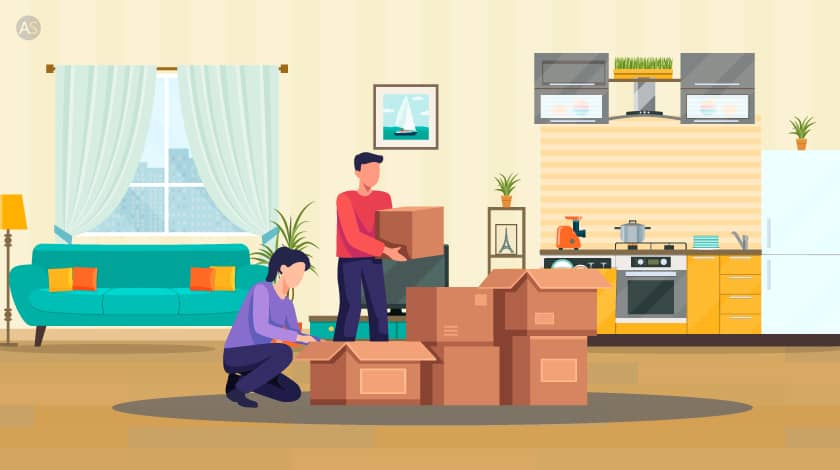 Moving from a studio apartment can seem like an overwhelming task, especially when it comes to packing up all of your belongings. However, with a bit of planning and organisation, the process can be made much more smoother and manageable.
In this blog, we have covered all the effective measures to help you with packing and moving your belongings from a studio apartment.
Start Early
The key to a successful move is to start preparing for it early. Here are some steps you should follow:
Step 1: Create an inventory list of all your household belongings and a checklist of tasks before you start packing. This will ensure that you don't forget anything important.

Step 2: Select a moving date, confirm transport availability, and make necessary arrangements.
Sorting & Decluttering
Before you start packing, it's a good idea to sort and declutter all of your belongings. This will help you determine what to keep, donate, or discard. Here are some steps you can follow:
Step 1: Go through all your belongings and separate them into categories, such as clothes, kitchen items, etc. 

Step 2: Get rid of items you no longer need or use. Consider donating or selling items in good condition, and discarding items that are no longer usable.
Packing
Once you have decluttered and sorted your belongings, it's time to start packing. Here are some packing and moving strategies that can help you make the process smoother:
Step 1: Gather the right packing supplies such as boxes of various sizes, packing tape, bubble wrap, packing paper, markers, etc.

Step 2: Pack room by room, starting with the least used room, such as storage areas, and work your way towards the main living area. This will help you keep track of what's been packed and where it belongs in your new apartment.

Step 3: Pack fragile items such as dishes, glassware, and electronics with care to avoid damage during transit. Utilise bubble wrap, packing paper to wrap fragile items and place them securely in sturdy boxes.

Step 4: For moving large and heavy items like furniture, consider disassembling them to save space and make them easier to move.

Step 5: Label all boxes with its contents and the room it belongs to, such as "Kitchen - Dishes - Fragile" or "Bedroom - Clothes - Heavy". This will make unpacking easier and more manageable.

Step 6: Pack a separate box of essentials, such as toiletries, a change of clothes, and important documents.
Moving
The next step is moving all the packed goods securely, for that having the right truck is crucial. Make sure you rent a truck that is appropriate to transport all your belongings in one trip. The last thing you want is to make multiple trips back and forth, wasting time and energy.
Step 1: Moving a studio apartment on your own can be challenging, so don't hesitate to ask for help from family or friends. They can help you pack, load and unload the truck, and make the moving process smoother.

Step 2: If you can't do the moving alone, consider hiring a professional mover. As they have the necessary expertise and equipment to transport all your belongings, especially heavy and bulky furniture safely and efficiently to your new location. 
Unpacking & Settling In
Once you arrive at your new apartment, it's time to start unpacking and settling in. Here are some tips to help you make the process smoother.
Step 1: Before you start unpacking, take some time to clean your new apartment thoroughly. This includes wiping down surfaces, vacuuming, and mopping floors. This will ensure that your new space is clean and fresh for you to settle in.

Step 2: Start by unpacking the essentials first, such as bedding, toiletries, and kitchen essentials. This will help you settle in quickly and make your first night in your new apartment more comfortable.

Step 3: As you unpack, organise your belongings by room and type. This will make it easier to find things later on and prevent clutter in your new space.

Step 4: Before settling in, ensure that any necessary repairs or adjustments are made, such as hanging curtains or installing shelves. Personalise your new apartment by decorating it to your taste. Display your favourite items, add plants, and hang up artwork. Doing so will create a welcoming and familiar atmosphere in your new space, making it feel like home.
Conclusion
Moving out of a studio apartment may seem like a daunting task, but with the right approach, it can be a breeze! Follow the tips we've shared in this blog to make sure you don't forget anything important. Declutter your belongings, pack strategically, label your boxes, and take extra care with fragile items. If you're doing the move on your own, rent a right size truck and ask your friends or family for help.
However, if the thought of moving has you feeling stressed, consider hiring a professional moving company. While it may be an additional expense, it can be well worth it for the peace of mind and reduced stress that comes with having experienced movers handle the job. Once you're in your new home you can take your own time to get settled in.