9 Major Self-Moving Mistakes And How To Avoid Them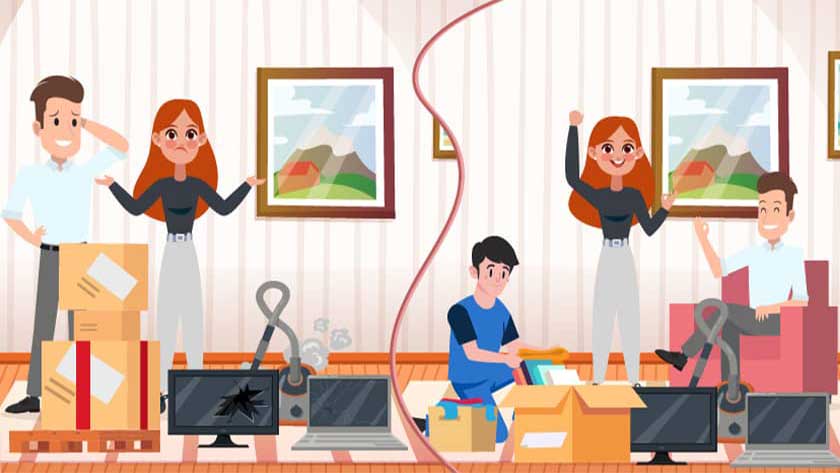 Moving isn't an idea of fun. Relocating from one place to another requires your time, energy, money, and moving stress. Most people think that relocation is an expensive process and immediately you start thinking about doing it by yourself in order to save more money.
DIY moving may sound like a great idea to save on packing & labeling costs, manpower costs, the extra costs they charge on trucks rental, loading and unloading, etc. However, relocating your household goods is not an easy task; there are many risks associated with it, especially when you have no prior experience.
Follow some simple preparation tips for moving within city or to a different one, is a bigger burden wherein you may find yourself juggling a lot of things at the same time resulting in some crucial errors in judgment, taking your stress level to its peak. There are easy ways to avoid going through such situations like hiring moving labor for help or full-service packers and movers companies who will carry out your complete move.
If you are still planning to do the shifting by yourself, it's best to know about some of the most common mistakes people make and learn how to avoid them.
Are you planning for relocation soon? Get a Free Quote Instantly from our Top 3 Packers and Movers matching your needs & nearest to you. 
#1 Procrastinating Until Last Minute
Procrastinating is one of the biggest mistakes we do; constantly postponing everything leaves you with great loss in the end and a completely chaotic situation. Leaving all packing moving tasks to the last minute will result in messy packing and extra expenses for carrying all goods including unnecessary/unwanted ones.
How to avoid it
Start planning at least 2-4 weeks before your moving date.
Make a list of tasks to complete.
Set a deadline for every task.
Pro tip: Professional packers and movers will help you to perform all the required tasks from pickup to delivery with care. They take full responsibility for purchasing packaging materials, arranging transport, and performing careful loading/unloading to prevent damages.
#2 Not Decluttering Goods
You may be tempted to throw everything into the packing boxes and shift them, but it will only lead to more stress while sorting and organizing everything at your new place. Moreover, you will have to spend a lot of money to pay for moving things which you may end up throwing later.
How to avoid it
Before packing, sort through the entire household items and declutter all unwanted and unused things. You will save lots of time while packing & unpacking and it would be much easier to set up your new home.
Pro tip: If you are not sure about which goods to declutter, make a list of things you're not using for a year or more or don't wish to use anymore. Throw away damaged goods and donate or sell old items that are in good condition.
#3 Forgetting to Pack A Survival Kit
Considering you'll be exhausted after a long tiring move it would be practically impossible to unpack boxes to find your basic necessities. It will be difficult to spend the first few days at your new place in comfort and you will feel completely stressed out.
How to avoid it
Pack all the essential things which you need on your moving day as well as after arriving at your new home.
Pack necessities: change of clothes, toiletries, medications, water, snacks, etc.
Important things: wallets, keys, laptop and other electronics, chargers, etc.
Additional items: basic kitchen supplies, basic cleaning supplies.
For kids: milk, packed food, and necessary toys.
Valuables: important documents, jewelry, etc.
#4 Skimping on Packing Supplies
Without the right quantity or quality of packing materials, goods will surely be damaged during transit. Different household items need to be packed in a certain way to ensure safe moving. Overpacking boxes will only lead to breakage or damage to items inside and make it extremely difficult while lifting and moving them.
How to avoid it
Get plenty of bubble wraps, cushioning wraps, and tapes to cover the fragile items effectively. Be aware of different packing methods for different household items.
Pro tip: Professional packers and movers are the best options to shift your household items with quality packaging and safety measures. They are well trained and experienced in packing delicate items to ensure no scratches or breakage.
#5 Not Labeling the Packed Boxes
Forgetting to label the boxes is the biggest mistake in the process of packing. You may get confused while unpacking and organizing your new home.
How to avoid it
Label all the boxes according to the room in which you want to set them up at the new place. (For example kitchen, living room, study room, etc.)
#6 Not Preparing Refrigerator Before Moving Day
Some people forget to prepare their refrigerator before the move. Moving a dirty fridge may also ruin other goods in the truck and if the shelves are still inside, they may end up breaking.
How to avoid it
Clean the refrigerator and remove all the shelves.
Unplug & defrost it at least 24 hours prior to relocation.
Clear the water tray and keep the fridge door open to free it of odor.
Remove all the racks and pack them separately to avoid damages.
#7 Not Booking Right-Sized Truck
Not choosing the right-sized truck can be one of the main roadblocks for moving. If you book a small truck, you may have to do multiple trips to move all your things, resulting in high expenses for transportation. If you book a large truck, you will have to pay for unused space which is a waste of money.
How to avoid it
To determine the right truck size for your goods, take into consideration the quantity and volume of your goods. Always try to rent trucks which are at least 10 to 15% larger than your estimate.
Look for a good transport company who can accurately suggest the best-fit vehicle for your goods.
Pro tip: Utilizing professional moving services will make you stress-free as they are experts in picking the perfect sized truck for moving.
#8 Lifting Heavy Items by Yourself
Without knowing the right ways to lift and move heavy items, you may not only end up damaging the goods but also, more importantly, injure yourself in the process.
How to avoid it
If you are having heavy items to shift, you need to get equipped with moving equipment like hand carts, dollies, carpet glides, etc. or you should take the help of professional moving labor who have the skills to handle and move your goods safely. 
Pro tip: Even if you have equipped with all sorts of moving equipment, it is recommended to hire a professional relocation company to avoid risking your health and safety. They can make your move easier as they have years of practice in this field.
#9 Forgetting to manage your utilities
Although not directly connected to packing and moving tasks, not taking care of your utility services will possibly lead to unnecessary expenses to pay for unused electricity and water at your old home. Not getting the utilities connected at the new place will lead to an uncomfortable stay.
How to avoid it
Contact the respective utility departments to schedule a date for disconnection/reconnection or transfer.
Pay all unpaid bills and clear all dues before moving out.
Note down the meter reading before leaving your old place and as soon as you move in.
---
DIY moving is one of the common options most people choose to avoid the extra expenses of the home relocation. But everyone will end up doing some of the common mistakes in the process of relocation and may end up with a loss. So, the best way to avoid common DIY moving mistakes to be aware of them and find a work-around.
Choosing professional packers and movers is the best option to make your move reliable and stress-free. To reduce the costs of the move you can perform some tasks by yourself and hire professionals for tasks which are too risky and stressful for you. Hire reputed and reliable moving companies with the help of online packers and movers directories like AssureShift. This way you can get affordable pricing for safe moving and save yourself from unnecessary risks of doing it yourself.