Sea Freight Shipping Services
Hire the best, trusted and reliable sea freight services with Assureshift for securing shipping via sea at the most affordable prices. Share your requirements and get instant quotations from our top 3 suitable service providers. Compare cost estimates, start-to-end services offered, reviews, and ratings to identify and hire the best sea freight service to ship your cargo securely on time, get full price transparency, and round-the-clock sea freight tracking and cargo coverage.
The best way to move large cargo internationally is by sea, and managing all supply chain management, logistics management, and document preparation to enable on-time delivery of products to the destination is challenging. Therefore, it is best to hire a professional sea freight service provider.
At AssureShift, our professional sea freight packers and movers are experts at providing secure sea freight services at the most affordable rates and work closely with the customer's export and import requirements to provide custom-tailored sea freight logistics solutions for a wide range of cargo, ensuring local pickup to last-mile delivery, modern tracking technologies, insurance coverage, warehouse management, and maintaining the shipping paperwork.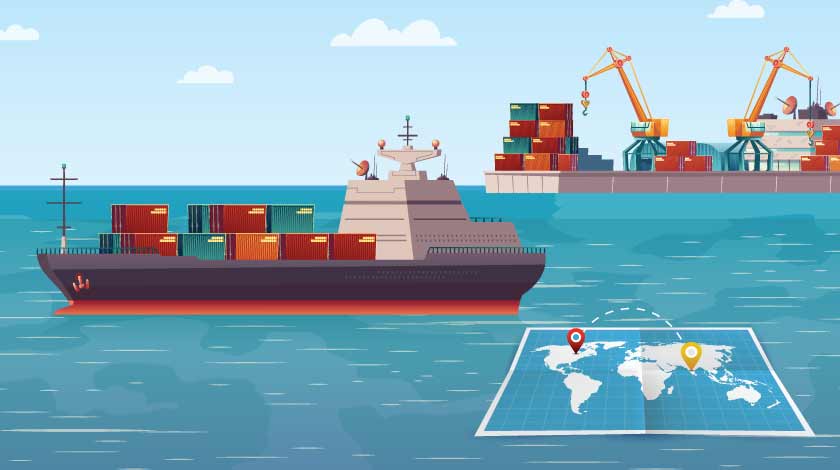 All you have to do is discuss your shipping needs with us, and we will suggest the 3 best moving companies that suit your requirements. Schedule a pre-move survey to obtain free cost estimates and to compare the mover's charges, reviews, and ratings to find and hire the best-suited mover for you.
Our international shipping carrier also provides FCL/LCL load services based on the client's requirements and has in-depth knowledge of local and international export and import regulations, transport documentation, rules, country-specific compliance, local needs, and customs clearance of cargo. With years of cargo transportation experience, our experts can assist you in delivering your marine freight in complete compliance with all standards.
If you face any problems at any stage of your move, you can contact our customer support team, who will provide you with a 24/7 quick and effective resolution.
Price Estimate for Sea Freight Services
| | | |
| --- | --- | --- |
| Shifting Size | Packing Material | Average Shifting Charges |
| Home Shifting | Rs 4,500 - Rs 8,000 | Rs 10,000 - Rs 39,000 |
| 1 BHK House | Rs 1,500 - Rs 2,000 | Rs 4,500 - Rs 8,000 |
| 2 BHK House | Rs 3,000 - Rs 4,000 | Rs 9,000 - Rs 17,000 |
How are the sea freight service quotes calculated?
The following factors influence marine freight rates:
Dimensions: The size and weight of the goods to be shipped by sea.
Distance: In terms of distance, sea freight charges are considerably lower.
Pick-up and delivery: The additional inland transportation required to connect the port to the delivery address.
Item type: The type of cargo can affect marine freight prices.
Insurance: Extra coverages availed to protect the cargo.
Customs clearance: Customs duties are levied on international maritime freight shipments
Incoterms: The incoterms can also affect the marine freight rate.
For your information: Container Transloading Trucking is a specialised service that avoids the need for warehousing. Your goods are immediately unloaded from the vessel and loaded onto the vehicle before being delivered to the specified location. This helps you to save money on warehousing as well as time.
How is the cargo shipped by our sea freight service providers?
1. Our movers will provide valuable tips and information to help you plan your international move better after a pre-move survey.
2. Packing as per international moving standards using high-quality water-resistant packing materials, crating, palletisation and labelling of cargo. Our packers provide other packing-related services such as
Internal packaging and taping of fragile goods using air cushions to fill empty spaces and prevent damage.
Protecting cargo from the pressure of ocean freight by weighting goods and proper stacking
Pest control treatments
Handyman services like carpenter, electrician etc. to disassemble heavy goods or electronics to pack efficiently.
3. Preparing seaworthy plywood boxes and lift vans for extra protection during international shipping
4. Supervision, labelling, marking and preparing inventory
5. Managing export documentation and customs formalities
6. Re-packing after customs examination
7. Choosing the international shipping carrier with care to provide the shortest travel times.
8. Keeping track of your consignment and providing transportation details to the destination moving company
9. Professional international movers handle import clearance of items at the destination
10. Real-time online tracking services
11. Delivering, unpacking, waste disposal, and home setup
12. Arranging Indian or international shipping insurance if required
Note: Purchasing cargo shipping insurance for products protects the freight from loss or damage caused by events such as seawater flooding, vessel collisions, or other enforceable mishaps.
What are the different types of sea shipping services?
The following are the different types of sea freight shipping services:
Full Container Load (FCL) Shipping: FCL shipping is used to carry substantial cargo assignments.
LCL shipping (less than container load): You may share container space with others in LCL shipping. LCL is the ideal alternative if you have fewer than a container load of goods.
RORO Shipment: Our movers provide roll-on roll-off shipping for autos, trailers, tractors, and heavy gear. The items are put directly into the cargo on their wheels, which may be conveniently rolled on and off the vessel.

Reefer Container Shipping: Reefer containers are temperature-controlled containers used to carry certain commodities internationally, protecting them against rotting and humidity.
Shipping of Hazardous Protected Containers: Our shipping partners are certified in shipping dangerous products and will carry your hazardous items internationally in specialised containers. Among the hazardous items are pharmaceuticals, combustible solids and liquids, fuel cell engines, explosives, and gases.
How to hire a reliable ocean freight service provider from AssureShift?
AssureShift provides referrals of PRE-VERIFIED and trusted movers after performing an initial screening and filtering based on all our pre-set eligibility criteria.
Fill out the form to share your requirements.
Get referrals from the top 3 best international sea freight service providers near your location and get free quotes.
Take initial charge estimations, schedule a pre-move survey to get the most accurate cost estimates, and discuss requirements in detail.
Compare the charge quotations, services offered, and the company's reviews and ratings to identify and hire the most suitable moving company.
Tips on Preparing for Ocean Freight Service
Declutter and dispose of unwanted items to save money.
Create a detailed and itemised inventory of each item.
Compare and select quotations from multiple sea freight relocation companies.
Have a background check on the moving company by verifying details like experience, company license, GST registration, owner's ID proof, reviews and ratings, etc.
Ensure paperwork and immigration formalities are completed on time.
Make sure that goods are ready for the pressures of international shipment and are properly protected, stacked, and can withstand ocean movements.
Make certain that the fragile goods are palletized before shipping them overseas.
Pack in sturdy containers that have been sealed and filled.
Do not write the contents of packed shipments to avoid theft.
Straps, seals, and shrink wrap can be used to safeguard your cargo.
Keep an eye on the weight of goods and their respective crates.
Prepare your finances/money for international relocation.
Summary
International relocation is a challenging process requiring lots of paperwork and formalities. For transporting huge cargoes internationally, sea freight services are the best suitable option. Therefore, hiring a professional ocean freight service is the ideal solution.
Share your requirements, and our team will assist in finding a reliable and trusted partner for your international relocation at the most affordable rates.
At Assureshift, our partners provide end-to-end services, including packing & unpacking, custom handling, door-to-door delivery, freight forwarding, secure loading and unloading, trucking, warehouse storage, transporting, crating, sea freight, and waste disposal.
Our partners also provide tracking services and cargo insurance in the event of transit loss. When your goods arrive at the port of the new location, our partners will notify you and deliver them to your doorstep.
Our dedicated customer support team is available anytime to assist with your queries at any stage of your move.