How To Move Your Valuable Households?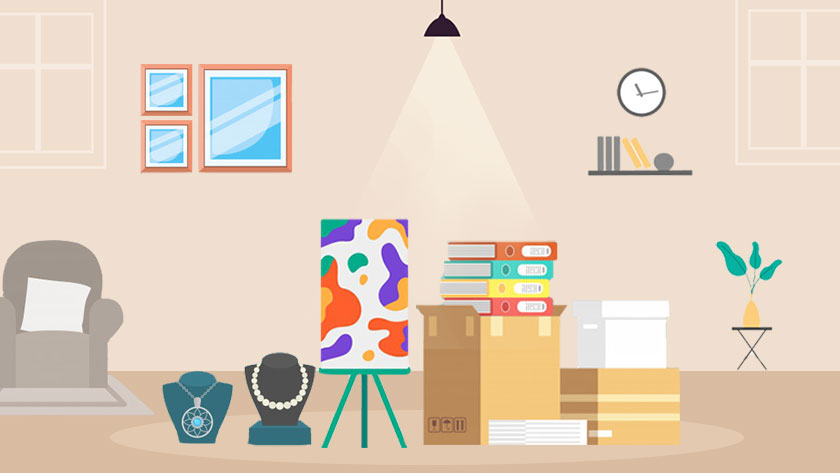 Are you moving? If yes, it is time for shifting all your households with some care and safety. But, what about your valuable items? Are they safe enough for a move?
The "valuables" or "precious belongings" are not just your sentimental products; those are things that have a great value for money and your prestige.
If you hire a professional moving company to move your valuables, it will treat your items with good care and it will provide better protection, whether they are valuable or not. However, you just can't leave all your precious belongings under their responsibility. You should take care on some of your valuables and you should be very alert during the move.
When you are unsure about how to shift your valuable goods safely, follow the ideas discussed below in this article, as moving your valuables is quite different from packing and moving your general households.
Given below are some key ideas to shift your precious belongings.
Make sure where your valuables are
At the time of packing and moving your valuable items, sometimes, it's obvious that you might forget things that you have placed somewhere and particularly you have not seen them for a while. Some people would assume that their things were placed in a box long time back and they might be searching for them somewhere, which they haven't seen for months or years.
Before you begin your packing task, try to recall or find out where your valuables are placed, so that you could ensure what type of valuables to pack and move to your new home.
---
Decide what items are precious
When you think of your precious belongings, determine what things are special and provide more value to you. Special items such as your jewelry, precious ornaments, stones, valuable metals, important documents, antiques, electronic appliances, computer products, and things which you feel precious to you are regarded as valuables.
Sometimes your medical documents and important medications are also considered as valuables because, if misplaced, replacing them could be very costly and it would become a hectic process for you.
---
List out and document your valuables
Before categorizing and packing your valuable items, create a list and document your valuables which you have decided to move. This inventory list would be useless, if any of your valuables goes missing during the relocation.
Verify the insurance
Check that whether your house insurance covers all the valuables you have at home as well. If not, it is always brilliant to get an extra insurance yourself for your expensive goods directly from an insurance company.
Take notes and pictures
Take notes on your valuables, if you want to remember or remind anything particular about the items while moving or after the relocation. Also take some pictures or photos of your valuables to show as proofs to your insurance or moving company.
Don't forget your valuables' documents
Put all the required bills, warranty cards, letter of authentication and any related documents that came along with your precious items in a file together.
---
Categorize and organize all your valuables
After documenting, categorize your valuables based on their size and nature. Categorizing your valuables will help you to organize them easily without any confusion, before the packing process.
Organize your small goods
When you own some small valuables like jewelry items, gold and silver ornaments, precious stones and metals, property bonds, financial agreements, legal documents, educational documents, employment documents, passports, foreign currencies, luxury watches, coins, antique products, check books, credit cards, security keys, medical records, prescriptions and medications, small electronic and computer devices, memory chips, disks and stamps, you should pack them separately in a box or bag and carry along with you, when you move.
Organize your large items
When you have some big valuables such as special furniture, statues, piano, high-end electronic devices, large computer devices, television, home appliances, kitchen appliances, large paintings and pictures, you can try to pack them with the help of your friends or relatives. Else, you can hire any expert moving company to do this job for you.
Get insurance from movers
If you want to make relocation through a moving service provider, get your precious belongings insured, before or while signing the contract.
---
Purchase quality packing materials
Buy some standard packing supplies to pack your small and large valuables individually before your shift them. Buy some good moving boxes in various sizes such as small, medium and large, which are highly durable. Spend some more to get the special moving boxes for some of your valuables based on their size, quality and delicacy of the product. When your moving boxes are stronger, they will survive the challenges for longer.
Also get more amounts of bubble wraps and packing paper bundles to wrap your valuables in order to deliver full protection to your precious belongings. Additionally, buy packing supplies such as colored tapes, scissors, packing peanuts, colored markers, labels, old newspapers, packing pads, etc.
---
How to Pack your valuables?
Packing your small valuables
Lighter and smaller valuables could become easily damaged and lost. It is good to keep and carry them along with you, during your move.
Pack your each small valuable using proper sized protective case or a container.
Then place all the containers inside a small moving box, pack them well and keep it with you.
If required, provide more padding and fill up the box tightly to avoid your valuables from moving or shaking during the move.
Also keep your important documents and paperwork with you when you relocate.
Try to pack these documents in an individual box and place the box inside your own vehicle or keep the document file in the back seat of your car.
Packing your large valuables
Larger and heavier valuables can be placed inside wooden crates or special moving boxes.
Pack them using best quality tapes and fill up the vacant spaces with packing peanuts, bubble wraps or papers.
Protect your valuables from colliding with each other and offer complete cushioning for your valuable goods.
If not packed properly, your precious goods could be prone to damage or theft.
When you want to shift your huge valuables, it is better to hire a professional moving company, as they can take care of your precious belongings without causing any damage or trouble. They can provide you the moving insurance for all your valuable products as well.
---
Label the packages
After packing all your valuable items, label the boxes individually with colored markers. You can write alert quotes like "DELICATE GOODS", "BREAKABLE ITEMS" or "HANDLE WITH CARE". Don't forget to put arrow marks pointing upward on all sides of the box to ensure that the delicate articles stand upright.
Sometimes, your packing and moving situation could be a lucky time for thieves to break in the boxes. Hence, it is good to place some of your valuables at the bottom of kitchen products package or pooja items package and label it as "PLATES & DISHES" or "SPORTS ITEMS". But, remember to take back your valuables from the right boxes, after the move.
---
Relocating your valuables
With the help of labeled packages, you are able to identify the boxes easily and it is advised to keep your small valuables' package with yourself in your bag or in your car. Your car is the safest vehicle to transport your small or fragile valuables. Even, keep your child's favorite toys and utilities in the car to access them easily on the way to your new home.
Then, load the packages with large valuables inside the moving vehicle and again make sure that all the boxes properly packed before shifting. As mentioned earlier, it is a smart idea to handover your large valuables to a professional moving company, as it can offer special safety and delivers you peace of mind.
---
Assure your valuables
After reaching your new house, spend some time to verify your packages for any signs of breakage or damage that might have occurred during the move. Unload the packages from the moving vehicle and open them. Then, examine the condition of your valuables by taking a closer observation. If you find any damage, compare that item with the photos you have taken before the moving process to use them as proofs for the insurance or moving company, in case you've hired.
Finally, ensure to document the damage by again taking pictures of your damaged valuable, as you can file a damage claim with the insurance or relocation company later.