The Ultimate Guide to Packing and Moving Your Bookshelf Safely!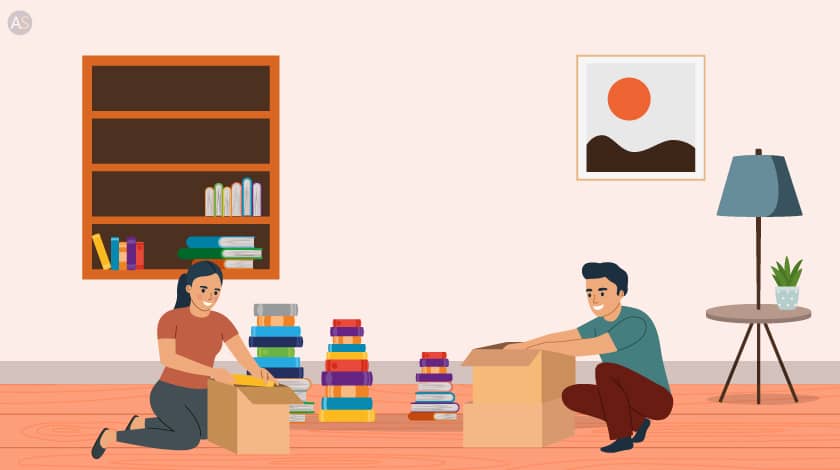 Moving a bookshelf can be a daunting task, especially if you have a large collection of books and other items stored on it. It's essential to pack and move it properly to avoid any damage during the transit. 
In this step-by-step guide, we'll walk you through the process of packing and moving a bookshelf to ensure it arrives safely at your new home. Whether you need to disassemble the bookshelf or move it as is, we've got you covered. So let's get started!
1. Empty the Bookshelf
Step 1: Separate your books, photos, and collectibles into groups and wrap them in packing paper and bubble wrap.

Step 2: Place them in small sturdy moving boxes with adequate cushioning. 

Step 3: Label the boxes appropriately with their contents and any handling instructions.
2. Preparing for the Move
Step 1: Clean and dust the bookshelf thoroughly, as dust and debris can scratch the wood or damage the finish during transportation.

Step 2: Check the dimensions of your bookshelf and measure the doorways and hallways in both your current residence and your new home.

Step 3: If your bookshelf is small in size or a single piece and cannot be taken apart, simply cover it with plastic wrap first and with a moving blankets to protect it from scratches during transportation. If your bookshelf is too large to fit through the doorways or hallways, you may need to disassemble it.
For more information you can also read our blog on how to pack and move large & heavy items.
3. Disassembling the Bookshelf
Step 1: Carefully disassemble the bookshelf, taking note of each piece's position and how it fits together. Use appropriate tools such as a screwdriver, pliers, hammer or an Allen wrench, depending on the bookshelf's construction.

Step 2: Label each piece with a number or letter, and take pictures of how the bookshelf looked before you took it apart. Keep all hardware in labeled bags or containers.
4. Packing the Bookshelf
Step 1: To begin packing the bookshelf, you need to gather all the necessary materials such as bubble wrap, packing paper, tape, moving blankets, etc.

Step 2: Wrap each disassembled piece of the bookshelf individually using packing materials like bubble wrap and packing paper. Secure the wrapping with a tape. 

Step 3: Protect the corners and edges of the shelf with cardboard or additional padding. 

Step 4: Use moving blankets to wrap the entire bookshelf to prevent any scratches or damages during transportation and secure them in place using moving straps or bungee cords.
5. Moving the Bookshelf
Step 1: Load the bookshelf onto the moving truck with the help of a friend or a moving professional.

Step 2: Position it against the wall of the truck and fasten it using ropes or straps to prevent any displacement while in transit.
6. Reassembling the Bookshelf
Step 1: Refer to the picture you took during disassembly and use the labeled pieces to ensure that everything is assembled correctly.

Step 2: Confirm that the bookshelf is both balanced and secure once positioned in its new location.
Conclusion
Packing and moving a bookshelf may seem like a challenging task, but with a little preparation and the right approach, it can be a smooth and successful process. If you are planning to do it yourself, make sure to follow the steps outlined in this guide, and don't forget to enlist the help of friends or family if needed. 
On the other hand, if you decide to hire a professional moving company, you can rest assured that your bookshelf and other belongings are in capable hands, and you can focus on other aspects of your move. By taking the necessary precautions, you can ensure that your beloved bookshelf and its contents arrive at your new home safely and ready to be enjoyed once again.