How to Easily Pack and Move Your Bed to a New Location?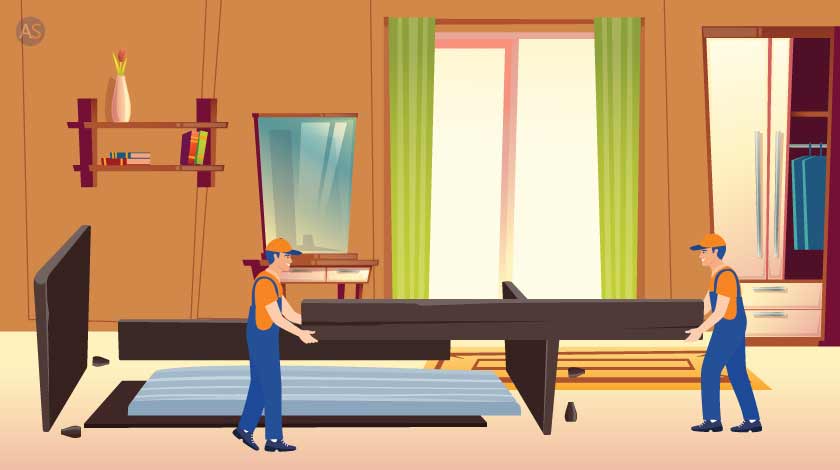 If you are relocating your household to a new location, you will need to learn how to correctly pack your belongings, which include furniture, mattresses, beds, etc., without causing any damage.
In this blog, we have detailed all the methods for securely packing the bedding, beds, and bed frames, as well as the necessary packing materials needed for shipping your bed safely.
How to Pack a Bed for Moving?
#1 Measure the bed and mattress size
Measure the sizes to decide on the appropriate packing materials and moving tools for packing bed for moving it safely.
Two different types of mattress sets, and how should they be packed?
Moving a King size bed mattress
In a king size bed moving, the mattress should be placed flat in the truck. Make sure to cover the mattress in a protective cover which will keep it safe from tearing and other damages. Avoid folding the mattress to keep the stuffing within from shifting or breaking apart.
Moving a Queen size bed mattress
Moving a queen size bed can be difficult, as it has a box spring of one piece. Maintaining it in a standing or sideways position will cause the foam inside to shift. Thus, while transporting mattress in a truck bed, it is better to keep it flat.
#2 Gather supplies and get help
To disassemble and reassemble the cot, you need packing supplies and external help to get the mattress, box spring, and frame down the stairs and through the doors.
Packing securely protects and shields the mattresses and box springs from water, dust, and normal wear and tear throughout the relocation.
Mattress bags and mattress cartons, cardboard sheets, bubble wrap, and tape
Moving straps if you need help lifting
Dolly, if your bed is especially heavy
Screwdriver to disassemble a bed
Medium or large boxes
Stack of packing paper
#3 Pack the bedding
Remove the bedding, clean it (either by yourself or professionally), and place it in a medium or big moving box. Bedding, which includes blankets, sheets, pillows, and comforters, must be packed before the mattress and bed.
Lay the bottom and sides of the box with packing paper to prevent the items from getting soiled during the move.
Place the heaviest items, such as comforters and quilts, toward the bottom of the box.
#4 Place the mattress in a bag
Clean and dry the mattress (use a vacuum to eliminate light dust), then place it in a mattress bag. Slide the mattress bag from the bottom and shimmy it up to cover it completely while the mattress is lying on the bed frame. Then, elevate and tilt the mattress to make it easier to zip or tape the bag together at the top. Apply tape solely to the box and not to the bed itself. Lean the mattress carefully against a wall to get it out. The same goes for box springs.
#5 How to pack bed frame for moving
After safely packing the bedding and mattress, it's time to disassemble the bed frame.
Gather all the tools needed to remove the headboard, footboard, and rails from the bed frame. 
Keep note of the screws so you can quickly rebuild them afterwards.
Wrap the headboard and footboard with moving blankets to protect them from any harm they may receive while on the moving truck.
Use packing tape to secure the headboard and footboard. If your things become unwrapped while in transportation, they may be scuffed or scraped on the truck.
Packing bed frame- utilising moving blankets. Moving pads can also be used to pack the bed frame that moves.
Loading into the truck-  While moving bed frame, place all components flat on the truck to stay intact throughout travel. (For finding a right truck size you can go through our blog on finding right truck size)
#6 How to wrap a bed for moving
Wrap all the components in paper padding and fasten them with tape (apply tape solely to the paper to protect the finish).
#7 Transfer everything to the moving carrier
Begin with the mattress. Lift the mattress carefully with your knees and carry it upright to the moving trailer with your helper. Keep an eye out for narrow doorways, abrupt turns, other furniture, or stairways - you may need to rotate it to get it through tight spaces. 
Repeat the process with the box springs and bed frame. If the headboard or footboard is heavy, place it on a dolly attached with rope or straps to carry to transport carriers.
#8 Load and secure the mattress for transit
Mattresses are transported on trucks on their sides, propped up against a wall, and secured with rope or straps. If you're transferring many mattresses, you may slip the head- or footboard between them and attach everything with a single set of straps. If not, lean the bed components against a wall for support, then tie them down to keep them in place while travelling.
How will a Professional Bed Mover Ease the Shifting Process?
Hiring a professional bed mover is the best way to move a bed and takes care of your complete relocation procedures, which include packing, loading, transportation, unloading, and unpacking. 
Furthermore, a big advantage of selecting a relocation company is that they come up with the necessary packing materials and advanced tools and other equipment to do the moving operation efficiently and securely.
In Conclusion
Packing and transporting a bed and mattress can be a difficult undertaking. There are chances of bed bugs from moving trucks damaging the goods if they are not properly packed. You have the choice of doing it yourself or hiring a professional bed moving company. 
In this blog, we have covered all the necessary steps for packing a bed for moving, from disassembling, packing, transferring, loading, and transporting a bed and mattress to a new location. If you're attempting to undertake the bedroom move on your own, these pointers can benefit you.