Plant Relocation Services
Hire verified and trusted plant relocation services for safe and cost-effective plant shifting to any city. Share your requirements with us and get free quotes from our top 3 moving companies. Compare referrals, charges, services offered, reviews, and ratings to choose and hire the best one who suits you to move your plants carefully.
Moving plants by yourself can become an arduous and time-consuming task. Additionally, there is a greater risk of causing damage, such as pot breakage, plants withering due to temperature fluctuations, or a lack of water during transportation.
Hiring a professional plant relocation company is the best solution. Our trusted partners provide start-to-end plant relocation services, including on-time pickup, careful packing, secure loading, transportation, unloading, and doorstep delivery to your new location at the most affordable rates.
Our qualified professionals have the experience and expertise to safely pack the plants using quality packing materials such as bubble wrap, cardboard boxes, etc., to ensure damage-free shipment.
Some of our partners provide premium value-added services such as warehouse storage, temperature-controlled trucks, etc.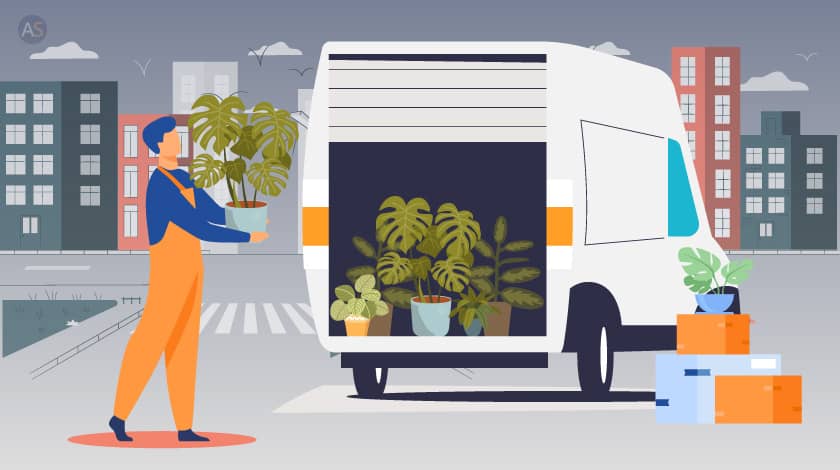 Share your plant relocation requirements with us, and get referrals from the top 3 plant shifting services. Arrange for a pre-move survey to obtain cost estimates and compare the charges quoted, services offered, ratings, and reviews to hire the best-suited plant moving company.
You can contact our customer support team, if you face any problems at any stage of your move and get a quick and effective resolution.
How are the Plants Shipped by Our Plant Moving Companies?
Our professional plant packers and movers handle everything and provide complete plant moving solutions at affordable rates, from initial pickup to timely delivery to your new location.
#1 Pre-move Survey
Firstly, the professional moving companies conduct an on-site survey to learn about the number of plants that need to be transported.
#2 Packing the Plants
Our moving experts know the tricks and techniques to pack and align the plants in the ideal position for safe and secure shipment.
Initially, our movers trim and remove the extra branches and dry leaves of plants. This will assist plants in conserving energy during the journey.
The plants are repotted in makeshift plastic pots, and the original ceramic or terracotta pots are carefully packed for replanting when they arrive at their destination.
The steam section of the plant is covered with a plastic bag with adequate holes to promote air circulation.
Our movers cover the base of makeshift pots of plants with a plastic bag so that soil remains in the same place. The plants are moved in a sturdy cardboard box or carton.
The lower part of the carton is taped, and extra spaces are filled with bubble wraps, newspapers or packing papers, so the pot stays intact and doesn't move during the transit.
Once the plants reach the new destination, they are repotted to the original ceramic or terracotta pots
#3 Loading
Our plant moving experts carefully load the packed moving boxes of plants into the truck carriers.
#4 Transporting and Delivery
Our plant relocation service providers ensure that the plants are delivered safely and timely to their new location.
Water the plants packed in boxes in time.
Keep the temperature in check to prevent the plants from suffocating.
Make periodic stops during transit to provide sunlight to the plants packed in boxes.
#5 Unloading and Unpacking
The movers carefully unload the plants from the truck, unpack, and replant them in their original pots.
They also ensure that, after repotting the plants, they are placed in a place where they receive adequate daylight.
How to Hire Movers for Plant Relocation Services from AssureShift?
At AssureShift, all our plant moving service providers are reviewed and filtered based on our pre-set qualifying conditions, and only verified and trusted movers are listed on our portal.
Fill out the form to share your requirements.
Get referrals from the best 3 movers offering plant shifting services.
Get instant quotes and cost estimates. Arrange for a pre-move survey and discuss the requirements in detail.
Compare the charges, services offered, profiles, reviews, and ratings to identify the best-matched moving company for you.
Tips to Prepare Your Plants Before The Move
Decide and plan which plants will accompany you to your new home, and take precautions to help them survive the trip.
Three weeks before moving day
Repot plants in clay pots into unbreakable plastic containers of the same size.
Two weeks before moving day
Prune bigger plants for better packing and to generate healthy, bushy, compact plants that are more attractive.
Simply pinch back fresh growth with your thumb and forefinger to prune.
Succulents (e.g., cactus, jade plants) and ferns do not withstand pruning.
One week before moving day
Use insecticides on your plants to prevent pest or insects damages.
Two days before the move
Water your plants as needed. Overwatered plants are vulnerable to fungal development during transit.
Note: Upon arrival at your new house, try not to move them around too much until they adjust and adapt to new surroundings.
---
Shifting plants or an entire garden seems very difficult undertaking as you need to spare more time and attention to move them on your own. Therefore, hiring a professional plant shifting service is the ideal solution.
At AssureShift, our plant moving companies provide end-to-end services such as initial survey, quality packaging, secure loading, safe transporting, careful unloading and unpacking to timely doorstep delivery.
Some of our plant relocating service providers provide additional services such as warehouse storage, temperature-controlled trucks, etc.
All you need to do is fill out the form with moving requirements, get instant quotes and price estimates from our best 3 verified and trusted movers. Compare the referrals, transportation charges, company profiles, reviews, ratings with there services and hire a suitable plant mover meeting your requirements and budget.
Get in touch with our customer support team for any queries at any time of your move.