Pet Relocation Services
Get the best Pet Relocation Services India has to offer. Choose among many pet moving services and compare prices and reviews. You can avail of end-to-end pickup and drop services for your pets with value-added amenities like climate-controlled cabins, personal attendants and more. Contact us to give us your specific requirements to get started.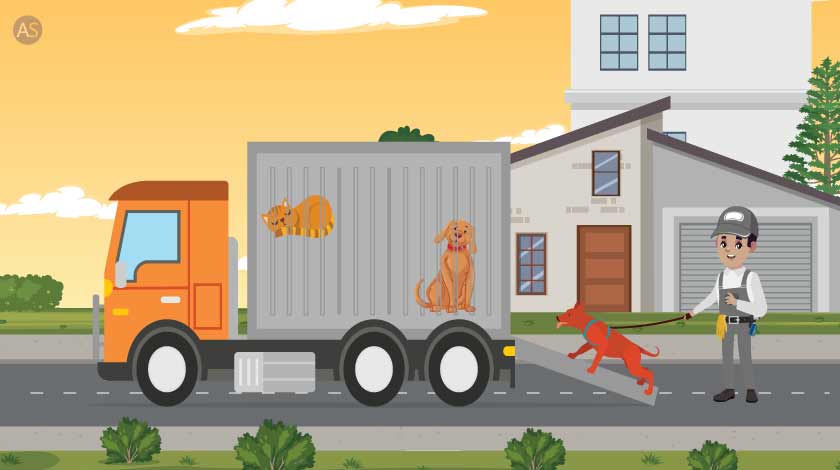 Your pets are a part of your family, and moving for them has to be as comfortable as it is for you, if not more. Our partners' pet relocation services in India give you some of the best options to move your pets, whether it is by train, air or land, to any part of the country.
You get end-to-end pet moving services from them, and your dogs, cats and other pets are looked after with great care from the moment they are picked up to the moment they are dropped off at your new home.
Our affiliate companies have everything that is needed to make your furry friend's move comfortable and even enjoyable.
We offer state-of-the-art Pet-friendly fibre crates, crate bowls, labels and collar tags. A personal attendant keeps them company in case of premium services and food and other necessities so that your dog or cat has everything they need on their trip.
Contact us and tell us your requirements to book a moving company in your city today. You will get three references immediately, along with quotes. You can compare them and their reviews and pick one that you like.
Moving Process for Pet Relocation in India
Once you have hired an expert for moving your beloved pet. There are some things you need to do before the move itself. You will need to have their documents in order and keep them medically sound.
Our affiliate pet shifting service providers will have trained handlers to look after your dog, cat or any other pet during the relocation.
Our partners will have crates, kennels and other necessary objects prepared for them if you don't have any; once they are picked up, they will also tag them with identification badges with emergency phone numbers and the address of the destination and move them in clean spaces that you can inspect beforehand.
As for the move itself, there are three ways to do it; by air, by land and by trains.
By Air
If your pets are moving by Air, they will be placed in large kennels in the cargo hold, which is pressurised and temperature controlled.
If you have cats or breeds of dogs that are small, like Chihuahuas, Shitzus, Beagles etc., they can be taken as cabin baggage alongside you. Larger animals and breeds of dogs are placed in the cargo hold.
By Train
Our partners move pets by trains as well. If you want a premium service, it will be moved in first-class compartments along with a handler as the Indian Railways allows that. If not, it will move into the luggage compartment and will be regularly checked up by the handler.
By Land
It will be either transported by specialised cabs or trucks. However, this method is not suggested for pet relocation over long distances as it can be extremely overwhelming and tiring for the dog/cat.
Guide to Hire Best Pet Relocation Services in India
Contact us with your Requirements
Get Moving company references and estimates
Compare prices and reviews
Hire a company, and prep your pet for the move
Tips to Prepare for Pet Moving
Check the rules on Pets in the new city to comply with them, especially if you have pets other than cats or dogs. Ex: Ducks, Squirrels, Hamsters, Rabbits, Birds etc.
Visit the vet, and get your pet checked before the move.
Have the pet's documents in order.
Keep the medical records of the pet handy (Medical history, vaccination certificates etc.).
Find a vet in the city of your destination before you move.
If your pet has motion sickness, keep it on an empty stomach for the move and keep it hydrated.
Book transport with climate control.
Keep plenty of food ready to feed it during the move
About Our Pet Moving Services
Moving your precious pets can be stressful for you and your pet unless you hire professionals to do it for you. They have the tools and the know-how to make your pet's relocation smooth, comfortable and even enjoyable for both you and your pet.
You can hire such experts from AssureShift by just giving your details over the phone. We will give you three references that are best suited for it, along with quotes. You can compare the prices to pick the one that you like the most.
Our partners give you full end-to-end pet moving services with door-step pickup and delivery. You don't have to worry if you don't have the right tools for it since they will have state-of-the-art Pet-friendly fibre crates, crate bowls, labels and collar tags for your precious furry friends.
You have a choice between Air, land and train travel to shift them with specialised handlers and equipment to ensure that their journey is comfortable even over long distances.
Contact our support team to know more about our Pet Relocation services India and to have your queries and questions answered.