7 Reasons Why You Need an Electrician When Moving House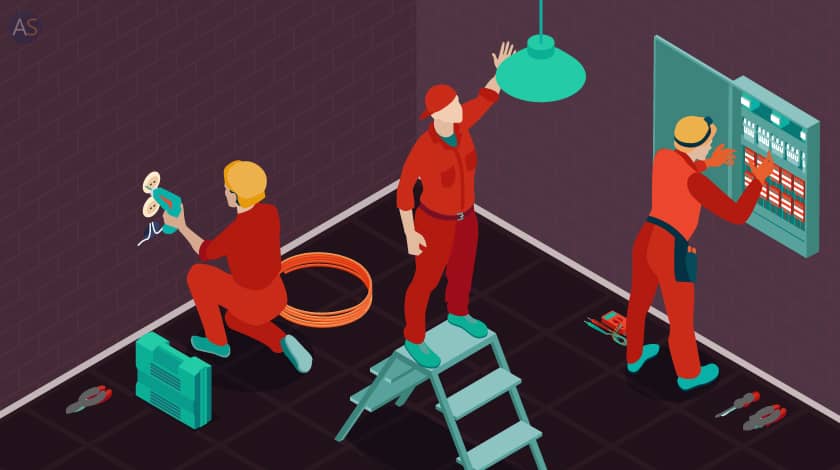 Relocating a house can be stressful and overwhelming. Most of us often overlook important details when moving to a new home, such as installing electrical appliances and making sure there are enough outlets available for all of your gadgets.
Hiring an electrician to check and handle all the electricals can ensure that they are safe and operational. If something requires installation or a check, they can either get it changed or corrected. 
With their help, you can also identify and avoid moving faulty appliances to the new location. This blog covers 7 reasons why hiring an electrician can be beneficial when moving house.
Benefits of Hiring an Electrician when Moving
#1 Uninstall Electrical Appliances & Devices
Electricians are equipped with all the necessary tools and have the experience to easily uninstall appliances such as a geyser, washing machine, air conditioner, fans, motor, inverters, chimney, security devices, HVAC Systems etc., on your behalf safely and saving you time and probably some appliances that would have broken if you had done it by yourself.
#2 Testing Electrical Appliances & Devices
They verify the working conditions of all electrical equipment before moving. If there is any fault in functioning, an electrician can quickly identify and repair it.
#3 Test Plug-Point & Switchboard
After shifting to your new house, an electrician can check all the plug-points, light sockets, and switchboards to ensure that all are in working condition, and if not, he can fix them in a jiffy. 
#4 Upgrade Old Outlets to Current-Voltage Requirements
An electrician can easily find outlets that are too old or have worn-out wires in them, and if they find any, they can immediately replace them with new ones to the latest current-voltage requirements.
#5 Aware of the Circuit Breaker
Electricians can easily connect your outlet to a circuit breaker with sufficient capacity to manage the load. These circuit breakers safeguard electrical circuits from harm caused by a short circuit or overcurrent. 
#6 Install Electrical Appliances at Your New House
Electricians can securely install all your electrical appliances at your new place. They understand the desire for energy efficiency and can always make a few suggestions for both cuttings back on power usage and optimizing appliances to consume as little power as possible.
#7 Ensure Safety during Installation
Qualified electricians assure the safety of your outlet since they are familiar with the safety checks that must be conducted after every installation or moving of an outlet. This will help you keep you from electrical fires or damaged wiring throughout your home.
#8 Secure Loose Wires in New House
The home may not have secured electrical connections. There can be loose wiring outdoors or even inside the house. This can be very dangerous for you and your family and an electrician can tend to it immediately.
Conclusion
Hiring a professional electrician is a critical step in any home improvement project. They can assist you with any electrical problem in your home. This involves installing outlets, and fixtures, changing circuit breakers and rewiring. 
This blog covers all the reasons why you should hire an electrician before moving into a house. This will not only save you money by requiring only one call-out price, but it also protects your appliances and home against electrical troubles.