Easy Steps to Prevent Property Damage while Moving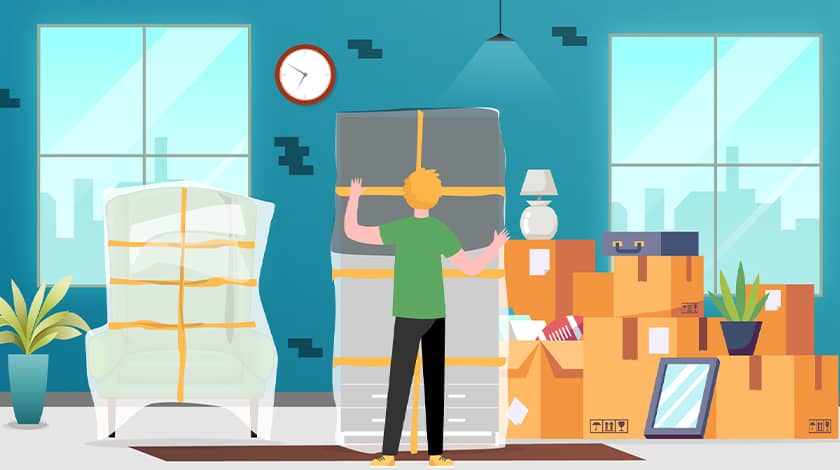 Home relocation does not only involve hiring good packers and movers, you also have to ensure that the moving company experts take enough precautions to protect your old home while moving to a new place or vice versa. 
Irrespective if you hire packers and movers or you perform the relocation on your own, shifting or moving huge goods in the home increases the chances of damage to the floor, ceiling, walls,  or doors.  To avoid all of them, you can keep these steps in mind when you carry your furniture, household appliances, or goods while shifting.
What to Protect During Home Shifting?
Protect the Walls
Look for the walls that are more at risk of getting damaged, you can protect them with old bed sheets or cardboard papers or boxes by affixing them on the walls. Try to use corner guards for heavy furniture or appliances that have the chance of hitting the wall with the corners. 
Protect Door Frames
Huge household appliances like refrigerators, washing machines, etc., or heavy furniture like beds, dining tables, chairs, etc. have high chances of bumping onto the door frames leading to chipped edges or scratches. Use foam sheets or moving blankets to protect the doors, if not that then while packing or preparing the bulky household appliances or furniture, ensure you have packed them properly by covering the sharp corners or edges with bubble wraps or corrugated sheets or foam sheets, etc. 
Protect the Banisters
Banisters are nothing but the upright handrails at the side of the staircase, banisters have higher chances of getting damaged during house shifting. To protect them you can wrap them with packing foam sheets or bedsheets or any kind of clothing or use corrugated sheets and tape them all over to avoid damage. However, avoid direct usage of tape on the banister which might spoil the polish of the banister or might leave a sticky residue when removed. 
Pack boxes systematically
While packing the household goods, sort them out according to the size, fragility, or weight. As you pack the cartons, protect them with foam sheets so that the household items are safe inside. Don't overpack the cartons make sure the large boxes are light enough to easily lift them up to avoid the chances of dropping them on the floor which might lead to broken tiles or damage to the flooring. You can pack heavy items in small boxes so that packers and movers can lift them properly and avoid chances of dropping them. 
Equipment to Use for Protecting Property
Following equipment can help in making house relocation with successfully keeping your home safe.
Use moving dolly: Moving dolly is one of the most important equipment when it comes to home relocation, as household goods like refrigerators, wardrobes, furniture, etc are usually heavy and you might face difficulty in lifting them, in those case moving dolly makes it easy for moving. Also helps in protecting the flooring from scratches or being scrapped.  

Grab some moving straps: No doubt house shifting is very hectic and a hell lot of physical activities are involved, however, to save your energy for other relocation activities, moving straps have a harness system that helps in easily moving the household items without much effort or physical strength. 

Don't forget to get moving blankets: Moving blankets are thick fabrics that packers and movers wrap around the heavy goods before shifting them, to ensure the goods are safe inside and also it helps in decreasing the friction that helps in easily dragging or lifting the items. Moving blankets helps in avoiding dents or scratches on the goods at the same time protecting the flooring of the house.  

Use flattened large boxes: Use the large flattened boxes and tape them together to make a nice pathway for movers or yourself that gives extra protection to the floor from scuffs, any other damages. 

Use carpet film protector: Using a carpet film protector helps in avoiding soiled stains on the carpet area, also this creates a walkway for the movers to easily shift the furniture or goods from the house. 

Corner guards: As you shift the huge home appliances there are a lot of chances when the goods dash with the walls or the edges of the houses leading to chipped edges or damaged walls. To avoid such wear and tear, use corner guards that help in protecting both the appliances or the house itself from unnecessary damages.
---
The above-mentioned points can help in making your home relocation easy and problem-free without hampering your old or new home. However,  it could be too much to take and put into action, hiring a packers movers company might do better in house shifting.