Packing and Moving a Sofa? Here's How You Do it Like a Professional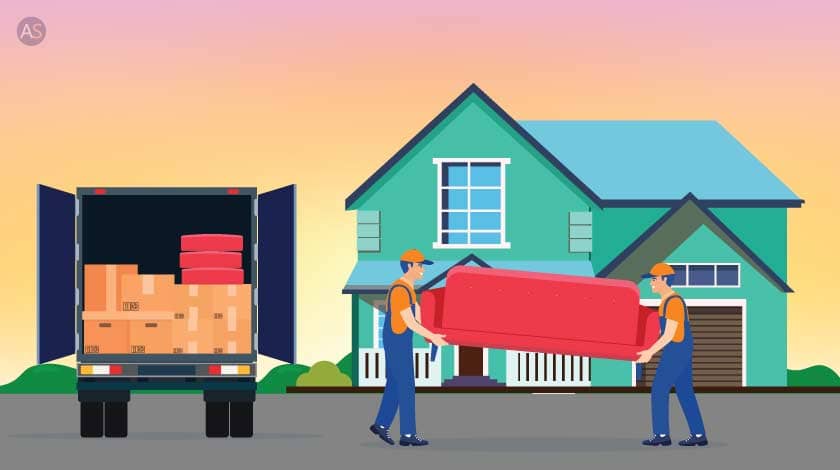 Moving on your own? And, puzzled about how to pack and move your sofa?
Let me be straight. Preparing for a move, even with professionals employed, is difficult enough on its own, let alone moving by yourself. I wouldn't recommend it, but if you have set your mind on it, then you're lucky to have found this blog; you just got your work cut out.
Your beds, tables and sofas require extra and special care when packing them for the move. I'm sure you can guess how tough it can be to prep your furniture; it can quickly become one of the biggest obstacles to handle.
Not to worry, I will guide you through the entire process of packing the sofa and show you how to do it like the pros.
I will have to warn you, though, that packing your sofa properly is a work-intensive task. However, if you do it right, it will be as good as any professional job on the planet.
Packing Materials Required
When you are planning to move a sofa, you will first need to have the packing materials ready, and you will require them in abundance to ensure you don't run out of them while packing. So make sure you stock up on:
Plastic Stretch Wrap
Microfoam
Packing Blankets
Bubble wrap
Tape
Equipment Required
You will need some moving equipment for moving your sofa unless you have a bunch of Dwayne Johnsons who can do the heavy lifting for you.
Dollies
Furniture Sliders
Trolleys
The Packing
Now that you have everything you need for the packing ready (assuming that you do) let's get to the reason why you are here; packing the sofa for the move.
There are a couple of things you will need to do before you start brandishing your Plastic wraps and tapes.
You will need to dismantle all the parts of the sofa that you can.
The legs, remove them.
The cushions? Remove them before anything else.
Any other parts that can be dismantled? Dismantle them before packing.
Wrap all the dismantled parts in bubble wrap and wrap the tape around them so that the bubble wrap doesn't come to unravel easily.
Store them and move them separately in corrugated boxes to ensure their safety during the relocation.
#1 Packing the Cushions
Once you have all the dismantled parts out of the way, focus on the cushions.
The cushions are quite fragile; Easy to tear, or rip holes into, so you need to pay more attention to them when moving the sofa.
Wrap the cushions in plastic stretch wrap to start with, and make sure it is completely wrapped before you move on to the next one.
Once you are done with all of them, pack them all together in a single blanket.
If you have a lot of cushions, please use more packing blankets instead of stuffing all of them in a single one.
#2 Packing the Sofa
Packing the cushions was the easy bit of the entire job, packing the entire sofa is a different animal altogether.
It's like the difference between cooking for yourself and cooking for a dozen guests. Do you get the idea? No? You will, by the end of this blog.
To make it easier for you to understand, I have broken this down into small steps.
Step 1: Elevate the sofa by placing it on some sturdy boxes or something similar. This will allow you to wrap it easily with whatever packing materials you have prepared. Place the ends of the sofa on the boxes, making it easier for you to wrap it vertically.
Step 2: Start wrapping the sofa vertically with plastic stretch wrap from one corner to another. To ensure you have covered every bit of the sofa, you can lift it up on one end and place it vertically. Make sure you have it wrapped completely from one end to the other.
Step 3: Place the sofa back in its regular position and wrap it horizontally with the plastic stretch wrap. Go right around the sofa and wrap it twice at least.
Step 4: Pad the edges of the sofa. Use the padding materials you have prepared on all the edges of the sofa. The ones above the legs, the armrest, the lot!
Pro tip: You can use towels and blankets as padding materials; they will serve as padding and save you space while packing your other belongings.
Step 5: Wrap the sofa in packing blankets. Follow the same procedure as in Steps 2 & 3 and use multiple blankets to cover the entire sofa.
Step 6: Tape the blankets. Wrap the tapes completely around the sofa, vertically and horizontally. Use the tapes 20 to 30 cm apart.
Moving the Sofa
The ordeal is nearly over, and the end is in sight, but the heavy lifting is yet to be done, literally.
You can make it easier for yourself and your friends or family (whoever is helping you in this endeavour) by using the equipment listed above.
So, here's how to go about moving your sofa:
Step 1: Hire a proper transport truck. This is the bedrock of the entire operation, don't be stingy with it, or it will cost you more than it originally would have.
Step 2: Use equipment like sliders or dollies, place the sofa carefully on them and slide them towards the truck. If you have any steps along the way, you will need to carry the sofa over them. If you don't have any equipment, just pray for the hulk to show up(just kidding).
How to lift the sofa: You have to lift up the sofa at the corners and carry it towards the truck. You will need at least 2 people or preferably three. Mind the corners and doorways while you are carrying it.
Pro Tip: Always bend your knee while lifting heavy items to avoid back injuries.
Hiring a Professional
Like I said earlier, moving a sofa is no easy feat. I personally wouldn't do it if I were you. It may seem easy at first glance, but when you visualise yourself doing all of this, it's one hell of a task.
The best way to move your sofa, or your house for that matter, would be to hire professionals to do it for you.
If you are worried about getting in touch with great movers who are both reliable and affordable, AssureShift has you covered.
We have many Packing and Moving companies listed on the site that are professional and trusted by many.
They take care of your entire move, from the packing process to the final delivery and placement of your goods in your new home.
Conclusion
If you are packing and moving a sofa on your own, that's how you do it like a professional.
Although it's cumbersome, difficult, and exhausting, you do feel a sense of accomplishment when you are done with it, or at least your body will be aching all over as a reminder for you to never pack and move a sofa by yourself again.
Happy Moving!