How to shift home with a large family?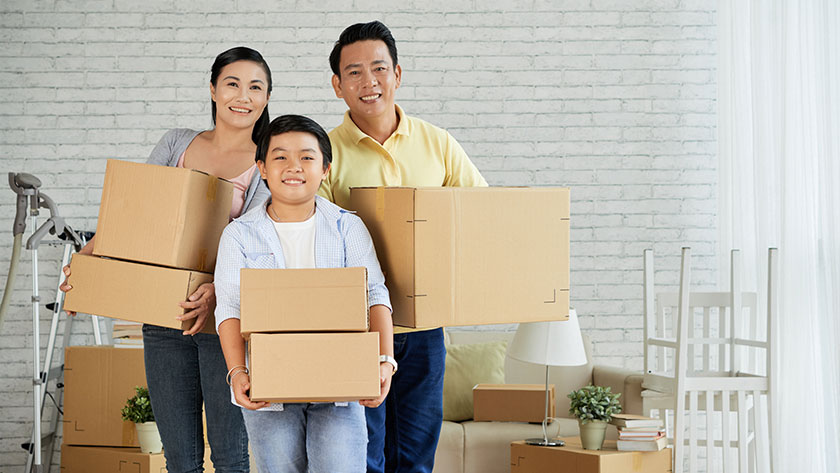 In India, large families are quite normal. Having more than 4 members in a family is generally considered as a large family. Small families would have fewer responsibilities whereas; big families would have higher responsibilities. Moving with a huge family would always be a stressful and a hard job, whether you are relocating inside or outside of your city.
However, it is your duty to handle those difficult tasks and finish them all, before you make a move. Whatever the reason might be, still, you can make an effective, comfortable and a safe relocation. But you should know the idea for shifting your household belongings along with your family without any stress and trouble.
Hence, below given are the tips to make your big family move easy and enjoyable.
Tips to easily relocate your huge family
Plan your big move
A home relocation needs proper planning whereas; relocating with a big family needs more than a typical shifting plan. Before planning on your moving budget, moving date, preparing a moving calendar and hiring expert packers, there are some more factors to regard to make the plan better and successful.
Discuss about the move with your family
When you have decided to relocate, involve all members of your family together for a meet. Then, tell them that why you need to move and what advantages all would get by doing this. Advocate everyone to share their thoughts and opinions honestly on the idea. Discuss regarding relocation issues such as moving to a good place, better house, best time, etc., to make your shift simpler.
Never create a judgmental area for all to hear, as every family member would feel secured to convey their real feelings. When the relocation is about to happen, discuss about when, how and why the moving is happening. Be ready to consider any of their concerns, fears, and feelings to execute your best. All family members deserve to have a word about the moving process, so that it would make each member feel less stressed.
Involve everyone in the task
As shifting is a large event in everyone's life, include all your family members to do their job by allowing them, to select their paint colors, to decorate their rooms, to pack up their own products and to be focused on positive things of shifting to a new place. It is also more important to involve your children in this event, as they might feel lonely, powerless and disruption of routine activities during the process.
Determine a good time for the move
When you move with a huge family, you should select the best time that would be convenient for all. There are many factors to depend on, while selecting a right time to relocate, such as:
Leaving the current job or joining a new job.
Leaving your old home or moving into your new home.
Pending of repair and renovation works.
Before or after attending any event.
Moving during the school year or during summer holidays.
After selling your house or due to end of the lease contract.
Shifting during summer, autumn, winter or spring seasons.
Condition of the roads, costs and availability.
Based on already planned leaves, family holidays, vacations, trips, etc.
Therefore, consider all such factors and mark everything in a calendar to choose a good time for your relocation.
Have a clear plan
Making a clear plan and timeline is essential to keep your relocation from becoming a hectic experience. Consider your family members' schedule and create a timeline that all can access. Ensure that everyone is aware of what to expect everyday throughout the moving process, so that they can be prepared. It is significant to be flexible with unexpected things and be ready to tackle any issues when required.
Know about your stress
In a relocation process, you should understand and manage two kinds of stresses such as, mental and physical.
To minimize mental stress, organize and pack the required items.
To reduce physical stress, take care of your kids or find a way to aid your family.
Even though relocation can create more stress, help your family adapt with the situation by focusing on the advantages like larger space, good weather, new adventures, etc. Sometimes, high charges for the moving service could also become stressful to you. So, try to hire an affordable relocation company that can offer you the free estimate and consultation.
---
Prepare your kids for the move
It's is very common to feel scared and excited, when you experience a large shift or change. Usually, adults and elderly members are aware of managing their stressful situation, but your kids might not be able to accept the transition and adjust to the environment.
Mostly, your kids won't feel familiar about the situation and you have to reduce the negative effects of shifting in them. Before you begin with your relocation tasks, verifying your kid's mood and their well-being is more necessary.
Take care of your kids
As your teenage children can be of great help to you, toddlers and your younger kids would slow down your packing and relocation tasks. They might get into potentially hazardous situations, if they are kept around your house without any care. It's good to arrange a relative or a trusted friend of yours to take care of your kids and pets.
If possible, send your younger kids to their grandparent's house, as they can't help you with your packing and moving tasks. It's easy to lose your focus on your kids and pets on the moving day with series of risks that might come across. Although you are multitasker, you shouldn't be compromised on your children's safety.
Allow your kids to talk
Try to hold an open communication with your children during the relocation. On informing them about the shift in advance, they would have enough time to tell goodbye to their friends and teachers. Let them believe that their new house would be as comfortable and safe as the old one.
Be ready to answer about your move
When you are performing your moving activities, your kids might be curious about asking you too many concerns and questions on the relocation. Try to honestly answer their questions and help them to look forward in the process. Promote their active involvement in moving tasks as much as possible, to keep away their negative feelings.
Be supportive and positive
As kids depend on familiarity, they might find it hard when there is a sudden change in their daily routine. When you are relocating locally, take your kids for a quick trip to your new home to show them and to feel familiar about their home. Some children might have problem accepting your conclusion to shift the house, but it's your job to help them understand and to be positive about moving to a new place.
While talking with your children regarding how your new life and new home would look like after the relocation, ensure to emphasize all other interesting things of it. Surprise them with wonderful facts and advocate them to adjust with the sudden change in their environment.
Do not modify all things
When introducing a family relocation as healthy modification, ensure to keep up some familiar old habits and patterns. Establishing too many new things could upset your kids' mood and health. Therefore, try to shift your children's favorite products in order to re-create the familiar feelings of their old home.
---
Organize your move
It's essential to organize and plan your relocation in advance, besides creating a timeline. Clean your house, prepare your inventory, get all packing materials, collect your essentials, inform your utility and local service providers, etc. When all things remain organized, your moving process would go smoother and importantly minimize your stress on the relocation day and even during unpacking.
De-clutter your home
As you are already aware that a huge family can gather more belongings like toys, clothes, etc, there could be a lot more than everyone wants. During your packing process, create a space for your stuff, that you want to sell or donate, want to keep and that you want to throw. This task can help you in decluttering your belongings in advance, earning some money and donate your unused things.
Create an inventory list
Develop an inventory list for packing your households at your old house and even for unpacking at your new home. If possible, employ the color-coding method to organize which products and boxes to go inside your new house using a floor plan to move simpler, as well.
Collect the documents
Collect and organize the documents containing all your family member's essential details, such as financial, school, job, official and business documents. Getting medical records from your healthcare center would also take more time. Hence, it is better to organize those documents in advance.
Get your packing supplies in advance
Before entering into your packing task, purchase packing materials required for packing such as, packing tapes, packing boxes, colored tapes, markers, bubble wraps, packing paper, scissors, labels, etc. You can also utilize the used packing supplies collected from your relatives or friends for packing your items.
Keep all your essentials with you
When you have a big family, naturally you would have many kids, as well as members of various ages including you, so that they require many items for each of them. Ensure that you have all their products for packing in an individual box, that would move along with you while you move. This is called "essentials box".
It contains diapers, napkins, plastic utensils, snacks, paper plates, coffee and tea maker, fast cooking items, medication, bottles, formula, juice, milk, water, books, games, etc. It's a smart idea to prepare an individual bag for each child and other members. Take essential things like changing clothes, personal care products, toys, etc., during your travel and for few days after the relocation.
Inform your local and utility service providers
It's good to inform your local service providers such as post office, internet service providers, telephone departments and banks about your move and the change of address. It's also better to inform your utility service providers like electricity, water, gas, ration, milk, etc.
Prepare a staging area
When all items which you need to take along with you need to be packed, it is good to find a place, a table or a corner of the bedroom or garage, to prepare a staging area. Staging area is a space to indicate the movers not to touch or pack those items when moving.
---
Pack with some fun
It's particularly essential to make your large family relocation as funny as possible. When you are not aware of the positive aspects of shifting and to relax a little, there are many tasks involved in the process. There are lot of ways to make your packing task interesting and funny, as you would really enjoy it during your moving process.
Ask your kids to find out special products
Ask your children to find out all the seasonal items like winter wear, Christmas decorations, etc, or specialty products like craft supplies, sports gear, etc., in the house. Then, ask them to group it by their type, as you can pack them easily and quickly.
Ask your kids to pack their belongings fast
Tell your children to pack all their stuffed belongings like toys, games, books, clothes, easy to pack items, etc, in a large moving box each, to look, who will pack first.
Ask your kids to hunt for hidden candies
When the time arrives for double checking your things left behind at your old home, tell your children that, a pack of candies are hidden somewhere in the home. Challenge them, to check out the places and find out the hidden candies or cookies. This would allow them to bring you any missed items for packing.
Pack your things in the same manner
As packing supplies are already available for you to pack yours and other family members' things, playing such funny games along with your children would help you to pack all your items faster.
Perform your labelling task
There would be a greater number of boxes, when you are relocating with your big family. So, you require to employ an effective and easy method to label all your moving boxes. As the color-coding method is best, allot a color to each room and each kid in the house. This will help you save much time and confusion while moving, and by the single look, you can easily identify the boxes.
On making the packing process exciting and funny, all members in the family are less likely to get stressed.
---
Get ready for the move
After completing all the packing tasks of your family members, get ready for your moving task. As you move with your huge family, ensure that everything is fine for the moving day and for moving.
Be safe and peaceful while you move
Keep your elder children with you to help you and find some other place for your little kids to go on the relocation day. Take more care and make sure that they are safe and good on the moving day, as this would help you to perform a peaceful move.
Follow the buddy system
Pair up your elder kid with one or two little kids and doesn't matter what happens, tell them to be together all the time. By this method, always you can take care of your children and their safety.
Use the current technology better
When you have electronic devices with an internet connection, ensure that all the devices such as your laptops, tablets, mobile phones, etc., are well charged and kept safe in an accessible place. By doing this, you can quickly find the details of your friends' contact numbers, maps, restaurants, lodging, weather, roadways, places, etc., and to keep your kids entertained as well.
Plan your budget on having food outside
Sometimes, your relocation can take a few days and it is good to plan about having food outside all the time. Keep some budget for having food outside and don't spend too much. Apart from having outside foods, it's better to have some homemade preparations and snacks during your relocation.
Think regarding the details
No matter where you move, consider some crucial information you might be missing. Find out the entertainment choices like local parks, athletic clubs for recreational activities, local shopping, schools, etc. The more you find things in advance, the more you can look forward to a new home with your big family.
Have a fun-filled move
Generally, moving would be quite boring for your children and they want something to stay attentive always. Don't allow them to spend many hours, looking at the tablets or smartphones. Provide them with some activities or games and you can perform together as a family. During longer moves, go to nearby places of interest like, museums, parks, zoo, historical sites, etc. to make your relocation enjoyable and to minimize stress as well.
We believe that these tips and ideas for large family moving would help you a lot. But, when you move with a big family, it is good to hire an expert and a trusted moving company. Although it may look like an unwanted extra charge, hiring a mover would be a smart investment.