How to Pack & Move Safely During COVID-19: The Complete Guide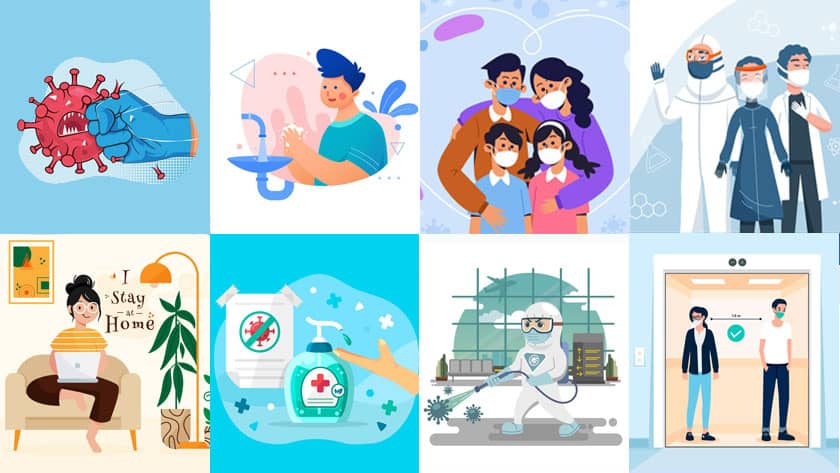 "Don't let what you can't do stop you from doing what you can do" ~ John Wooden
The Coronavirus pandemic is unlike anything our generation has seen until now. Not only has it affected people on a global scale, but also shook up everything that came in its way from education to jobs to businesses, and most importantly – our normal way of life.
Despite all efforts to #FlattenTheCurve, the number of rising COVID-19 cases in the country doesn't seem to be subsiding anytime soon; but life has to move on.
Many people who had earlier canceled or postponed their move due to the lockdown, or those who had moved in with their families due to long-period WFH orders and to save rent, would now be looking to shift as most of the country is opening up.
As it is, relocation is complicated enough; and the pandemic just made things worse!
But this doesn't mean that moving during the coronavirus situation is impossible!
Hiring professionals will help relieve most of the stress of shifting, as packers movers companies these days are taking a range of precautions and necessary safety measures to guarantee a safe, smooth, and virus-free relocation.
Experts suggest that you should also gain complete knowledge about the important precautions you need to take in order to make sure your move is as safe as possible and overcome the risks of moving in these difficult circumstances.
Table of Contents:
---
When moving during the COVID-19 outbreak, it's important to follow the recommended guidelines on social distancing, washing hands, and others, to ensure you & your entire family remain safe and healthy at the end of the move.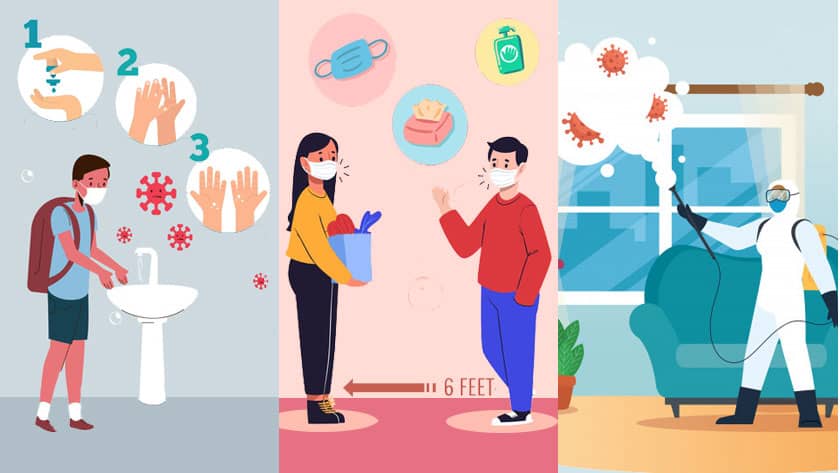 Safety Tip #1: Stock Up on Hygiene Products & Maintain Social Distancing
If there's one good thing the Coronavirus pandemic has taught us, it's to maintain good hygiene at all times, inside as well as outside your home.
So, stock up on sanitization products for moving day, which can be made available to your movers as well:
Hand sanitizers (at least 60% alcohol);
Soap & Water;
Sanitizing sprays;
Disinfectants;
Face masks;
Gloves;
Thermometer gun;
Disposable hand towels & tissues;
It's also important to not only ensure our own safety but also the safety of others by maintaining a safe distance of 6-feet when we step out of our homes and while interacting with outsiders.
So, make sure that you follow the social distancing rules when movers arrive at your home for packing & moving.
Safety Tip #2: Wash Hands Regularly and Avoid Touching Your Face
We all know by now that the COVID-19 causing virus can live on different surfaces for a long time (between few hours to few days), and spreads via touch, i.e., you can contract it if you touch your face (especially, eyes, nose, or ears) after touching any surface.
To avoid this, remember to always WASH YOUR HANDS at regular intervals, and no matter what happens, NEVER TOUCH YOUR FACE, especially after touching anything.
If soap and water are not immediately available, make sure you use a sanitizer as a temporary safety measure.
Tip: Set a reminder on your phone or put up a sticky note, so you don't forget to wash hands during the move. Also, remind your movers to wash their hands every few minutes or before they move on to the next task.
Safety Tip #3: Find Out Which Zone Your Current and New Locality Falls In
It's eminent to check the current status of case density in both your localities, especially since most of the country is unlocking, and number of cases are on the rise.
Make sure that your current place of residence as well as the one you will be moving into is neither inside, nor is close by to a containment zone. It would be best to postpone relocation if any one of your places fall in a red/orange zone.
You should also find out the rules and regulations for moving in and out of your apartment society, like timings, number of people allowed entry, etc.
Safety Tip #4: Let Only 1 Person Manage the Entire Move
Since the main cause of virus spread is through physical contact, the most effective way of reducing the probability of exposure is to make sure that only 1 person from your family is coordinating the move.
Limiting the number of family members present at home during the move will help minimize contact and lower the risk factors for all the people involved.
Safety Tip #5: Limit Exposure of Kids and Elderly
The highest level of precaution should be taken for kids (below 10 years) and elderly people (aged above 60), who are most prone to the virus because of their weak immune systems.
So, make sure they are either sent away to a relative's or friend's place to limit their exposure when movers arrive on moving day, or let them stay in a separate room, away from the place of action.
How Can Senior Citizens Manage their Move?
For an elderly person planning to move, it would be best to go for a 'contactless moving approach' to avoid the risk of coming in contact with outsiders as they are most susceptible to infections during these times.
Senior citizens should preferably choose a younger family member or friend to act as an agent and coordinate the entire move.
The responsibilities of the appointed representative would be to:
guide the relocation company crew while packing moving,
do a final walkthrough of your home before moving out,
sign the essential agreements, and
make the necessary payments to movers.
---

Safety Tip #1: Look for Good Movers with Strong COVID-19 Policy
Before booking shifting services providers, it's important to check their complete details and make sure they understand that the safety of you and your belongings is critical while moving in such a situation.
Keeping in mind the safety and health of you and your family members, it's essential to choose your moving company carefully. Ask a lot of questions and find out what procedures they are following and how they will ensure you have a safe move during the pandemic.
Questions to Ask the Packers Movers
What precautions are taken by your company during COVID-19?
What safety gear will your moving labor be wearing?
Are you constantly monitoring your moving crew for symptoms?
Are you cleaning the packing materials and other loading equipment after every move?
Will you be using new packaging material or used ones?
Will your trucks be sanitized properly before loading my goods?
Will you offer virtual moving estimates rather than pre-move survey at home?
I want to avoid paperwork; Will you provide soft copy of bills and other moving documents?
What will be the process for rescheduling if the need arises suddenly?
What should I do if I discover one of your moving guys has COVID-19 symptoms?
Do you have any points of precautions that I should take from my end?
Safety Tip #2: Get Cost Estimations from Multiple Movers
Taking price quotations from at least 3 to 5 packers & movers will make it easy to compare the different valuations and make a note of:
the quality of services promised by each mover,
list of services offered,
quoted service charges, etc.
Accordingly, you can choose the most suitable shifting company offering your required services at affordable rates.
Never make the mistake of choosing movers quoting lowest charges as they may deliver extremely poor quality services because of which your items may end up completely damaged.
Safety Tip #3: Go for a Complete Digital Procedure
Try to complete most of the procedures digitally to avoid the risk of coming in close contact with too many people.
Clear any doubts you have and ask the movers for clarifications via phone calls or messages.
Request the movers for a soft copy of the documents like invoice, bills, agreements, etc.
Prefer online payment options over cash for any transactions.
Opt for a Virtual Pre-Move Survey
In the time of social distancing, virtual estimates provide a safer alternative to surveying goods and most movers should be able to accommodate this request during the ongoing pandemic.
You can perform a live walk-through of your goods via video calls, or take a pre-recorded video, or send photographs of your items to the relocation experts. Based on your complete shifting requirements and the total quantity of items, movers will provide you a more accurate price list for your relocation.
Safety Tip #4: Compare Profiles, Charges, & Reviews Before Finalizing
Before making the final decision to hire a particular mover, you should try to understand better about each moving company and decide which one would be able to offer more value for your money.
Check and Compare Movers Based On:
company profiles,
estimated charges,
list of services offered,
quality of services promised, and
previous customer experiences.
Note: Reading a lot of reviews will give you the complete idea of how your relocation would go if you hire them; you can find necessary information like how many customers were satisfied with that mover and if there are any outstanding customer complaints against them.
Instead of putting in so much hard work during your already busy schedule, save time and get referred 3 best moving companies in your locality by submitting your shifting requirements to us. All our movers are professional and follow the essential guidelines to guarantee secure and hassle-free relocation.
---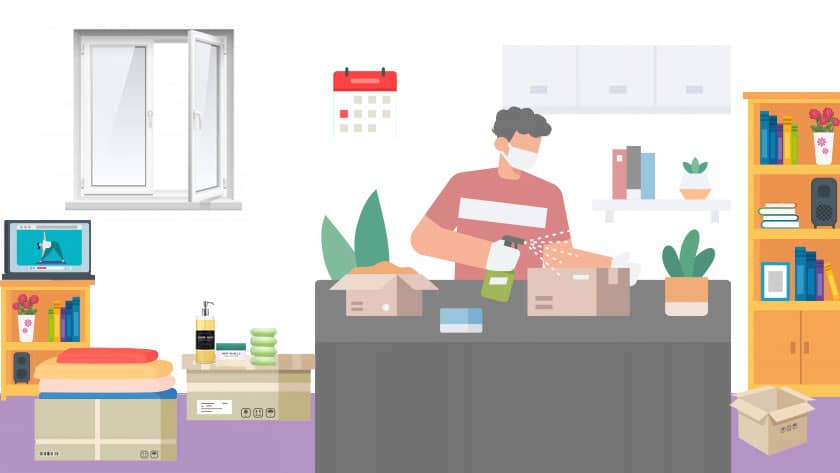 Safety Tip #1: Sort, Clean, Sanitize, Repeat
Shifting during COVID-19 requires much more preparation, cleaning, and attention to detail, which could be a lot more exhausting than usual, so it's important to start planning much beforehand.
It's important to be ready with the list of items you want to move (i.e., leaving out the unwanted items), and make sure to effectively get rid of any last traces of virus on the surface of your goods by sanitizing everything.
To prepare your goods for the move:
Sort through all household items and declutter unused/unwanted goods.
Make a separate pile of goods which you can donate or sell (sanitize them too).
Dust and wipe down goods like TV, AC, furniture, appliances, kitchen items, etc.
Sanitize and disinfect all items which can't be wiped using sanitizer sprays (mattress, sofa cushions, etc.)
Safety Tip #2: Pack 1 or 2 Essential Bags (At Least for 1 Week)
Considering the fact that your goods will be handled & touched by movers and traveled in a truck, it would be best to leave the delivered goods untouched for a few days. Moreover, unpacking immediately after arriving home is an impossible task, especially after a long hard day of moving.
So, until you get time to unpack your goods, you can have a much more comfortable stay and you can keep up your daily routine if you have all the basic necessities close by and readily available.
You can also pack some important goods like documents and valuables in your overnight bag since they would be safer with you rather than the movers.
List of Overnight Bag Essentials:
Sanitizers, gloves, masks;
Clothes;
Soaps & Toiletries;
Medications;
Kid's Items;
Pet Food & Toys;
Clean Bedding;
Basic Kitchen Items;
Water & Snacks;
Basic Cleaning Supplies;
Laptop & other Electronics;
Important Documents;
Valuable Jewelry & Ornaments;
Cosmetics;
Note: use a separate room to store your essentials bag and any other goods which you are planning to take with you in your vehicle, to avoid any confusion by the movers and to also ensure it does not get contaminated.
Safety Tip #3: Plan & Schedule the Right Date for Your Move
To ensure you stay away from crowded places and maintain a secure distance from people, it's advisable to think well and hard about the day on which you want to move.
Experts suggest that the best days for moving are weekdays or middle of the month (between 6th – 24th of every month), since not many people are out on the streets and moving companies would also charge nominal prices for a shifting job.
This is because weekends and month ends (calculated from 25th of a month – 5th of the following month) are the busiest times as most of the people prefer relocating due to time off from work or end/start of lease agreements; and owing to the soaring demand for shifting, packers and movers also charge twice as high.
Safety Tip #4: Update Your New Address in Important Places
The best way to make sure you don't miss any important communications or online deliveries at your new house, is by remembering to change your old address to the new one at necessary business places & firms.
Performing this step is particularly important if you're moving out of state since it would be difficult to go back and get your address changed if there are no options to do it online.
Places to Update Your Address:
Banks;
Educational institutions;
Credit card firms;
Insurance firms;
Post office;
Online shopping sites;
Food delivery sites;
Magazine subscriptions;
Safety Tip #5: Remember to Manage Utilities for Both Homes
Forgetting to transfer, disconnect, or reconnect utilities could leave you extremely stressed out on the day you move in, or worse, have a heap of bills to pay for the services you didn't even use!
Therefore, it's absolutely necessary to contact the respective service providers before your move and tell them the exact date when you want your utilities to be cut off, transferred, or turned on at both your houses.
Utility Departments You Need to Contact:
Electricity;
Water;
LPG Gas Agency;
Telephone & Internet;
TV Dish or Cable;
Milk Vendors;
Newspaper Agency;
Garbage Collection;
Tip: before moving out, note down the final meter readings of the electricity & water meters, so that in case you receive any unexpected bills after moving out – you would have a record of your last-used meter readings.
Safety Tip #6: Get All Repairs Done Before Moving In
Visit your new place a few weeks prior to moving and do a thorough walkthrough.
Check for the safety and working condition of all the electrical sockets, taps, plumbing, door hinges, any fans & lights already installed, etc.
Get them fixed or replaced before relocating to make sure you and your family have a secure start at the new home.
Safety Tip #7: Inform Movers if Anyone is Unwell in Your Family
Make sure to inform your movers immediately if any of your family members are unwell, or showing symptoms of flu, so that you can discuss the different options of rescheduling or working through the relocation.
If the movers decide to continue working with you even after getting the information of a suspected ill family member, they would at least be able to include additional protection for their moving labor and to safeguard you.
---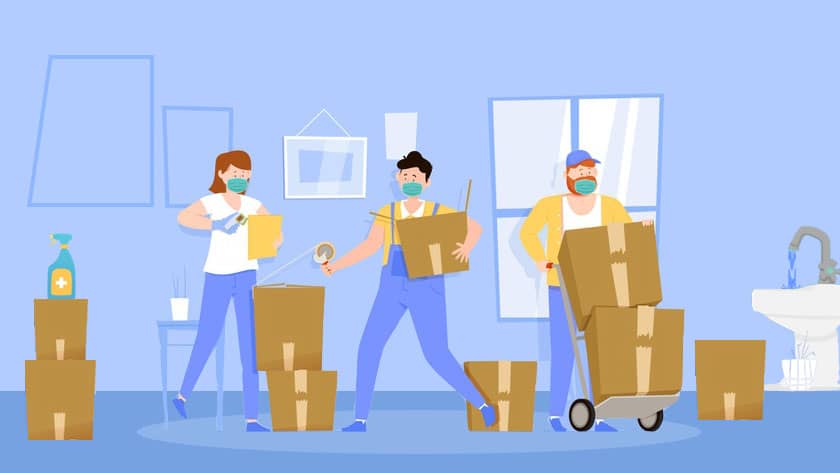 Safety Tip #1: Ensure Movers are Temperature-Checked, Sanitized, & Covered Up
Temperature checks: Before any of the movers enter your home, make sure they had their temperatures checked; or better yet, keep a temperature gun handy to check them before they enter the house
Masks: Check and make sure all the moving labor are wearing masks; if not, provide them with proper masks, so that you can guarantee both your safety during the entire process.
Sanitizers: It would be best to provide a bottle of sanitizer (containing at least 60% alcohol) to the movers; ask them to use it before entering the house and beginning work.
Safety Tip #2: Make a Separate Hand-wash Station Available for Movers
Soap & Water Vs. Sanitizers: According to a study conducted by CDC, soap and water are most effective in removing chemicals and all kinds of bacteria & germs. When it comes to sanitizers, even the ones with sufficient amount of alcohol may not be able to rid the hands of all the germs, bacteria, and viruses, especially when people are handling equipment and may get their hands dirty & greasy.
So, make sure the movers have a separate sink basin, soap, water, and paper towels/tissues where they can wash their hands in between, or at the end, of the move.
Of course, it can't be denied that in the absence of water, sanitizers do a good enough job of protecting the hands and are definitely the better option to not using anything.
Safety Tip #3: Maintain Social Distancing During Packing & Moving
Safe Distance has a new number these days: 6 feet.
You must always keep a safe distance from the moving labor, and wear mask, gloves, and face shields at all times throughout the packing, loading, and unloading process.
Although it may be difficult for movers to maintain distance amongst themselves while working, it's important that they too wear masks, gloves and keep themselves covered at all times during the move.
Tip: Keep all the windows and doors open to ensure enough ventilation inside the house during the process.
Remember: If you have any kids or elderly people at home, keep them in a separate room, or send them away to a relative/friend's place.
---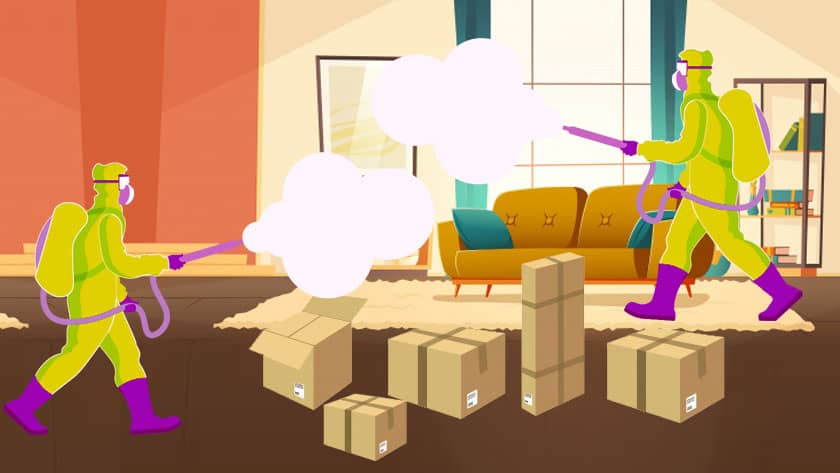 Safety Tip #1: Thoroughly Sanitize & Disinfect Your New Home
It's important to prepare your new home before the goods arrive by performing a deep clean and disinfecting every nook and corner of every room.
This job is best done as soon as you arrive at the destination and before you even begin to touch a single thing.
Clean and wash the floors and kitchen surfaces with soap and clean warm water to get rid of dirt, grime, and bacteria.
Use disinfectant wipes to properly sanitize the most common touchpoints such as door knobs, handles, countertop, sinks, taps, etc.
For surfaces that can't be wiped down, use disinfectant sprays like Dettol, Lifebuoy, Savlon, etc.
Never mix ammonia with bleach if you're planning to clean floors or surfaces using bleach.
Wear rubber boots, face mask, gloves, and eye protection while using mixed cleaning chemicals & don't inhale any fumes.
Ensure you keep all the doors and windows open to allow good air ventilation throughout the house.
Safety Tip #2: Wipe Down Your Delivered Items as soon as They Arrive
The virus can survive on materials like cardboard and plastic for a period of 24 to 72 hours.
So, as soon as the goods are delivered, before you even touch them, use disinfectant wipes or sanitizer sprays to sanitize and spray down all the carton boxes so that any germs, bacteria and virus residing on these surfaces can be killed.
It is also recommended that you leave the boxes untouched for a couple of days to make sure you create distance between you and the items for a good amount of time until the virus present on them die.
Safety Tip #3: Plan to Unpack Belongings by Yourself
Try to unpack all belongings individually, without involving many others, to prevent any contamination or spread of germs and bacteria. This way, you will also get enough time to let the goods sit for a few days.
Remember to wash your hands, clothing, and preferably take a shower, at the end of unpacking.
Safety Tip #4: Self-quarantine Yourself for a Few Days
Even after following a good safety procedure, you should always be cautious and on the lookout for any symptoms.
Stay under self-quarantine for a couple of days use this time to unwind from all the stress and reward yourself for all the hard work you put in to ensure a safe move. So, take a few days off from work and have a fun time with your family with some pizza and Netflix & Chill.
---
That's a Wrap
Moving during a pandemic like COVID-19 can be as scary as it can get. Especially when we are up against a disease that's currently spreading like wildfire, we need to take all the precautions we can and make sure our actions are much bigger than us during this rare time.
Most importantly, always put health and hygiene first, whether it's your own, your family's, or that of the mover's; reducing the spread of infection should be everyone's top priority at this time. Keep the aforementioned precautionary measures in mind while planning your move, and you'll be good to go.
And, if you're looking for professional moving companies who can carry out your relocation in the safest way possible with proper guidelines and protective measures, just let us know your requirements and get referred 3 top packers movers who offer end-to-end shifting services at most affordable charges.
Wish you a Safe & Healthy Packing & Moving!