The Complete Relocation Guide for Expats Moving to India
Learn everything you need to know before relocating to the Indian Subcontinent.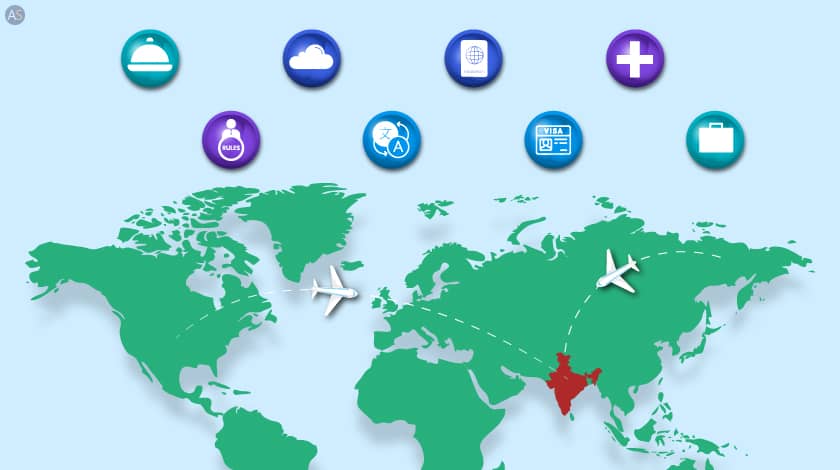 India has always been a place of historical importance. Whether it was maritime trade or geographical and ethnic diversity, the Indian subcontinent was a place of envy. While it is no longer the same place it was centuries ago, it has been rapidly regaining its prominence as an emerging superpower and an economic powerhouse in the continent of Asia.
This has made it a very favourable destination for expats looking for excellent pay and a low cost of living while maintaining a good standard of living. Ever since the economy of the country opened up in 1992, the private sector has expanded rapidly, creating a job market that employs close to a billion people.
However, it isn't exactly an easy place to stay for expats. It is vastly different to anything encountered in the west and dissimilar to anything in Asia as well. So you will need to understand some of the nuances of the country. Hopefully, by the end of this blog, you will be able to do just that.
Visa and Immigration
Applying for an Indian Visa is fairly simple. There is an online portal where you can apply for a visa. This is not restricted to any single country and can be used by everybody. You can then schedule an interview with the closest Indian embassy or consulate and attend it with all the necessary documents listed on the site.
There are a number of visa categories to apply for, and based on the type of visa, you may have to register locally as well once you have landed in the country.
Visa Categories
Business Visa: This visa is for those looking to open up a business in India. This visa will need certain proof of finances, business expertise and a letter from the company that wants to set up shop here. You cannot take up full-time employment on a business visa.
Employment Visa: This is the most common visa used by expats moving into the country for employment reasons, including volunteer work with NGOs. You will initially get a visa for 1 year that can be extended using proof of employment. You will need documents supporting your academic and professional qualifications as well.
Project Visa: This is a specialised visa for those working in the steel and energy industries. It has its own set of rules and regulations.
Diplomatic Visa: This visa is only applicable to diplomats and their staff. It can be acquired by those assigned to their country's Indian mission or by diplomatic/official/UN passport holders working in the UN or other international organisations in India. 
Journalist Visa: This is a special category of visa for visiting journalists that are either visiting to cover an event or a story. This is eligible for up to six months, and journalists applying for this visa must also file a statement confirming the non-media-related purpose of their visits, such as travel writing or photography.
Conference Visa: This visa is granted to officials, both government and private, attending conferences and seminars in the country. This request must be approved by relevant government authorities.
First Steps: Bank Accounts and SIM Cards
Bank Account: You can create a bank account even on the flight in now since you don't even have to be present at the bank physically for it. You will just need to keep the necessary documents handy and upload them through your mobile phone.
SIM card: In order to stay connected while in India, you will need to get a SIM card for your phone. It is fairly easy to obtain a SIM card. You can just purchase a SIM card at any mobile phone store or physical store of one of the operators, i.e., Jio, Airtel and Vodaphone, or buy one online.
Health and Safety
There are quite a few health risks for expats in India. Always consult the embassy before making plans to move there. There are dozens of diseases that thrive in that tropical climate. You can always dial 112 in case of health emergencies in the country.
Public health care in India, however, is not that great, but private healthcare is among the best in the world and rather inexpensive as well.
Recommended Vaccines: DPT (diphtheria, pertussis, and tetanus), polio, and MMR (measles, mumps, and rubella). You should also get immunisations for influenza, pneumococci, typhoid, rabies, Japanese encephalitis, meningitis, and both types of hepatitis.
Climate 
This is going to be one of the biggest issues for those living in temperate and cold climates. Due to its tropical nature, the climate in India is very warm, especially on the coast and the northern plains. If you are staying on the hills in the north or the city of Bangalore in the south, you are not affected by it.
Also, expect erratic rainfall in most places. Especially during the monsoon season, which accounts for most of the rainfall the subcontinent sees, things can get chaotic. Pack for warm weather either way.
Accommodation
Accommodation in India is quite inexpensive. There are several options available, including apartments, houses, and serviced apartments. You can find listings on websites such as 99acres, MagicBricks, and Housing.com, or you can hire a real estate agent to help you find a suitable property.
The best option for expats, however, are fully serviced apartment. You can get these for around ₹80,000 to ₹1,50,000, depending on the city and the home itself.
Fully Serviced Apartments: The Best Choice for Expats
There are different types and categories of serviced apartments available in India that cater to the varying budget and quality requirements of an expat moving to India.
International Brands: Oakwood is present in a few cities. Some hotels like Leela, Marriott, Sheraton and Hyatt offer serviced suites.
Local Operators: While there are professionally run serviced apartments like Oakwood as one category, there are smaller serviced apartments run by local companies which fall under a second category, they have independent buildings, but the quality and service may not be at par with international standards.
Unorganised sector: The third category is when a serviced provider converts one unit in a regular residential housing complex into a serviced apartment and appoints someone to manage the housekeeping. This option is typically taken for long-term bookings, and the unit may be customised based on negotiations with the service provider.
Public transport
Most Indian cities have extensive public transport networks. Although it is brilliant for the locals to use, it is not advisable for expats unless you are trying it out as an experience. They are awfully crowded and not very cleanly maintained. You are better of with Ubers and Olas, one of the country's own ride-hailing services. They are always available and quite cheap.
One thing you must try, however, is the Indian rail network. If you are planning on enjoying the experience, there are several luxury tour packages aimed at expats. If you are planning to use it for regular transit, make sure you book first-class tickets, or you are in for the experience of a lifetime.
The Language Barrier
India is home to over a thousand languages. It is as diverse as it gets. While English is enough to get you through most of your daily tasks in metropolitan cities, you will find yourself in a lot of trouble if you are in tier II and III cities. 
You might want to brush up on your Hindi speaking skills or find out the local language of that particular city or state and take it up.
Playing it Fast and Loose with the Rules
This is one of the defining characteristics of the country. Rules do exist, but merely as guidelines, they are barely followed. To quote the famous saying, 'It isn't the law but rather the guidelines.' Whether it is simple road rules or complicated housing and land laws, they are often flouted by the locals. So be prepared for a new definition of what following the rules is.
Food
This will come as a pleasant surprise unless you like bland food. It is no secret that Indian cuisine is packed with flavours and masala. If you are into unspicy bland food (Europeans and Americans, I am talking to you), you will have to give special instructions anywhere you eat outside.
For those who have enjoyed the occasional chicken tikka masala and paneer butter masala, you are in for a treat. There are a variety of cuisines in India, and each of them is amazing in its own way. If you are foody, there are enough types of food to keep you busy for a decade.
Conclusion
In conclusion, moving to India as an expat can be a challenging but rewarding experience. Many things will catch you out, and you will need to learn some of the nuances of what keeps the country going and prepare well for the move.
With some careful planning and the right resources, you can make the transition smoother and more enjoyable. We hope this guide has been helpful and wish you the best of luck in your new home!