11 Pieces of Advice to Have a Happy Move This New Year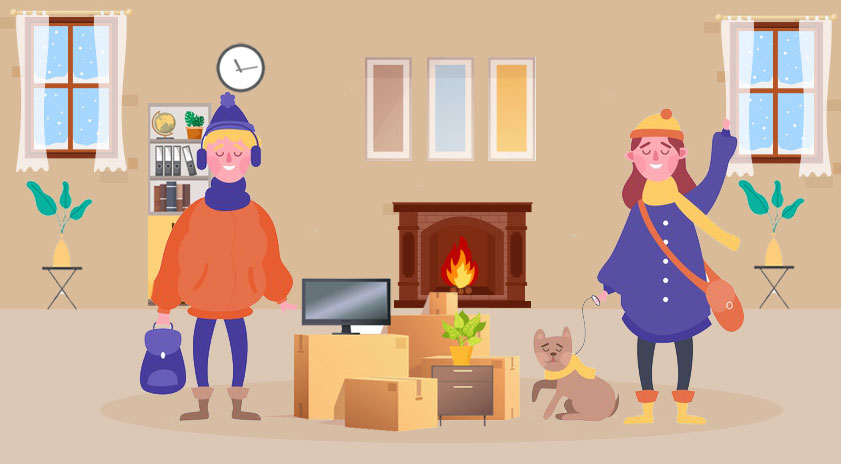 Moving homes is annoying even in regular times; but, I guess it goes to new levels of pain and irritation when you know everyone around you is busy celebrating and singing in unison – to welcome the New Year!
After having a roller-coaster move (2 years ago), and taking an oath that I would never again move during any holiday season, I realized that 2 main factors can make or break your move, no matter when and where you're moving:
First, put aside the immediate cause of stress – the fact that you have to move "during the Holidays" (or any specific time) – just treat it like a typical move;
Second, it's all about excellent time-management during this already-busy period;
In my case, however, I had also made too many silly mistakes since I got carried away with all the enjoyment; and, my lack of preparation cost me heavily.
Read on to know what I did wrong (or, didn't do at all) during my move and make sure you do them right. If you just get your timing right and make some wise decisions, I guarantee: you won't even feel the stress of the move!
---
#1 Block 1 month on your calendar for organizing
My mistake: Although I knew I had to move within a month, I was busy shopping for new year, hanging out with friends, and procrastinating about packing, and left it for the last minute (mostly because I thought I could manage it easily and I wasn't ready to feel stressed).
The right thing to do: Begin organizing your move at least 1 month before the shifting date. Think about and plan what items to take, how much packing material you need, when you'll pack, how you'll transport the goods, and of course, how to manage your time such that you're not the only one not celebrating the holidays.
Tip: It's essential to decide whether you'll rent a truck and move yourself or hire packers and movers since they help save much of your time and money by handling the entire relocation from start to finish.
#2 Make a detailed list of your moving requirements
My mistake: I was hardly prepared for my move even on D-day, because of which I could not think of any specific requirements that I could take help for.
The right thing to do: As soon as you get to know you have to relocate, start noting down details like date of shifting, list of items to move, what mode of transport you will use, and what arrangements you have to make for the same. Make sure you have a fool-proof plan ready so that you have enough time to execute it.
#3 Declutter & recycle your unwanted things
My mistake: I began packing hardly 2-3 days before moving day because of which I had to pack every single item, including the things which I didn't need anymore. Since I didn't have time to reduce my luggage, I ended up with a tremendous amount of carton boxes and subsequently paid much money to move them.
The right thing to do: Before you begin packing, make it a point to sort through all household items and separate the things which you don't require any more or haven't used in a long time. Moving fewer things will help you not only carry a lighter load but also spend much less on your relocation. Moreover, you have the added advantage of enjoying space in your new home.
#4 Keep the 'giving spirit' alive and donate
My mistake: While unpacking my boxes in the following weeks, I found that I had no use for more than half the things I moved since either they were old, or I didn't have any use for them here. Although I gave a few things to our building security guard's family, I ended up throwing away most of the stuff since I couldn't find the right place to donate.
The right thing to do: 'One man's trash is another man's treasure'; so, consider donating your unwanted stuff to someone in need and bring a smile on their face; you can give away good-condition items to friends/relatives or look for the nearest NGO that accepts such things. Alternatively, if you don't want to donate your expensive stuff, you can sell them online and get a good deal on it.
Bonus: By giving away unused stuff, you can enjoy the benefits of carrying a lighter load into your new home, save money on your move, and make someone happy.
#5 Pack essentials and keep them separate
My mistake: Well, my lack of preparation and less time made me pack in such a hurry and carelessly; it was only when I reached my destination did I realize that I had packed my toothbrush, extra clothes, and soap in random boxes; and I was unable to refresh myself properly after the long travel.
The right thing to do: Make sure you are fully prepared to have a comfortable stay at your new home for the first couple of days. Pack your essential items, like a few pairs of clothes, toiletries, medicines, coffee-maker, and so on. The main reason to keep your necessities close by is that your daily routine will not be disturbed, and you wouldn't need to unpack everything immediately to look for them.
#6 Research movers and screen carefully
My mistake: At the time, I believed that "packers and movers are too expensive" and "they would not care for my belongings" or "may probably even steal them." Because of this, I decided to move by myself and ended up facing immense problems at every step of the move.
The right thing to do: Hire relocation service providers instead of moving by yourself, because they use the correct type of packing material to wrap goods and proper moving gear while loading and unloading items to and from the truck. Search for moving companies that provide all shifting services like packing, disassembly, and assembly of large items, quick and safe transport to the destination, loading-unloading, and they even unpack all your goods at the final destination.
How to screen: Do a thorough investigation of the packers and movers with whom you get in touch, to make sure they are genuine and have the necessary legal proof of their company. Check the movers' website, visit their office, verify the company documents and other details, read reviews and ratings, and meet them in person before deciding to hire a particular moving company.
Caution: Beware of fake and unprofessional movers who attract customers by offering the lowest cost quotations over the phone itself. A professional relocation expert should see your items and check moving details before quoting your shifting cost.
#7 Look for cost-efficient alternatives
My mistake: I had decided to relocate my 1 BHK worth of goods (without reducing them) using a mini truck since I wanted to save money and thought I could "make" everything fit!
Furthermore, I had planned to move over the weekend. Yes, you're right, my timing or mode of transport could not have been worse! Not only did I spend a lot for moving during peak time, but I also ended up with many damaged items since they were randomly stuffed into the truck.
The right thing to do: First, try to reduce the number of things you're moving so that you require a small truck (by default) instead of trying to fit a large number of things forcibly. Also, schedule your relocation during the weekdays since movers are more readily available as compared to weekends or holidays during which they wouldn't charge high prices to take up your shifting job. Further, since you're moving during the new year, search and book movers well in advance so that you have enough time to negotiate the shifting prices and avoid accepting their high quotations at the last minute.
#8 Be prepared for unexpected moving costs
My mistake: Just as I explained above, I had no idea that moving over the weekend was going to increase my cost as much as it did. Also, I assumed that it was okay to pick up some of my things from a friend's place, which was a small deviation from the original route. Since I didn't check with the truck guys about this before, I had to pay extra for re-routing.
The right thing to do: Always discuss and clarify even the smallest details with your movers before making a decision and give them the exact information with every detail they require. Take this as a precautionary measure to avoid extra charges just because you forgot a small piece of information or assumed something. Also, keep some extra cash in hand and be prepared for any unexpected costs on moving day.
#9 Plan a day to schedule transfer of utilities
My mistake: I was so busy missing the city before I had to move, that I completely forgot to visit the LPG Gas Agency to apply for a transfer of connection to my new address. It also slipped my mind to contact my homeowner in Bangalore to get my utilities up and running in time for my arrival.
The right thing to do: Set aside a day or two at least 2 weeks before your move to call up the utility departments and inform them to disconnect services at your old home on a specified date. Simultaneously, make sure the utilities at your new home are connected on the day of your arrival, so that you don't have to run back and forth when you just need some peace of mind after all the hard work of moving.
#10 Pack and label home decorations separately
My mistake: Well, I'm not much of a decorator except for religiously putting up lights for every occasion, be it a festival or just the weekend. However, my plan to decorate my new living room with 'fairy lights' was unsuccessful since I forgot which box I packed them in and was too exhausted to look for them.
The right thing to do: If you plan to decorate your new home as soon as you reach, pack all the decorations separately and label the box clearly. You can also mention which room it should be placed in and request your movers to load it into the truck last and unload it first so that you can put up your decorations at the earliest.
#11 Inform friends and family about your address change
What I did: This was probably the only task I completed successfully! I was busy catching up with all my friends and colleagues the entire time before my move. I informed them where I was relocating to and shared my new address with close ones who wanted to meet up when they visited the city.
What you can do: Holiday season is the time for friends and family to get together anyway, so while celebrating the upcoming new year with close ones (or when you call to wish), you can tell them about the new destination in your journey. I'm sure all their wishes and farewells will make you feel bittersweet before departing, but you get to carry a bunch of memories and happiness for life.
---
It's quite easy to get carried away when everyone's busy with the grand celebrations!
But, if you remember to get a head start in preparing for your move, you can make sure you're done just in time for merriment! Or, you could welcome the New Year at your new home itself!
Just ensure you hire the right moving company to handle your relocation or contact us to get a reference of professional movers who are perfectly capable of fulfilling your requirements at affordable rates. You neither have to burn a hole in your pocket nor lose your peace of mind.
Wish you a Happy Move and a very Happy New Year!