Move it or Sell it: Find The Better Option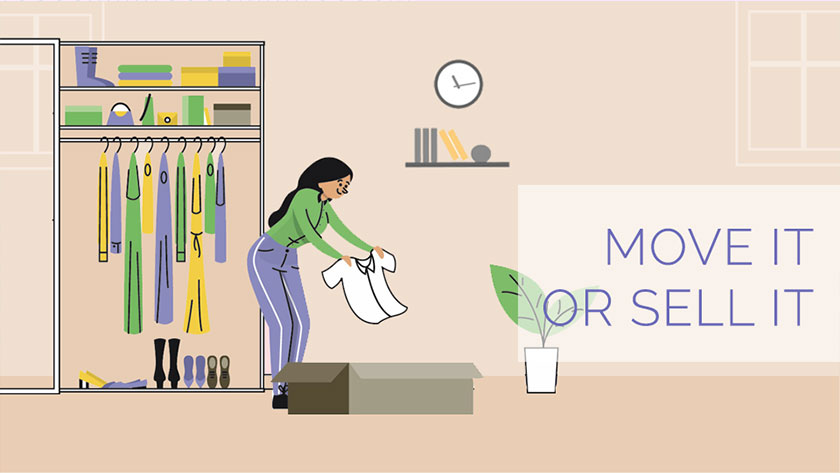 There are way too many decisions to take while preparing for a move. Important decisions include whether to hire movers or move all the things by yourself; if hiring movers, which company to hire; if moving by yourself, then how to book two men and a truck; and many others. One among these involves people deciding whether they should move their old belongings to their new place or if they should just sell the old stuff and buy new things.
When you are moving locally, it would be best to keep your existing furniture and other items which are in good condition and which fit well in your new place. Local Packers and Movers will pack and move your belongings at reasonable prices; you will be able to relocate all your items and avoid spending extra to buy new stuff.
However, if you are moving to a new city, your relocation will be comparatively more expensive as you will have to spend money for relocating over a longer distance. The economically smart decision is for you to leave your old stuff behind and buy new ones after moving. By doing so, you can also save the expenses of paying for the belongings which may get damaged due to the long-distance transit.
We agree that selling your things is a complicated decision as you will not be able to part ways with most of them. But, the best option is to pack and move only the essential stuff and sell the rest of the unwanted items to ensure you have a stress-free relocation within your expected budget.
To help make this process easier for you, we have made a complete step by step procedure. Read on to understand more about the do's and don'ts of selling your things, and how exactly you should go about it.
How to prepare the items which you want to sell?
Declutter your Goods wisely
It's best to sort through your goods room by room so that you can decide for each room at once which items you want to sell and which you want to keep. While sorting, remove all the unnecessary items and keep it in one corner of the room so that you get an overall idea of the amount of things you need to sell while you simultaneously set aside the essentials you have to move.
Check which items you want to sell
After decluttering your unnecessary items, make a list of the unwanted things including those which are risky to pack and move. Make an accurate list so that it's easy to keep track of the items which you know for sure you will not shift and you can sell those goods without any last-moment confusion.
Keep your sell pile separately
The "Sell Pile" should contain the things which could make some money for you so that you can buy new stuff with that money after moving to your new place.
Things you can sell before Moving
Old and heavy furniture
If you have outdated heavy furniture, it's a good idea to consider selling them as the Movers and Packers will increase the shifting costs since they have to lift and move heavy items. So, don't waste your time thinking about what to do with your furniture, sell them and buy a new one that adds a new look to your home.
Old and damaged appliances
Depending on the shifting distance, you can pack all your essential appliances so that you can reuse them in your new home without investing money for new ones. In case of long distance travel, there are chances wherein the loaded truck may meet with a sudden accident and result in damaged items which can't be used any more. That's why it's better to sell the old appliances so that you can get some extra money before moving using which you can buy new tools after shifting.
Old Kitchen Utensils
Go through your kitchen utensils to find old crockery which you haven't touched or bored of using, set these items aside and sell all your unwanted utensils as soon as possible by organizing a garage sale, selling it online on any of the websites like Olx, Quikr, eBay, etc.
Clothes no more in your use
Everyone have a massive number of clothes which would not have been used even once. Invest your time and clean out your closet to find the set of clothes which you are bored of using and would like to give away. If you haven't used some of your old clothes even once or if they don't fit you any more, you can sell all of them through a resale or at any local shop nearby. This strategy is not only applicable to clothes, but shoes, jackets, purses and bridal wear—by this safe step, you can sell all your unwanted items quickly.
Books which you are no more interested
Selling the old books which you may be bored of reading is a quite difficult task to organize as you will have to plan a suitable place and plenty of time to organize the sale. But it usually allows the public to see and buy your books if they are interested and it also provides the benefit of direct communication and deal with your buyers if you are organizing the event by yourself and you can sell your books efficiently.
CD and DVDs cases
If you are a genuinely die-hard collector and you have lots of collection of CDs and DVDs, try to get rid of them before the arrival of big moving day as they will just capture your room and make your new home look messy and untidy.
How can you sell your goods quickly?
Host a Garage Sale
Hosting a garage sale in your neighborhood is the best option to sell your things quickly, it can also be a fun time with your neighbors as you can spend some time with them before moving. If you feel it's a little frightening to organize, then ask your close friends to join you, but you must decide where to market your sale and how to set the prices so that you can sell the items quickly.
Sell your items online
Selling stuff online will decrease your tension of investing more time to sell your stuff before shifting, as you earn some extra money and also get rid of your unwanted items quickly. If you don't have enough time and resources to organize a garage sale, then selling your belongings online will be the best way for you, as you can your clothes, appliances, kids toys only by clicking your mouse - it's such an easy and fast process to sell your goods.
What to do with the items you can't sell?
Donate it
If you have things which you don't want to sell or you're not getting any buyers, then you can donate it to a Charity organization. That way, you get an opportunity to help people in need by giving them the items which are in good and usable condition, like clothes, books, appliances, furniture's, etc. Donating will make a good impression for you in your society, and you can also be free from packing and moving unnecessary items.
Give it to your friends and family
It's good to inform your family and close friends that you have some goods, which are no more in your use, and want to sell them immediately before shifting. Let them know that they can take it if needed, or they can help you find people whom you can sell it to.
Recycle it
It's possible that you will have lots of things which can't be sold or donated, but you want to get rid of them before relocating in your new home. Therefore, it's a smart step to check if they can be recycled and how you can save the growth of garbage which can pollute your locality. Things like CPUs, electronics appliances that are no more fixable can be recycled, but be aware many electronics end up in of health-related illnesses and ecological damage. That's why remember to check such details before recycling anything.
Once you successfully sell your unwanted stuff, it will become easier for you to move in and you can buy new belongings which go with the interiors and tone of the new place.
Bonus tip:  Once you declutter and decide to sell your unwanted belongings before moving, don't panic and fill your new house with lots of stuff which may again become unnecessary and get stored away. Remember to make a checklist and buy only the essentials which you need immediately. This way you can maintain your budget and also be able to make your new home 'truly yours'.