5 Ultimate Hacks for Packing & Moving Clothes Easily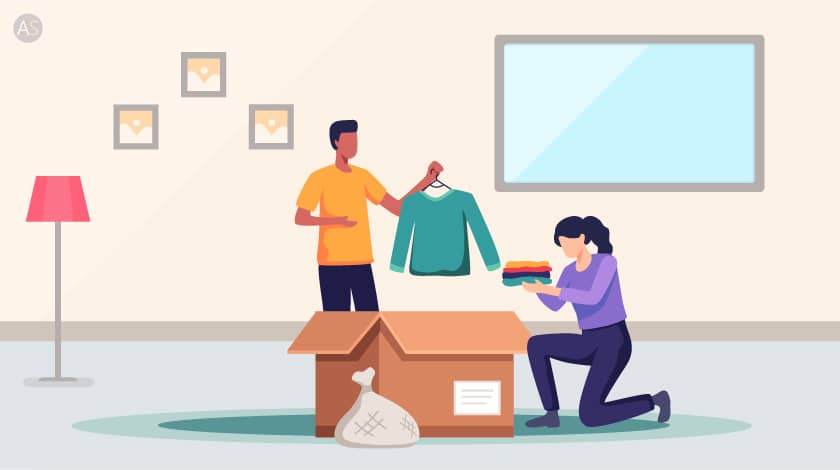 Looking for the best ways to pack your clothes for a move? Moving to a new city can be both exciting and demanding. People normally keep packing clothes to the very last minute and sometimes forgo packing them all together, as it is not something everyone enjoys. Most clothes will eventually be shoved into boxes which end in an epic disaster once the moving date arrives.
A little organisation and the right techniques can help streamline the wardrobe-moving process. In this blog, we have covered effective tips and strategies on how to keep your clothes organised when moving. 
We have covered all the procedures step-by-step which involve what to do before you start packing, different clothing packing methods and moving supplies, tips and other cost-effective ways of organising your move.
1. Things to Do Before you Start Packing
Organise and declutter
Decluttering your closet is the first important step before you start packing. Pull out the clothes that have not been used for more than a year. This way, you can save time and valuable space in your moving box.
Donate the clothes you never wear.
Sell or gift the clothes that do not fit.
Remove tattered garments.
Sort clothes
After decluttering unwanted clothing, you can further sort the clothes based on material, type and season. It will be more convenient and easy to unpack them once you have moved to the new house.
Material and type of clothing
While packing, keep similar materials and types of clothes together. This will be beneficial if you have a large variety of clothing and allows you to treat each fabric with care. 
Pack off-season clothing you will likely not wear within three months of your move. Label these boxes so that you can identify them quickly.
Note: If you are storing them for longer than a few months, take precautions to preserve them from moisture and pests.
2. Pack a "moving week" clothes box.
Make a "moving week" clothing suitcase for each member of your family to wear during the first week of residence after your relocation. This will be useful because unpacking can take some time. Include everything you need, like extra socks, underwear, and pyjamas.
3. Clothing Packing Methods and Moving Supplies
Clothes can generally be classified into two types for this. The ones that you fold and place in your wardrobe and the ones that you hang on hangers.
Hanging clothes
The best way to pack these clothes is to pack them with their hangers and move them.
Hanging method: Clothes are hung in enclosed boxes or garment racks while moving a long distance in a truck.
Packing Supplies required:
Wardrobe Boxes: These are tall, enclosed boxes with a hanging rack across the top, preventing wrinkles and protecting your garments from dirt and dust.
Garment Bags: These are used to transport and store expensive clothing without leaving them wrinkled and creased.
Folded clothes
Non-hanging method: Clothes are rolled and folded before being put in moving boxes, saving space and lowering the number of boxes you'll need to pack and move.
Roll clothes: Rolling your clothes tightly allows more compact packing. It can be time-consuming, but packing this way helps to fit more clothes in your bag and reduce creases.
Fold clothes: Folding is a standard packaging method. It helps to store clothes easily and stuff them into the moving bag.
Packing Supplies:
Cardboard boxes are suitable for packing folded garments.
Suitcases and duffel bags are great alternatives for packing folded clothes and shoes.
Vacuum bags are useful for condensing bulkier garment items like jackets and winter coats.
4. Effective Tips to Save Money on Packing
There are a few ways to reduce your expenses on packing. These can save you money and free up some space in your new home.
Declutter your closet and sell or donate clothes that are unused or don't fit anymore.
Using old suitcases to pack clothes can save money on packing supplies.
Leave clothes in the drawer of the furniture.
Pack clothes in garbage bags. 
Wrap folded clothes in plastic, especially when running low on packing boxes.
5. Tips on How to Pack Clothes Most Effectively for a Move
Getting your clothes organised and packed is key to making your relocation as stress-free as possible. Keep the following relocation tips in mind when packing your clothes:
Heavy clothes should always be placed at the bottom of the boxes, with lighter ones on top.
Clean your clothes before relocating to avoid odour and make unpacking easier.
Don't overstuff the packing boxes, as it can damage them and make them prone to tears.
Carry expensive clothing items separately, such as those with emotional or monetary value.
Remember to line every packing case and cardboard box with packing paper to safeguard your clothes.
Use plastic storage containers to pack clothing that will not be used soon.
---
As the moving day approaches, there are usually a lot of things left to pack. Packing clothes is a time-consuming and tedious task. 
Knowing the correct methods to pack clothing for a move will help you save time before and after the move. This blog describes a step-by-step process for how to prepare for packing, packing methods and moving supplies you'll need. By following these basic guidelines, you can simply cross this major task off your moving to-do list with a certain amount of ease.
You can avail the help of a reliable packer and mover company to handle the packing and moving of your clothes if you don't have the time.