Packing Artwork: The Art of Packing and Moving Valuable Paintings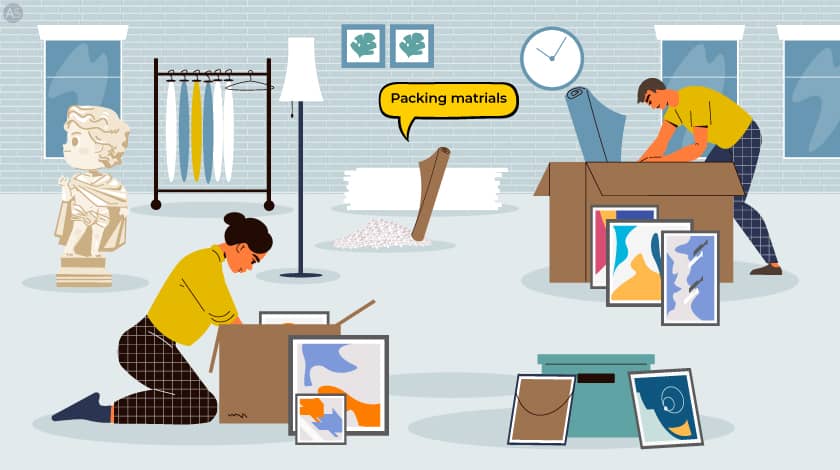 Valuable artworks, as the name suggests, are extremely valuable pieces of art. Their price is often in the millions and often priceless to art lovers. Relocating such items cannot be done half heartedly. So, moving artwork is not a small feat and definitely not for the faint hearted.
It requires special care to ensure that your valuables arrive to their destination safe and sound. Whether you are relocating a few paintings or an entire art collection, there are a few important steps you must take before packing up the artwork for the move.
They need to be taken care of throughout the move, packed extremely well and some even require specialised climate controlled carriers for transit. And if you are planning to relocate something like that, it requires immense planning and precise execution. If you are worried about how to pull it off, then fear not - we have some tips for you to ensure the safe relocation of your precious art work.
By the end of this blog, you will know how to pack, move and store valuable artwork without so much as breaking a sweat!
Choose the Right Packing Materials
The key to successfully packing and moving your artwork is in the materials. You will want to use materials that are strong enough to protect your artwork from outside elements like dust, dirt, and moisture as well as from shock during transportation. Acid-free boxes are best for long-term storage since they will not damage the surface of your artwork over time. 
For short-term storage, cardboard boxes with handles are great for carrying multiple pieces at once. Bubble wrap and packing peanuts should also be used to provide extra protection and cushioning during transportation. Be sure to use clean materials only for packing artwork! 
Packing Artwork
Once you have all of the necessary materials, it is time to start packing art for the move carefully. Start by wrapping each piece of art in bubble wrap or foam padding to protect it from scratches or other damage. Then place them in sturdy moving boxes filled with packing peanuts or other cushioning material for extra protection. 
Once the box is full, use plenty of tape on all sides to keep the box closed securely during transit.  For smaller items such as sculptures and frames, use smaller boxes filled with cushioning material before taping them shut. Label each box clearly with coloured markers or labels so that they can easily be identified when unpacking at your destination. 
Label Everything! 
It's essential that all of your packaging materials are labelled clearly with both the title of each piece of artwork and its dimensions or dimensions/weight if it is large or heavy. That way, you can easily identify each piece without having to open all of the boxes or take out all of the packaging material, which can be tedious if you have a lot of art pieces being moved. Additionally, make sure all boxes have both an 'open here' label on one side as well as 'do not stack' labels on all sides so they can easily be identified while in transit. 
Plan Your Move Carefully 
Finally, make sure that you plan out your move carefully before loading up the van or truck with your valuable artwork. If you are worried about how to move artwork, hire a professional for the job. Think about which route would be best for transporting fragile items like these so that they don't get damaged along the way. Additionally, make sure that any movers you hire are aware of the value of these items and take extra care when handling them.
Make an Inventory of Your Artwork
Before doing anything else, make a list of all the artwork that needs to be moved. This will help you keep track of each item and make sure everything arrives at its destination in one piece. Additionally, it is a good idea to take photos of each item for insurance purposes in case anything goes wrong during the move. 
Take Photographic Evidence
We recommend taking photographic evidence before packing up any valuable artwork for transport. This way you have proof of their condition before they were moved and in case there is any damage done during transit, you will have something to back up any claims made against whoever was responsible for handling them (whether it be yourself or somebody else).
Taking photos also allows you to refer back to them if things get mixed up during unpacking; you will immediately know which box contains what piece, so there is no confusion later on down the line.  
Find Professional Movers That Specialize in Artwork
Unless you want to take on the task yourself, which can be stressful and time-consuming, find professional movers who specialize in transporting artwork safely and securely. They will have experience handling delicate items like paintings, sculptures, and more, so you can rest assured that your belongings will arrive unscathed at their new home!
Conclusion
When it comes to packing and moving valuable artwork safely and securely, preparation is key! With the right materials, labeling system, and photographic evidence taken beforehand - moving valuable art pieces has never been easier! 
Be sure to gather all necessary materials beforehand such as sturdy moving boxes, packing tape, bubble wrap/foam padding, small boxes for smaller items etc., pack each item carefully using cushioning material before labeling each box clearly so they can easily be identified when unpacking at your destination ,and lastly plan out your move carefully including choosing routes that are suitable for transporting fragile items such as artwork. These are the key ingredients for a safe move.
So don't fret - just follow these guidelines when preparing for your next move involving delicate items like paintings or sculptures - and make sure everything arrives safe at its destination!