7 Simple Tips to Move into an Apartment Building without Elevator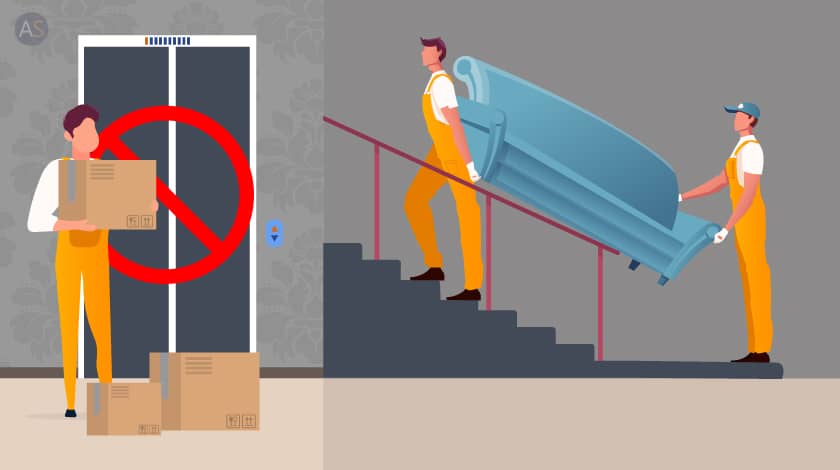 Relocation is a daunting prospect. Even with the help of professional movers, it can be a nerve-racking experience. Due to the current circumstances, even finding the right home is a difficult task. If you have tried searching for a house that fits your requirements recently, then you will know what I am talking about, and that is just the beginning of what is a herculean effort.
So you've found your dream apartment, but there's just one catch: it's on the top floor of a walk-up building with no elevator. While it may seem unlikely that there are apartments without elevators, there are quite a few, and you might want to prep yourself properly if you want to move into it, especially if you are doing it by yourself.
Moving day is looming, and you're starting to panic about how you're going to get all your stuff up those flights of stairs. Never fear! With a little bit of planning and some help from friends, you can make this move without breaking a sweat.
So, here are some of the tips you can use to make your moving day easier when moving into an apartment with no lift in it.
Things to do in Case of a DIY Move
If you are bent on moving on your own, then it's not all doom and gloom either. While it will be more difficult and tiring, you can pull off a relatively easier move if you have the right people and the right things in place for the move. Here is how to ease the effort of shifting into an apartment without a lift in it.
#1 Rent Out Proper Equipment
The biggest disadvantage of moving on your own is lacking proper equipment, manpower, and know-how. You will need to rent out certain equipment like dollies and hand trucks to make life easier while taking your goods up the stairs.
#2 Call for Help from Friends and Family
The other big problem I detailed can be solved by calling for help from your friends and family. You will need as many bodies as you can conjure to make your relocation easier. Whether it's for packing your items, moving them or unpacking them.`
#3 Measure your Furniture
This is something most people overlook while making a DIY move. It seems like a small enough job, but I cannot stress how important it is. You will need to know the size of your furniture to make sure it actually fits in the passageway. Knowing this and the space you have to work with, you can plan your move better.
#4 Move the Heavy and Bulky Goods First
Always go for the heavies first. This may seem counterproductive at first glance, but moving the bulky and heavy items first has its advantages, both physically and mentally. You will be done with all the big stuff when you still have the energy to spare, and compared to what you have already moved, the rest will seem easier. 
#5 Disassemble Everything that can be Disassembled
Disassemble everything! Everything that can be disassembled, that is. This will cut down on the manpower required and make it easier for you to move your furniture up the stairs. Although it will increase the amount of work to be done, the trade-off is definitely worth it!
#6 Wear Appropriate Attire
This may look like an odd one, but it is quite important. You need to wear proper attire for the move. Clothes that are too loose could get in the way of moving, and if they are too tight, they may cause discomfort since it's a labour-intensive task. You will need gloves to avoid splinters and cuts and shoes to protect your feet.
#7 Pad the Furniture Properly
It is easy to nick the furniture in a narrow passage like a staircase. So wrap all your furniture with protective padding and moving blankets. This will protect your furniture from any damages that occur during the move.
The Simplest Way - Hire Movers
The best way to relocate, regardless of whether it is an apartment without a lift or one with a lift or even a condo, for that matter, is to hire the help of professional movers. They possess the team, experience and resources including equipment and know how to pull off any move regardless of the difficulties involved. 
They will make your move a breeze. It doesn't really matter even if your apartment is on the 10th floor and you have got no lift, the really good relocation companies will handle the move for you. However, you might have to shell out a few bucks more in this case.
Conclusion
It may seem like a herculean task to move into an apartment without an elevator, even an impossible one if you are moving on your own, but there are several ways to make it easier for yourself. Hiring a professional mover is perhaps the best way to go, but if you have decided to go for a DIY move, following the above tips will ensure a safe and relatively easy relocation. So start planning and get moving!