Moving in the Rain: 8 Helpful Tips for a Secure and Dry Move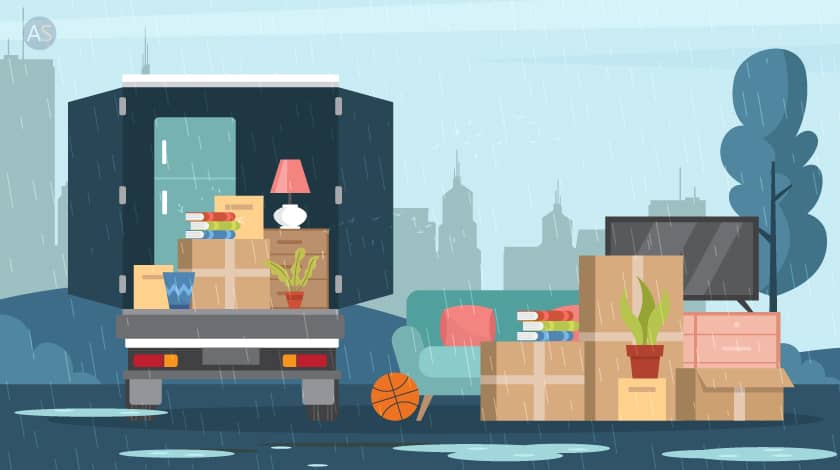 The process of moving house in wet weather is always complicated. And when you are planning a move, it can turn into a nightmare when it's raining heavily because there are high chances of causing damage to your precious household goods if they are not packed adequately.
This blog covers a few tips that can benefit you if you're moving during the rainy season. By taking the necessary precautions, you can turn your household relocation hassle-free.
Tips for Moving Securely in Rainy Weather
#1 Monitor the Rain Forecast
The first thing to do before planning the move is to check the local weather forecast, so that you can schedule the move on a non-rainy day.
In India, normal rains usually stop in a few hours, but in case of cyclonic rains it's better to plan and reschedule the move to another date. By checking the local weather prediction, you may adequately organise everything and reduce the hazards and inconveniences associated with moving house on a wet day. So, to select the ideal day for moving your household goods, pay attention to the weather initially.
#2 Choose a Suitable Moving Day
Moving a residence is often not advised during the monsoon season. Pick a day to relocate when there isn't any rain predicted, or there may be a little chance of rain.
When it is pouring outside nonstop, moving a house becomes difficult. However, if it's only raining lightly, you can wait until it stops for a few hours before beginning to load the boxes into the truck. You may also complete sorting and packing the boxes while you wait for the rain to cease. By the time the rain stops you can finish packing the boxes, and proceed with the move by loading all your belongings into the truck.
#3 Hire a Suitable Mover
Packing and moving a house by yourself in rainy weather is not an easy feat. Handling all the packing and loading process alone can be exhausting. There are high chances of the packages being exposed to rain or damaged, resulting in financial losses, especially if not secured and fully waterproof.
This can be avoided by hiring a professional mover. Their team of experts are equipped with all the necessary tools and waterproof supplies and ensure all your goods are packed using many layers of waterproof packing materials.
#4 Protect Items with Waterproof Packing
Utilising high-quality, industry-grade waterproof packaging can help to reduce the risk of moving house in the rain.
Plastic & Bubble Wrap - Use plastic wrap to pack and store small goods that can be carried outside a box or for valuable items that should not get wet, like antiques or fine art. Adding layers of bubble wrap or shrink wrap can also serve this exact purpose.
Furniture Covers - Use thicker comforters or moving blankets to protect furniture from water and moisture.
Straps or Rope - Use bungee cords to secure any packing in place, especially when covering items with plastic and other wraps.
Electronic Device Covers - Ensure that all your electrical devices are entirely switched off and are protected with cushioning such as bubble wrap and shrink wrapping and secured packed. The smaller devices often go unnoticed in a move, so double-check that your laptop, radio, and DVD player are carefully protected.
Garbage Bags - Trash bags are a cost-effective way to pack and move items that don't get damaged easily while keeping them dry, e.g., clothes, towels, 
#5 Use Additional Cover to Keep Everything Dry
Even after utilising high-quality and waterproof packing material, there can be chances of the plastic sheet to be broken during the pickup and loading of the items, which might pose a concern. 
Here are a few tips for keeping it dry:
Check the waterproofing sheet twice.
Cover the truck's packed crates.
Don't place tightly sealed boxes on a moist surface.
Cover the truck's surface with some dry plastic tarpaulin.
Reduce exposure to the rain by parking the truck closer to home.
#6 Opt for the Right Transport Vehicle
There are two types of truck categories to choose from, One is an open body type truck and the other is an enclosed type truck or container truck. Choose the right vehicle based on the move size and varied truck lengths.
Open Body Truck
1 BHK - Tata Ace (7 ft), Pickup (8 ft)
2 BHK - 14 Feet Eicher
2 BHK to 3 BHK - Truck Canter (14 ft), Truck LPT (17 ft), Eicher (17 ft, 19 ft), LCV & DCM (19 ft)
3 BHK to a Villa - Truck Taurus (22 ft)
Enclosed or Container Truck
1 BHK - Tata 407 (9 ft)
2 BHK - 14 Feet Eicher
3 BHK to 5 BHK - Container Trucks (20 ft, 24 ft)
20-32 Feet Truck (10 Wheeler)
24-32 Feet Truck (12 Wheeler)
#7 Prepare Yourself and Dress Right
Moving in the rain can be risky as there are high chances of slipping and injuring yourself. Therefore it is necessary to minimize the risks by being equipped with the necessary rain gear.
Raincoat and boots
Umbrellas
Waterproof caps or hats
Extra pair of clothes
#8 Prepare the New Home for Goods Delivery
When you first arrive at your new place, line the entryway and front porch with old towels or sheets that will serve to catch any mud or water from your shoes before you head inside and will help prevent you from slipping over. Remember, the more organised you are with your move, the more time you'll save.
Conclusion
Moving a house in the rain may be challenging, especially if you're moving far away. You can reduce the risks and difficulties to a significant amount by planning your move properly and adhere to a few safety tips for moving home in the rain.
In this blog we have covered a few ways to move your home safely in the rain, a few ways to prepare yourself, the packing materials that can be utilised, type of truck to choose and more. You can also avail a professional moving company that can handle all of the packing and moving tasks on your behalf.