Why You Should Select the Best Kitchen Colour as per Vastu, and How?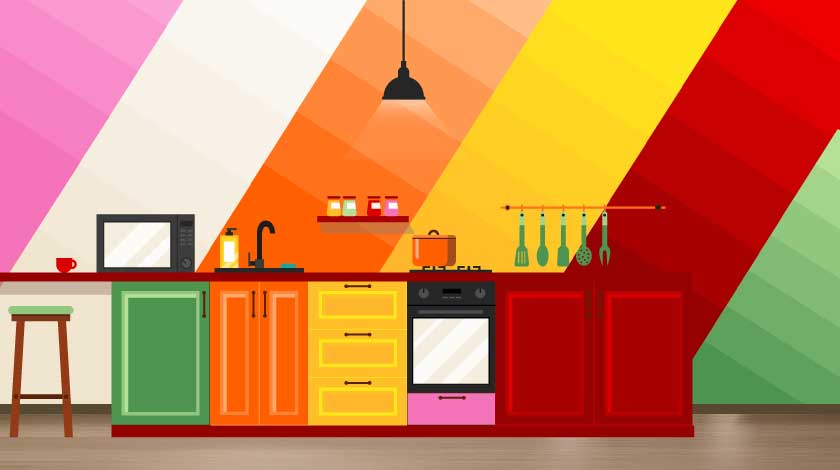 Colors have the power to maintain the balance between body and mind, says Vastu Shastra.
The kitchen is the main powerhouse of your home. It represents the fire element - the most powerful one, among the five elements of nature, that radiates energy.
As per Vastu, Selecting the right color for your kitchen can do a lot of magic in your living space. Each color can bring the desired energies into your home resulting in harmony, balance, and radiate positive energy across your space.
According to Vastu Shastra, kitchen colors for walls, cabinets, kitchen slabs, and tiles have a great influence on every occupant of the home. Painting your kitchen according to the rules of Vastu Shastra is important as it can help boost the fire element. 
However, if it's not followed properly, it may result in financial losses, health, and family problems.
From vibrant red to soothing green and all the colors in between, you have a wide variety of options to choose from. However, keep in mind that the right Vastu Shastra kitchen color can vary based on its direction of placement as well as that of the elements of nature.
So, read on to find out which is the best color for kitchen as per Vastu.
---
Why Choose Kitchen Colour as Per Vastu?
Vastu highly considers the choice of colors, especially in the main energy source of the house; the kitchen. Go through these interior designing tips to choose the right colors that match your style and do a simple research to check if they fulfill the Vastu rules.
As the kitchen represents the fire element and is usually placed in the South-East direction, choosing bright colors like orange, red, yellow, green etc., will always be good. 
These colors boost the properties of the fire element, bring positivity and happiness to your life, and help you stay healthy.
The best color for kitchen according to Vastu ranges from red to orange, and it changes depending upon the direction of the kitchen. 
Other colors include yellow, which brings cheerfulness and positivity and is very soothing to eyes, and light brown (or a combination of brown) as it impacts a person's appetite and shows stability. White is also a commonly used kitchen color as it symbolizes purity. 
Impacts of Choosing a Wrong Kitchen Colour 
Choosing the wrong colors can result in an imbalance of the elements and can radiate negative energy.
We are aware that the universe is made of five elements, and each element is depicted by a particular color and rules in a particular direction.
As the fire element is the dominant one in the kitchen, the colors that represent fire are red and orange, and it rules the South-East direction.
Imagine painting your South-East kitchen blue!
As blue represents the water element, it's like pouring water over the fire and extinguishing it. This changes the entire principles of Vastu and causes problems to the household.
Therefore, you have to correctly choose the paint colors for kitchen as per Vastu to keep a proper balance of the five elements. You must strictly avoid dark colors as they are not suitable for the kitchen, causing conflicts and other issues.
---
List of Best Vastu Colours For Kitchen 
#1 Orange: Orange is one of the best kitchen colors as per Vastu that encourages optimism and reflects power and courage. It also influences relationships and helps to channel positive energy. 
#2 Green: Green is the color of harmony and hope. Since green is closely associated with nature, it helps in bringing soothing vibes to your kitchen. It also encourages proper digestion. 
#3 White: Since white is associated with purity and cleanliness, it helps to radiate positive energy and increase beneficial vibes as well as brightness in the kitchen.  
#4 Yellow: Yellow brings energy, freshness, and a positive atmosphere to your kitchen and is considered as one of the best wall colors for kitchen as per Vastu. According to Vastu, using yellow in your kitchen stimulates happiness. 
#5 Pink: Pink is the color of togetherness and love. Adding pink to your kitchen can increase joyous moods across the house. 
#6 Red: Red is the color of power, passion and love. Red color in kitchen as per Vastu is a great choice as it increases one's appetite.
---
Top Vastu Colours for Kitchen as per Direction of Placement
The exact kitchen color varies depending upon the direction of the kitchen.
Let's have a detailed look on the best kitchen color according to Vastu for different directions:
Direction 1: South & South-East
South and South-East are the most widely accepted directions for placement of the kitchen. 
According to Vastu, it is said that the energy fields for prosperity and growth of the occupants lie in the South and South-East directions.
| Best Colours for Kitchen in South/South-East Direction | Colors to Avoid in South/South-East  |
| --- | --- |
| Red | Blue |
| Orange | Black |
| Brown | Grey |
| Pink | Silver  |
| Green | - |
| Yellow  | - |
Direction 2: East 
East direction is considered auspicious as it's ruled by the air element.
Air element helps in supporting fire to burn and also called wood elements. So it is recommended to choose colors that represent the wood element for your kitchen in the East. 
| Best Colours for Kitchen in East Direction | Colors to Avoid in East  |
| --- | --- |
| Green | Yellow |
| Brown | Grey |
| Beige | Silver  |
| Orange  | Golden  |
| - | White  |
Direction 3: West
West direction is ruled by the element - Space. 
The West is not an ideal direction for kitchen placement, except for certain people and businesses. And, since the space element is dominant in the West, you must choose the kitchen wall color as per Vastu that suits the Space element.
| Best Colours for Kitchen in West Direction | Colors to Avoid in West |
| --- | --- |
| White  | Green |
| Golden  | Brown |
| Grey | Red |
| Silver | Orange |
Direction 4: North & North-East
People usually avoid placing kitchen in the North direction, as it is considered to be inauspicious.
You should also never place your kitchen in the North-East direction as it can hinder luck and invite lots of arguments in the family. 
If your kitchen is already located in the North, you can correct the placement by arranging for and applying the appropriate Vastu remedies with the help of a Vastu expert. 
However, you must choose only those kitchen wall colors according to Vastu that are ideal for this direction to avoid any imbalance.
| Best Colours for Kitchen in North Direction | Colors to Avoid in North |
| --- | --- |
| Green | Yellow |
| Light Blue  | Pink |
| Brown | Red |
| Silver | OrangeEast |
Best Colours for Kitchen Cabinets According to Vastu
Choosing kitchen colors as per Vastu Shastra for cabinets can be a difficult task. Usually, you may end up choosing cabinet colors and designs that actually look good, without thinking about the direction in which your kitchen is placed, and the color code for that direction. This can give you bad results even if your kitchen is placed in the right direction. 
You can opt for the right Vastu colors for kitchen cabinets on the basis of placement of the kitchen and the direction. You have to also think about the five elements of nature as well, when making this decision. 
Kitchen Cabinet Colors As Per Vastu for Different Directions
South and South-East: Pink, Orange, Brown, and Maroon 

East: Brown and Green

West: White, Grey, and Golden. 

North: Silver, Brown, Green, and Blue. 
---
Best Kitchen Slab Colour as Per Vastu
Kitchen slab colors are important as it gives a modern look to the modular kitchen.
According to Vastu Shastra, green must be used as the major color scheme as green will bring positive energy and vitality to the kitchen. Slabs can also be painted in a color combination of orange, yellow and green.
This color combination helps radiate positive energy to the kitchen and also aids in better thinking.
Note: It would be better to use either marble or stone as kitchen slab instead of using granite. Granites emit harmful radiations when heated due to the presence of certain crystals. If you still plan to use granite, you have to choose kitchen granite colors as per Vastu.
---
Basic Vastu Tips for Kitchen Layout
Placement of Water Structures: Usually, water structures are placed in the North or North-East corner of the kitchen. Placing them on the wrong side can result in domestic conflicts between people residing in your home.

Placement of Gas & Cooking Appliances:  Since cooking and gas appliances are considered fire elements, the rules for gas cylinder, oven, etc., are the same. You have to keep the gas cylinder and oven in the South-East direction and have to face the East while cooking.

Placement of Refrigerator & Appliances: It would be better to place the refrigerator in the South-West zone to remove any hindrance in your life. You can keep them in all other corners as well, but avoid the North-East zone. Electronic items like coffee machine, toaster, mixer-grinder, etc., have to be kept in the South-East zone of the kitchen, and placing them in the North-East corner can result in malfunctioning of appliances.

Placement of Utensils: Arrange utensils neatly, place them in utility baskets and keep them on the South or West side of the kitchen. Make sure to dispose any broken glassware as it can radiate negative energy.
---
Conclusion 
Vastu Shastra has detailed rules and guidelines on how to build your house and how to live in it for better prosperity and a healthier lifestyle.
Choosing the right kitchen room color as per Vastu helps in the flow of positive energy to your kitchen along with improvements in the current situation in life.
Now that you know the importance of picking the right Vastu Shastra kitchen color, keep in mind to always check the direction of kitchen placement and the elements of nature before selecting a particular color for your new kitchen.
Once your new home and kitchen is painted, throw a housewarming party to show-off your home, and make new friends in your new neighborhood.
Kick-start a new beginning in your dream home with all good fortune and luck.