Must-Have Tools Every Homeowner Should Keep Handy at Home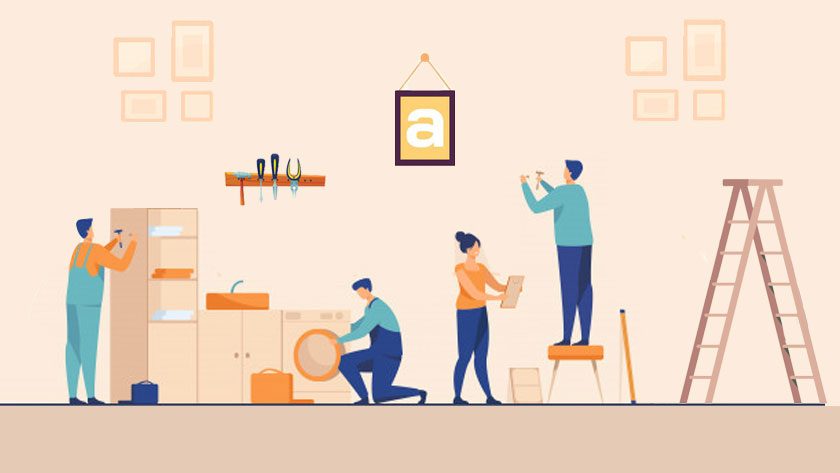 Man is a tool-using animal. Without tools he is nothing, with tools he is all. ~ Thomas Carlyle
Tools have always been an important part of humankind ever since the Stone Age. Although crude tools were used in the olden times to get the desired end-products, the variety of jobs that could be done with them was limited and the amount of physical effort required was also high (which is why mostly men handled tools back then).
However, nowadays, tools have become a particularly important commodity in our everyday lives, and they are much easier to use (even for women). They also make it possible for us to carry out a wide range of tasks, be it plumbing, electrical, kitchen-related, and so on. Not only do these devices reduce the amount of effort required from our side to a great extent, but also help finish the work quickly and guarantee precise end-results. A lot of homeowners and DIY-lovers alike have an array of toolkits that would make some of us, who aspire to become like them, go green with jealousy.
One of the first things you should do as a new homeowner, irrespective of your skill level, is to get a well-stocked tool kit with all the essential hardware which will help you take care of small tasks by yourself and eventually save your precious time and money in the future; without tools, you'll be a virtually handicapped person, unable to do the simplest of jobs.
Aside from home maintenance tasks, you can also embark on various home improvement projects like remodelling your house interior or external set up. Once you are successful in your first project, your interest may grow to try out all sort of different projects and with time, you may acquire a lot of tools in the process as you keep getting better and better at using them.
To help you start off, we have listed the basic tools you must have at your home, from hand tools to power tools to other essentials.
Screwdrivers
Another important tool that needs to be with you, they are of various sizes and any good company will do. They always come in Toolkits, which have a wide range of Flat Head and Philips Head, which are the most commonly used all over the world. An upgrade to this is, having magnetic screwdrivers, this helps you to pick up a screw if it falls in a place where the space is narrow and you have no other way to reach it but by using a screwdriver.
Nowadays even Ratchet types are available so the amount of force that you apply reduces even further. It is best to go with insulated handles, it is safe and also comfortable, and you can also do electrical works
Measuring Tape
This is very essential, for the basic reason, that it helps you take measurements of practically everything. If you are planning to mount an appliance on the wall, or for any other purpose, this helps to measure accurately so you don't go wrong while drilling holes. They come in various sizes, based on what you are looking for.
Duct Tape
This is the strongest tape that is available and can be used for many purposes, from temporarily sealing a broken pipe to covering any damages. It is super thick and extra sticky, and it is unbelievably cheap. This will prove to be a lifesaver in your time of need.
Hammer
They have a wide variety of uses, from just hammering and pulling out nails to chipping a wall, or for demolishing a full wall, hammers can be used anywhere. Find a good quality hammer which is coated with a vibration-absorbing material to save your hands from feeling the vibration when you hammer, so your muscles don't get sore too quickly. Make sure that the head of the hammer is smooth, as opposed to having anything etched on them, and have a curved claw, this will help you to pry open or remove stuck nails.
Pliers
There are many types of pliers, each with its use. They are essentially used to hold tiny objects that our hand can't hold and manipulate easily, they are used to pull out nails, and bend metals back to shape. They can also be used when you want to skin and connect electric wires. Make sure to always buy a set to not waste time when you need one.
Wrenches
This is a must-have in any house if you want to tighten or loosen a nut. Having various sizes and different combinations help you to manipulate hex nuts, making it easier if you want to service or repair anything these will come in handy. You can also find variations of then available like in ratchet and socket to make the work easier. An Allen Key wrench is also available that will significantly reduce your effort.
Utility Knives
The main function is to cut through the material. Having a good quality industrial knife such as this helps you to easily cut open heavily taped bags, or gas pipes and other rubber hoses or scraping away resin or paint. This is a multipurpose tool which will save you a lot of hassle in an emergency.
Flashlights
With the advent of smartphones, we have all forgotten how important a flashlight is, with a touch of the screen we can use the small light given for the phone. If your lights go out unexpectedly or you need powerful light that helps you probe around when you hear noises in the middle of the night, a trusty LED flashlight cannot be beaten.
Most batteries will run on alkaline or rechargeable batteries. While rechargeable flashlights cost a bit more, their run time and fast charging will pay off in the long run. It's also important to consider having a few different size flashlights on hand, in various rooms, in case of emergencies.
Extension Cord
A convenient and safe way to power electric devices, extension cords are ideal for jobs that require distance. With a plug on one end and a socket on the other end, extension cords are available in a variety of lengths and sizes. Always take care when using extension cords and be sure to select that right option based on job size, wire gauge and length.
WD-40 Spray
This is a very important tool, and it helps you save time and effort, it also doubles as a cleaning agent. It can help you loosen a rusted bolt easily, or help you clean a metal surface filled with rust. Its uses are endless, and it is very handy, so it is a must-have in your house.
Power Drill
If you want to have one power tool in your house, then look no further than this. The one obvious function is to drill holes of various diameter, but it also has varying speeds and reversible option which means that it can act as an electric screwdriver, by adding some extras a buffing machine to help you shine your car like a new, grinder, and also sander if you are into woodworking. The ones with cord are cheaper and powerful, while the cordless is much more expensive.
Circular Saw
This is another powerful tool that you must have in your home. It will help you cut wood, pipes, and tiles. It is multipurpose and can cut material of any thickness with great precision, making your work easier.
Drain Unclogger
While its purpose is to unclog a drain; this is a must-have in your toilet should your bathroom start to flood. Often this item is overlooked when it comes to buying essentials for your house. So next time if your drain gets unclogged all you have to do is use the unclogger to restore the toilet drain.
The Final Take
Tools are a one-time investment with which you wouldn't need to call experts for manageable jobs, and you will be able to save a lot of money in the process whether you are doing small repairs or home renovation tasks.
While you are not limited to using only the above-mentioned tools, it's a great place to start your journey for home maintenance & improvement, and help you go a long way.