How to assist your kids to adjust in new school?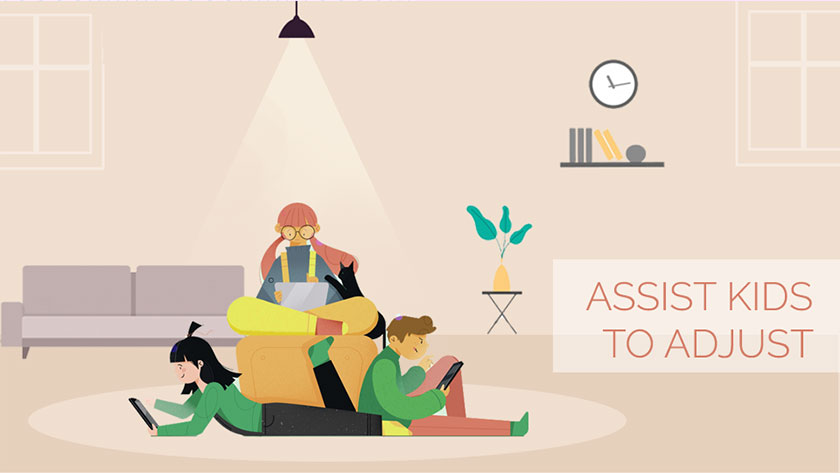 Switching schools can be a tough task for your children and it could create more emotional changes in them. This type of situation occurs in almost every child's life and sometimes, it could be very impactful. Your kids can be forced to change their school within your city, to another city or even to another country, due to various reasons.
Certainly, at some point of time, your children should switch schools during the situations like your job promotion, job transfer, kids' transfer from an elementary to a middle school or due any other reason.
Generally, your kids feel comfortable with their routine habits and familiar things. So, changing their schools can be more stressful for them and exciting as well. It could even affect your kids' social growth, mental health and their academic performance.
As parents, you and your partner should help your children to settle in a new school and adjust with the environment. The below mentioned are such things you can do before and after changing your kids' school to make them feel happy with their transition and new community.
---
Before switching schools
Discuss about the change with your children and stay positive
It is good to inform your kids regarding their change of school in advance and help them understand the reason behind it. Having an honest and open discussion about the shift makes your children cope up with their anxiety and to be confident. Ask their opinions, expectations and listen to their worries regarding the change of school to offer some better advice and support.
Create a positive attitude in them by telling that you are feeling positive about the change as well. Don't focus on the drawbacks; focus only on opportunities that would provide some exciting views about the shift. The more positive you feel about the change, the more positive your kids will be. It is difficult to relieve all their fears but, by telling that you are always with them, you can minimize their unwanted fears and also bring some confidence in them.
Knowing that you are always with them during their each step, you children will feel more promising and confident. If your kids are older, ensure that you're emotionally and physically available to make their change of school much comfortable and smooth.
Allow your kids to get involved and express their feelings
It is smart to involve your children in the process of selecting schools, so that they can make an easy and a stress free transition. Your kids can have more confusions and fears about switching to a new school with lack of control over their feelings. This situation could be over come by offering them an option to make their own choice and take some control in the process. Try to hear about their worries regarding leaving their old school, old community and their familiar places.
So, console your children by explaining them regarding the situation and the need to change their school. Take care of the situation by giving them some reasonable advices and maintain their positive attitude by communicating well with them. These things will make them stable to handle their situation and express their opinions.
Tell them the exciting things of changing schools
Tell your kids that switching schools would make them feel unhappy and complicated. But, it will be more interesting and adventurous. Try to provide some examples of children who had already faced the situation of changing schools in your neighborhood. Also, tell them about their experiences and excitements they underwent after the change.
Allow your kids to make some plans for their shift by preparing a list of tasks to perform. Try to encourage your children by giving them some positive and interesting hopes before changing their school.
Go to their school in advance to show them few things
It is good to visit their new school before the start of their first day because; your kids could get familiar with lot of things in advance. Take your children for the new school tour to show them how their school would be and what things it has. Performing this task would give you and your kids the opportunity to ask questions about the shift.
If you have middle aged children, they can visit to their new school by themselves and ask any staff of the school or student of their class to show them around. It would become an advantage for you when you show them the things around their new school such as their school route, school bus stop, play ground, library, class room, games room, school bus, etc. If possible, meet their school staff or principal to tell them about your kids' concerns in joining their new school.
By doing this, your children could feel familiar and confident regarding the shift. Ensure that your kids have proper books, supplies, clothes, etc. Most school administrators will encourage this task of visiting their school in advance and your children would have an idea of what to expect.
---
After switching schools
Prepare and take your children to school on their first day
Usually, schools will inform parents regarding the materials and supplies needed for their students. Going to school with enough materials keeps your kids engaged and get away from an awkward feeling. It is also essential to ensure that all arrangements have been made for their lunch time or they have enough money to have lunch at school.
Although, you have booked the school bus for your children, it would be great when you take them to school during their first day. By this way, you can introduce them to their new teacher as well as their new classmates and let the teacher know about their worries.
Help them to eat well and have enough sleep
Normally, parents are very concerned about their kids' diet and they try to provide them a healthy diet with hygienic conditions, particularly when they go to school. It is essential to have healthy breakfast, lunch and snacks during their school days. On their first day of school, prepare a special lunch for them.
Don't make them rush to school because when they rush, sometimes, your children could skip their breakfast and they tend to loose energy and concentration while in class. To avert the situation of morning rush; prepare everything in advance or during the night of the previous day. Ensure that all supplies such as lunches, lunch bags, backpacks, school clothes, etc, are arranged and ready for their first day of school.
Parents are even more aware about a good night's sleep and your children getting it after their new school year is very important to have a better health. Having enough sleep will help your kids stay active during their day and get used to a routine sleep schedule.
Talk to your kids and their school staff as well
It would be quite hard for your kids during their first few weeks of school and you might see your children act differently. Try to have a better conversation about their new school experience and check that they are adjustable with their new school or not. When you find any signs that your kids can't adjust with, have a direct conversation with their teachers to find out their problems.
Sometimes, even your kids grade could be affected because of change in teaching styles, change in their curriculum or due to some other issues. Hence, after few weeks of their school, talk with their year coordinator or principal to find out how your children are performing in school.
Plan for a get-together at your home
One of the major problems for your kids is about making new friends in their new school. As you can't search and make new friends for your children, it would be brilliant, if you plan for a get together with some of their classmates along with their parents.
When your children are at middle school, you don't have to schedule them a get-together, they are young enough to make their plans to have new friends at their new school.
Involve your kids and yourself in the new community
When you move to a new city or a new state or a new country, some things such as, people, their language, environment and situations might seem entirely different for you and your children. There may be a lot of exciting spots to see and things to enjoy in your new place that you should check out for.
It is good to take your kids to some exciting places like, museums, zoo, malls, movies, shopping and parks available around the new city. Also, you can take them to play few exciting games like skiing, ice skating, etc. When you meet new people in your new place through any organizations, groups or neighborhood, you can help your children to meet other children of their equal age to make new friends.
You can also find some kids in your new neighborhood who study in the same school or class of your kids to invite them for a party and also to make friends. It is also advisable to take your children for a walk in your new neighborhood and show them the things available in your locality. This would allow them to find more friends and to be familiar with their neighborhood.
Don't forget your kids' old community
Try to maintain contact with your old neighborhood, your kids' old school friends and teachers. If you are nearby your old locality, take your children to have a chat and play with their old community. Also, allow them to make calls and send them messages.
But, limit the focus of your children on their old community, as that might become harder for your kids to adjust with their new community. By doing this, your children will feel familiar and they don't have to break their ties, even though you have relocated to a new place.
Encourage your kids to join for extra-curricular activities
Make your kids involved in some school activities to get away from their fears and aid them to settle in their new school very soon. Try to encourage their activities and participation in classes that will promote new friendships and make them feel a part of their new community.
Middle school children who involve in sports, clubs and other school activities, incline to perform good academically and they feel well connected. Getting participated in extracurricular activities outside their school can also help your kids feel much connected even inside their school.
Spend more quality time with your children at home
A new home could be a secured haven for your children and above all, a home is where your kids could enjoy and share lot of things. Allow them to invest more time in your family and give priority to your family time. Proceeding the traditions and routines helps your children feel happy and safe. If you have more than one kid, allow them to discuss about their new school problems and their worries. It would be greatly useful for your kids to know that they always have a support at home.
Also, remember that settling in a new school and making new relationships will surely take some time. Hence, provide them the option to feel comfortable in their new space and allow them to feel a lot more at home.