How to Throw a Housewarming Party Without Spending Too Much?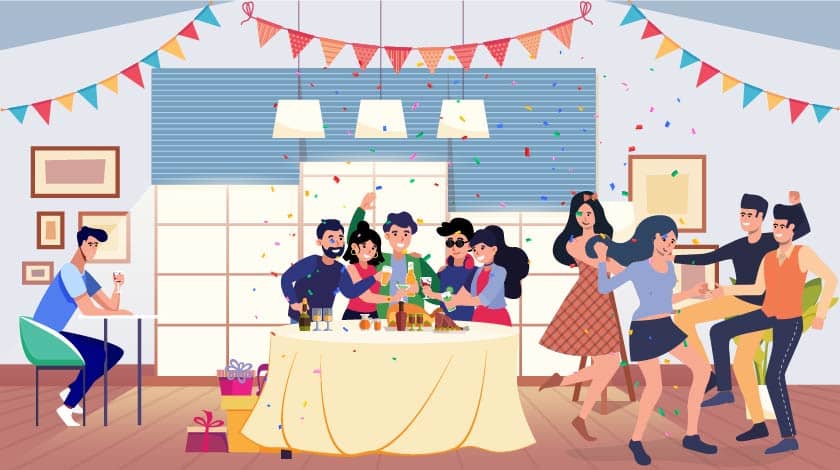 Yay! Now that packers and movers have helped you shift to your new abode, what could be worrying you?
Oh, is it your housewarming party?
Don't worry; we've got you covered. You can throw an amazing housewarming party showing off your brand-new house without burning your pocket!
We understand that shifting to your new home must have involved a good amount of investment, which is why you must be looking for a budget-friendly option to organize your housewarming party.
The below-mentioned ideas will not only help reduce your current housewarming party expenses but also any other future party expenses you may plan later. Go through these points carefully and implement them to enjoy a fun housewarming party at a fraction of the cost that you would have spent otherwise:
Fix Your Party Date
You have just shifted to your new home, do not rush. You have a lot of things to do, and you must be exhausted with the moving procedure. But there is no absolute need to rush & organize a party! A housewarming party is the very last thing on your moving to-do list. So, take your time, set up your place & fix a date that suits you & your guests (weekends preferred).
Prepare a Guest List
Well, this is one of the complex & important things among all in organizing a housewarming party, "Your Guest List." Remember you have just relocated to a new place, which obviously would have cost you a lot. So, ensure you make your guest list according to your budget. Invite some of your close friends who would love to see your new place and your neighbors, of course! A housewarming party could be the icebreaker and a good way to initiate friendship. So, add them too!
Decide on a Theme
You can decide on a theme based on the color theme of your home; if you have painted your home with pastel colors, you might set up a beach-themed party & ask your friends to dress up with their best beach dresses or any other of your choice. Or you can send them trendy digital invitations to convey your theme better.
Be Practical when Spending
Do not overspend; you have just moved into your new home and may have already spent a lot on relocation. So, be smart enough and avoid spending on unnecessary things. Choose wisely on things that you need urgently or keep them in your options; if your budget favors after you are done with all preparation & shopping, you may buy them for your home.
Buy Reusable Decorating Items
You have to deck up your brand-new home for the party! Your HOME is the Star of the party; make sure you have got it saved. When you buy decoratives, make sure you can use them later for different home decorating purposes. Grab some fairy lights, floor pillows, or lamps, etc. Use your money wisely.
Plan for a Potluck
Potlucks are the best way of throwing a party, and that does not burn your pocket. Decide on a cuisine, ask your friends to bring in their favorite food and share it with your friends. You can buy out some beautiful dessert stand or buy some ice-cream buckets and have some amazing food!
Set up a Cocktail/mocktail Bar
You know your friends & what kind of drinks they prefer. Buy some drinks they would enjoy and move around. You may plan some seasonal mocktail/cocktail bars to stand out of the line, and your friends will enjoy the seasonal drinks & get tipsy.
Buy Reusable Cutlery for the Party
People generally prefer using plastic or use & throw cutlery to use because it is an easy way out, but it is a waste of money. You throw away your money with plastic plates & papers, rather buy something you can store & use it for other parties too. You could call it a one-time investment.
Don't Invest in Big Speakers
Buying or renting speakers for housewarming parties, you can use portable audio speakers & play music with your phone. If you have a guitar or keyboard, you can jam with your friends on your terrace or garden or lawn. Enjoy some soft drinks or booze or some light snacks and have fun with friends.
Plan some Indoor Games
Games are the best ways to help you out with mingling with your friends. Organize some games like tambola, carrom, ludo or cards to engage people with games & pass the time with each other. You may also have a treasure hunt at your new home as people might not know everything about your new home & you may get them presents as their winning gifts.
---
Your housewarming party is to have your friends around in your new home and have some relaxing time after the exhausting house shifting. It does not have to get on your nerves or must not stress you out; else, it won't serve the purpose. Expenses will definitely add up when you plan a party, but make sure you take up all the points mentioned into consideration to ensure you pass off with a budget-friendly housewarming party!