How to Make Your Home Self-sustainable and Eco-Friendly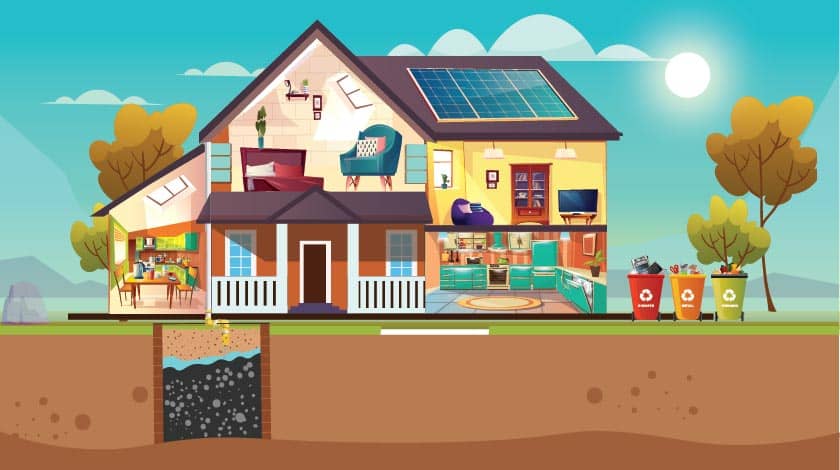 Sustainable housing is described as housing that allows efficient use of resources and energy while having a minimal environmental impact. The overarching philosophy of sustainable housing is to ensure that it improves the quality of life by reducing waste, improving reliability, lowering life-cycle environmental impacts and cost, requiring less maintenance, and allowing for more reuse.
Making our homes more environment-friendly and sustainable is a straightforward job that doesn't have to be stressful. If a house has been built already, many changes will be required to make it sustainable. Some are fast & cheap, and others take longer and are more expensive. On the other hand, new homes can be made more sustainable easily without making many efforts.
Innovative Ways to Make Your Home Eco-Friendly
Cut Down on Energy Use
Assess how the cash you invest in energy can be reduced. Small changes, such as changing your thermostat to match the season, can have a major impact. Using natural daylight whenever feasible and washing your clothes in normal water are two other helpful tips. You can also reduce the temperature of your water heater to 130 degrees to save money on your energy bill.
Consider replacing standard electrical appliances with energy-saving certified items. When compact fluorescent lamps or LED bulbs substitute incandescent lights, energy is saved. Also, when multi-socket extension loads are used, the house's power consumption can be decreased by nearly 15%.
Create a Vegetable Garden
What better way to feed yourself and your family than this? Increased consumption of organic, green foods can be one of your healthiest choices. Growing your food will save you money and provide you with the peace of mind that your greens are pesticide-free. It will also build a peaceful atmosphere conducive to long-term sustainability.
Utilize Renewable Energy Sources
Solar power is an excellent way to power your whole home if you have sufficient sunlight. The sun's rays are absorbed by solar panels, which then transform them into electricity. Solar panels are divided into two categories: rooftop panels and standalone panels. Solar power is becoming more available and affordable, making it a viable choice to consider.
Use Double-glazed Windows
Replace single-glazed windows with double-glazed ones which insulate the home. In summer it stays cooler and in winter it stays warmer. If double glazed windows are too expensive, thermal blackout curtains can be used in their place to make your home more sustainable.
Recycle as much as Possible
Why not ask your contractor to use recycled materials wherever possible if you're planning and constructing a self-sustainable home? It's also worth looking for a responsible contractor that won't waste any materials. If you're remodeling an existing house, you should use maximum recycled materials. You should also try non-toxic material to reduce environmental impact.
Compost Kitchen Waste
By converting lawn waste and food leftovers into rich soil, composting is a great way to recycle energy. Composting kitchen waste can help to minimize the amount of household waste that ends up in landfills while also lowering the costs of waste collection. Composting is one of the most cost-effective methods of waste disposal.
Use Energy-efficient Materials
The use of curtains and blinds can be used for the screening of the heat in a self-sustainable home. Use the heat and shading of the sun to create a great atmosphere and insulation. In case you purchase an air conditioner, you must also install ceiling fans to improve the air conditioner's quality.
To minimize environmental degradation during transportation, you can also use locally available materials. This will eventually help in reducing cost as well.
Create Reservoirs for Rainwater Collection
Rainwater collection would help to reduce the waste of piped water and make life more sustainable. The preservation of water covers the collection of rainwater for baths and gardens in tanks. Don't let precious rainwater go to waste by finding a rain barrel system that suits your home.
Installing Lockable Faucets
Turning the tap off helps to save water after each application. Making sure that the taps are put off after each use prevents water waste. You should install lockable faucets in your bathroom to saves money on water bills & resulting in improved sustainability
Use Long-lasting Materials
For all of us, our house intends to stay for an extended period. So the materials used to build it should be strong and long-lasting, as well as easily recyclable. The house should also be able to adapt to changing needs without having to spend money on potential extensions or renovations. This will make the home more sustainable also helps in saving money.
Design a Cozy Eco-house with Passive Energy System
A house with excellent orientation and proper ventilation naturally cools and heats the space, making the occupants feel relaxed. The house can use the sun's rays in the colder seasons and refresh itself in the hotter season.
Also, the house can be built to receive more natural light rather than artificial light, lowering overall energy costs.
Final words
There are multiple methods to make any house environmentally friendly. Whatever your budget or way of life, there is something you can do to help the sustainability movement – and it could even save your money!