Simple Ways to Clean and Maintain Your Favorite Furniture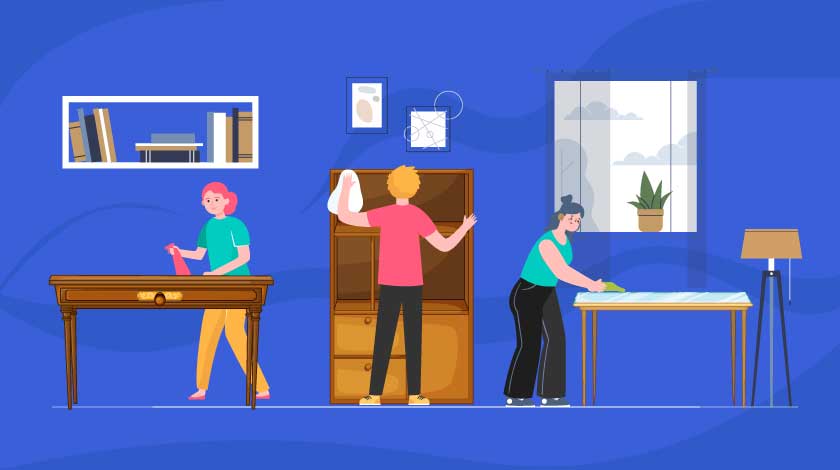 We humans have been using different forms, shapes, sizes, and materials of furniture since the very beginning. Furniture has become an integral part of our lives whether we are at home, school, office, hospitals, supermarket or even during transportation.
Imagine a house without any furniture; your home will be completely disorganized and look like a junkyard. Furniture is the one thing that makes your home look big, clumsy, or cozy, as it can make/ break the look of the house. So why don't we spend some time cleaning and maintaining them?
Good furniture is like a one-time investment, but you must regularly clean and maintain them as they are used every day, and slight wear & tear may happen; cleaning and maintaining them can make them last longer.
Read on to know the cleaning and maintenance tips for different furniture types:
How to Clean and Maintain Wooden Furniture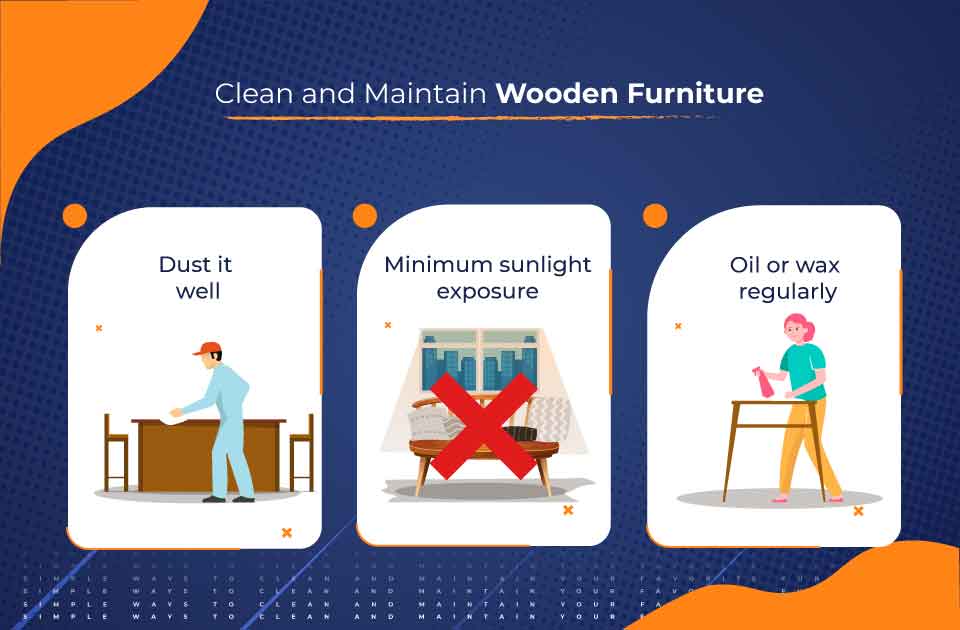 Dust it well: Take a dry cloth and wipe out all the dust and debris on your dining table, chairs, wardrobes, kitchen cabinets, etc., as sparkly furniture makes a room look neat and clean. Spray soap-based liquids for tough stains on your furniture and gently wipe them away.

Avoid sunlight exposure: Too much exposure to direct sunlight can damage your furniture; bright and dark spots may appear all over. You can place your furniture away from the windows/ doors where sunlight falls on them directly or use a tablecloth to cover it.

Oil and wax regularly: As you keep using the furniture, it will start losing its shine and may look dull. To maintain the luster of your furniture, oil or wax it once a month; pour some wood wax or oil on a piece of cloth, and rub it on the furniture.
---
How to Clean and Maintain Upholstered Furniture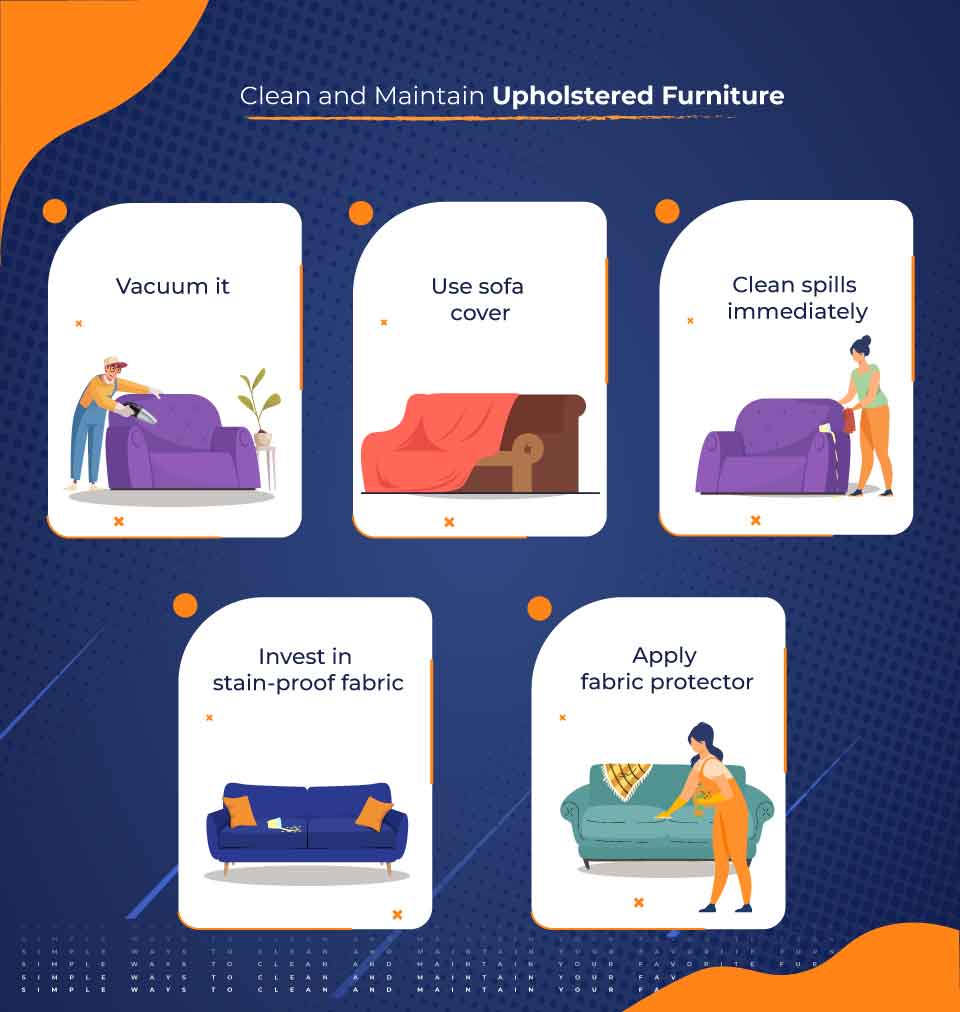 Vacuum it: Vacuuming the sofa, cushioned chair, etc., is the easiest and most effective way to clean all the dust. The density of the fabric might trap the dust within the furniture, so gently brush your sofa before you vacuum or steam mop them.

Use sofa covers: Sofa covers make your furniture look beautiful, but they trap all the dust within them. You can easily change it and wash the dirty cover in the washing machine, rather than using heavy and noisy vacuum cleaners to clean them.

Clean spills immediately: Keep tissues or a waste cloth handy as the fabric in upholstered furniture are easily-absorbent. It's best to quickly wipe away any spills to avoid seepage into the cushioning/fillings.

Invest in stain-proof fabric: You can invest in upholstery furniture with stain-proof/ water-resistant fabric. They are easy to maintain, and you don't have to worry about stains if you spill anything.

Apply fabric protector: The fabric also absorbs sweat, leaving a nasty odor if left uncleaned for a long time. Buy a fabric protector and spray it over the material to keep the foul smell away.
---
How to Clean and Maintain Leather Furniture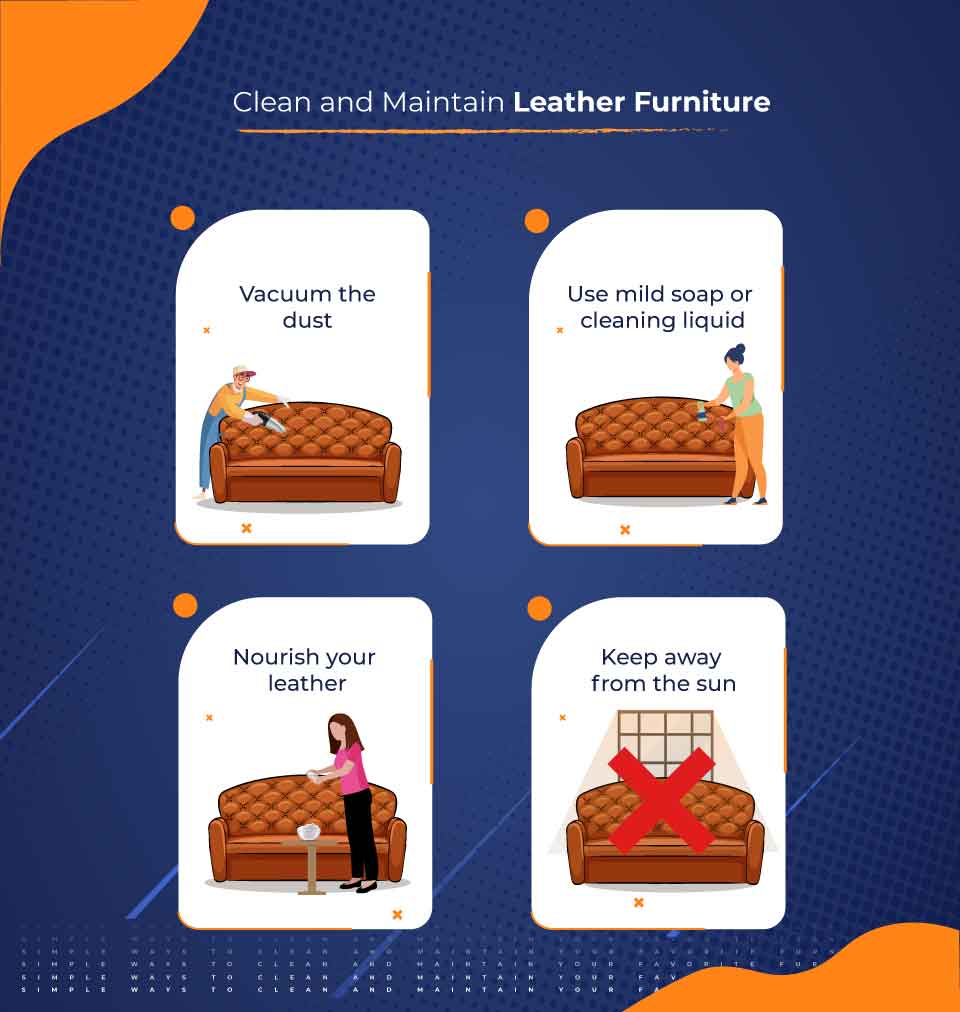 Vacuum the dust: Use a soft dusting cloth to wipe out the dust, but in some places like corners, it's difficult for your hands to reach; use the soft brush attachment in your vacuum cleaner to avoid the risk of damage.

Use mild soap or cleaning liquid: Spray cleaning liquid or mild soap for stains and wipe it out using a clean cloth. You can also try vinegar if soap doesn't work. Rinse the cloth often to avoid the dirt spreading all over.

Nourish the leather: Mix one part vinegar and two parts linseed oil; dip a cloth in the mixture and rub it all over your leather furniture. Leave it for 10 minutes, then buff it out with a cloth. You can also apply leather cream to re-moisture leather and bring back its rich glossy look.

Avoid sunlight exposure: Keep leather furniture away from direct sunlight to avoid cracks and dryness on your furniture. Sunlight is terrible for leather, so it's best to keep them away from windows to avoid sunlight.
---
How to Clean and Maintain Glass Furniture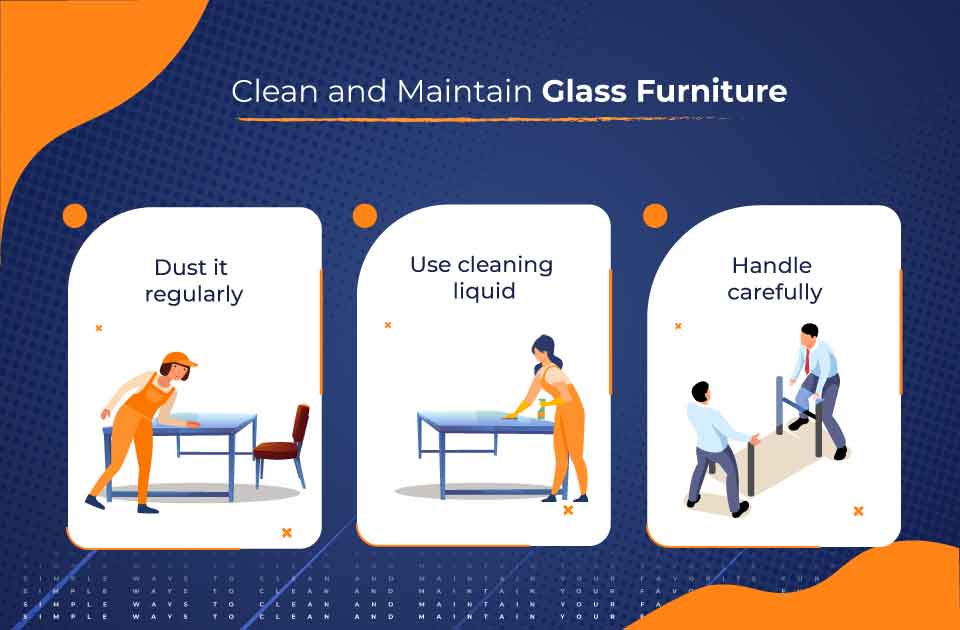 Dust it regularly: Use a soft cloth to wipe out the dust on your coffee table, cabinet doors, dining table, etc. Dust them regularly as dust and dirt are easily visible on the glass.

Use cleaning liquids: For tough stains or cleaning mirrors, spray cleaning liquids and gently wipe them out with a soft cloth or tissue paper.

Handle carefully: While cleaning or moving your glass furniture around, make sure you handle it very carefully; take the help of your friends/family to carefully move them around.
---
We often overlook cleaning and maintaining your furniture; it's necessary to clean it regularly and make it routine. Imagine your favorite furniture getting damaged due to low maintenance; it hurts worst than heartbreak, right? We have mentioned a few simple cleaning and maintenance tips for each furniture type in the article above.
The life of furniture depends on how well you maintain it; proper care and maintenance can extend their life. You don't have to be a professional to care for your furniture; follow these simple steps, and your furniture will look as good as new. 
Furniture is a one-time investment for a household; even if any furniture is broken, you can use your DIY skills and turn it into another furniture/ home decor piece.