How to Know it's Time for Home Remodeling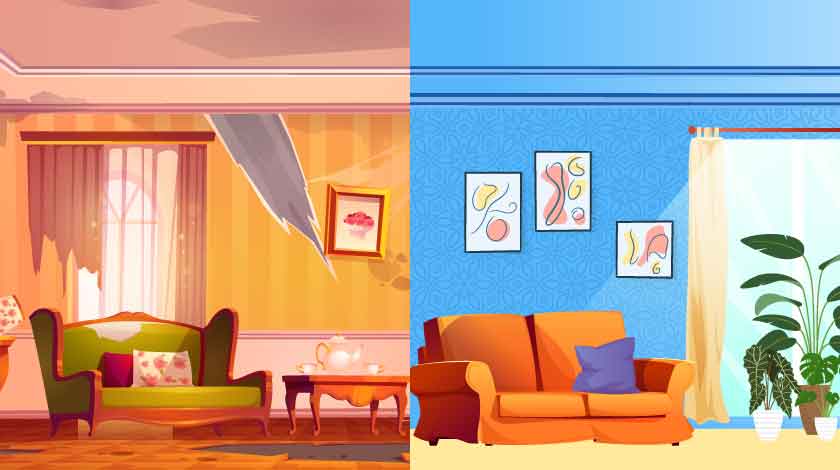 Home is where your heart is - Anonymous
We have spent many years turning a house into a home; how we take care of it also reflects how emotionally attached we are towards our home. Remodeling can give a fresh look to your home. If you notice any wear & tear in your home or simply got inspired by an eye-catching interior design, you can make use of that opportunity to make some welcome changes in your home.
Home remodeling isn't something you do just because everyone else did it. It would be best if you think practically, like analyzing the requirements, strategically planning what changes you will make, your budget, etc. Look for these signs at your home, which is a clear indication that it's time for the renovation of old house.
7 Signs it's Time to Remodel Your Home
#1 Signs of Wear and Tear
Over a period, your home will require general maintenance. If any area in your home is deteriorating, like cracks on floors & ceiling, paint chipping off, water seepage/ leakage on walls and ceilings, etc., it's a clear sign that you must start renovating the old house.
#2 Amenities are Outdated
Another common reason for renovating homes, is the amenities of your home have become obsolete. It might be your old/ broken furniture & decor, home appliances that aren't working, old shelve/ cabinet laminations, clogged or dripping taps, worn-out curtains/ rugs, and so on. You can look for smart remodeling ideas and old home renovation costs online. Now prepare an inventory of how you will redesign your home; check if it fits your budget, and plan accordingly.
#3 Need More Space at Home
If your family has expanded or kids are grown, it's probably time for some change in the layout of your home. You can knock out a few walls to merge rooms, build a room above your floor, etc.
#4 Pest Infestation Problem
Pests like termites, wood borers, bed bugs, rats, and so on can not only damage your furniture, clothes, etc., but can pose health risks to your family too. Any pest infestation can be solved with the help of pest control service providers, yet you will have to replace your furniture, pipelines, etc., because of the damage they have done to it.
#5 Financially Ready for House Remodeling
Home remodeling can be costly, especially if you plan of remodeling your entire house. It's best if you sit with your family, frame a budget, and then plan accordingly. Make sure you have sufficient capital amount you will be able to proceed further as remodeling your kitchen, bathroom, living room, etc., are very pricey these days.
#6 Diminished Market Value
Over time, the amenities in your home will become worn-off & outdated; because of this, the market value of your house will deteriorate. Interior remodeling can add some value to your home, especially if you plan to sell your house, attracting potential buyers.
#7 Don't Want to Move Again
If you are in love with the location of your home, neighborhood, or emotionally attached to your home and you don't want to move, that's totally fine. Home redesign gives a fresh look to your outdated house.
Simple Design Ideas for Renovating Homes
Renovate Living Room
Your living room is where your family gathers in your home; your living room must look appealing and cozy. Make sure you give more attention to every detail in your living room, from the rug, sofa, cushions, curtains to the eye-catching color combinations cheering up your living space. Make sure that everything blends well, from bold splashes of color to the furniture or decor pieces you choose, make your living room reflect your style.
Kitchen Remodelling
The kitchen has always been a crucial part of any household; it's a place where delicious food is cooked that satisfies your tummy and fills your stomach and heart with love. Upgrade your old kitchen to a smart modular kitchen interior.
Tip: Open modular kitchens without any separation between the living and kitchen spaces are trending nowadays.
Room Remodeling
Your bedroom is where you rest to recharge yourself after a long, hectic day. You can rejuvenate yourself and make your bedroom super cozy with a few simple changes like re-painting your bedroom with a soothing color & simple wall paint design, adding sheer curtains, cozy furniture, elegant accessories, etc.
You can install some ready-made walls in your master bedroom to create a separate bedroom for your kids. When you design kids' bedrooms, consider their ideas and then plan as per what practically works, i.e., fairy tale backdrop or superheroes. So you decorate your kid's bedroom as per their choice without breaking your bank.
Home Bathroom Renovation
Unlike other rooms in a home, the bathroom is also an essential part of a household. You can quickly transform the look of your bathroom by just updating the amenities in your bathroom, like installing fancy new showerheads, towel bars, taps, faucets, mirrors, lights, shower curtains, and so on.
Tip: Paint your bathroom with some neutral colors to instantly create a spa-like atmosphere.
---
These are the common signs that indicate, that your home needs remodeling. When you notice more than one of these signs in your home, you must start planning for renovation. If you have a good budget or don't have much idea about what will work out well for your house while remodeling houses, you can let the professional handle it by hiring interior designers. Contact home interior designers and request them to visit your place, so you can sit & discuss your design plans with them.
If you have a minimum budget or have a good eye on what will work the best for your home, then you can try some simple DIY home interior ideas for remodeling an old house on a budget. This will not break your bank pulse your home will have a unique and personalized touch, that will stand out from other houses.