Home Interior Designing: The Ultimate Guide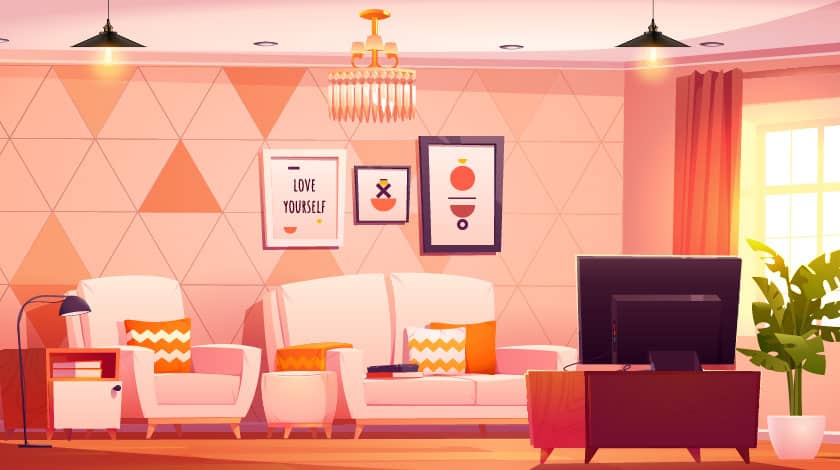 Home interiors are not just about decorating the interiors of your home; they must reflect your personality and style. Redesign your home interiors according to your style and know the power of a positive and aesthetically appealing home. Transforming the look of your living room interior can make them look functional and also features their style. The art of changing the look of your home from scratch is not that easy, but you can DIY it if you have a good knowledge of what works out well and have enough time to spend on it. When it comes to renovating your home interior design, you must pay attention to each and every detail of your house to make it look balanced and appealing. From choosing the right color scheme, to where to place furniture, you must consider so many factors.
Read on the article below to get proper home decor ideas for your living room interior design, simple bedroom interior design, kids room interior design, kitchen interior design, bathroom interior design, wardrobe design interior, wooden interior design, pooja room interior, etc., to decorate your home interiors as per your style and personality.
Table of Contents:
Fix a Budget: Preparing a home renovation plan according to your budget will assist you to make proper decisions and remodel your house interior design accordingly. Do some research to know exactly how much everything might cost, whether it is within your price range, etc; this way, you can plan your low-budget flat interior design or contemporary interior design for small 2 BHK flat or your duplex house interior design.
Determine Your Style: Are you a person who loves aesthetic/antique things or a person who prefers modern home interior design; despite what your style is, your house must reflect it. Take time and discover your style choice and decide how you will sync your style with your home interiors. You can check online or go through magazines to get home decor ideas.
Know the Space Around You: Have a look at your home and decide where you want to change, like modern kitchen interior design, bedroom interiors for 10x12 room, small room interior design, wooden wall interior design, only furniture, or your entire house interior design, to know what your space demands. Sometimes, people use large furniture for a small room or small furniture for big rooms that don't sync with your home's theme. So know the space around and find out what works out and what doesn't, and plan accordingly.
Calculate the Time Taken: This depends on the design plan and your decision-making skills; if 'Plan A' doesn't work, how quickly can you make a 'Plan B.' Home designers can roughly estimate the time taken; however, it may differ as per the interior design you choose, house size, and various other factors. If you rush in the designing process, it can ruin your entire plan so it's best to let them take time to complete the remodeling.
Test Run: Do a sample test, it will help you view how your design is going to look, instead of executing your plan and later regretting that it doesn't look good, having a test run is a better idea. You will get a clear idea of what works well and what doesn't. If you didn't like the outcome of some design and want to change it, it will be much easier to change it during a test run.
Living Room Interior Design
It's the place where your family and friends gather in your home, so it's important that your living room looks not only appealing but also feels cozy. Every detail matters, from the cushions, sofa, rug to the eye-catching color combinations cheering your space. Make sure everything blends with each other from bold splashes of color to the furniture or decor you choose, make your living room reflect your style.
Tip: If you want to increase the natural light in your living room, you can paint your hall in light shade, place light-colored furniture, and opt for minimal but glossy home decor.
Modular Kitchen Interior Design
The kitchen has always been central to the household where delicious food is cooked that satisfies your tummy and fills your heart with love. Upgrade your old kitchen to a modular kitchen interior. The trend of open modular kitchens without any separation between the living and kitchen spaces is popular today.
Bedroom Interior Design
Your bedroom is where you rest and recharge after a long, hectic day. You can rejuvenate yourself and make your bedroom super cozy with few simple changes like painting a soothing color & simple wall paint design for bedroom, adding sheer curtains, comfortable furniture, elegant accessories, etc., and the best part is you don't have to break your bank.
Kids Room Interior Design
A kid's bedroom is their area to play, relax, study, and get creative, so let's do it their way, as kids have very specific visions of how they want to decorate their bedrooms, which must be taken into consideration; may it be a fairy tale backdrop or superheroes. Most of the kid's room interior ideas live outside the range of possibility; you have to balance your kid's imagination with adult practicality and style.
Bathroom Interior Design
Bathrooms are an important part of a house, update the amenities in your bathroom like putting new showerheads, faucets, towel bars, mirrors, lights, etc., you can easily transform the look of your bathroom interior, and it doesn't cost much. Paint your bathroom neutral colors to instantly create a spa-like atmosphere.
Foyer Designs
Whether it's a grand house or a tiny apartment, your foyer is the first thing guests see as soon as they step into your home. So make it look appealing and super-cozy like installing a bench, adding a chair, or even putting in some stools, a carpet, a pendant, etc., or other lobby design for home that can instantly change the look.
Study Room Interior Design
Establish a perfect and ideal space for your kids/for yourself to improve your productivity. With a dedicated study space, you will be stress-free and efficiently performing your tasks. Give your study room interior a fresh look by neatly organizing all your books, papers, etc., on a stylish and classic wooden study table, a comfortable chair to sit on; you can also attach a whiteboard in the wall, to draw ok take down some notes.  
Storage & Wardrobe Design Interior
If you don't have enough storage space or your wardrobe is outdated; don't worry you can use your storage space efficiently and make your home look elegant. There are many cupboard interior design solutions; that will help you create more usable storage space. They are easy to install, budget-friendly, and will help you gain control over your closet space.
Pooja Room Interior Design
If you have limited space and it's difficult to accommodate pooja room, you can fix a pooja unit; no matter how compact your house is; even in the tiniest of niches in your walls. Pooja units are available in several designs, choose the one which blends well with your home interiors.
False Ceiling Interior Design
Whatever your style, there is a false ceiling interior design for you. The best part about a ceiling is, it's made of plasterboard, which is easy to create any design you want and easy to install too. A false ceiling will definitely save time, money and give you long-lasting results that will complement the look of your entire home.
Flooring Interior Design
Your floor gets more visual attention in a room. So when you are planning to renovate, don't forget about your flooring. There are numerous ways to transform the look of your floor like tile flooring installation, wooden floor restoration, etc; one of the quickest ways is adding a designer rug to give a cozy and pleasant look.
Interior Wall Paint Design & Ideas
A freshly painted home can instantly change the outdated look of your home and new, and it's not that expensive, too. Choose a good color scheme, pastel colors are the latest trend now. You can also try some pattern/ sequence wall paint designs for bedrooms, living rooms, home offices, etc.
Wallpaper Decor Design
Putting up wallpapers is much quicker than painting your wall. Wallpapers are available in various designs and colors, they are customizable too; a bold wallpaper can instantly draw people's attention and reflect your personality. Adding wallpaper to just one wall and keeping the other walls plain will give your home a better appeal.
Space Saving Furniture/Movable Furniture
The best way to maximize your floor space is, replacing your old furniture with space-saving/movable furniture, especially for small spaces. This space-saving furniture not only saves space but gives your home a versatile look.
TV Unit
Whether you decide to mount your TV on the wall or place it on a stand, providing adequate storage for your media essentials is a must to hide away unsightly clutter (cables, wires, etc.). The right TV unit can amplify your decor and style. TV units are available in various designs and styles, choose a perfect one to enhance your entertainment experience.
Light Fixtures
Amplify the lighting in your home, install some classy light fixtures or a pendant in the entryway to give an eye-catching and cinematic look. You can strategically place mirrors around your room to boost the light in the room.
Home Decor Design
Decoration plays a major role in the looks of your home; a good-looking house gives a present feel and helps you reduce anxiety. Adding decorative items to your home makes your house more appealing. Remodeling the house and adding new decorative touches is always a good idea.
Crockery Unit
The crockery cabinets of today are minimalist, fuss-free, simple, and unique. You can customize your crockery unit to showcase your beautiful ceramics and cutlery and give your home a luxury magazine look. there are so many types of crockery units like contemporary, floating, sideboard-style, freestanding, open shelved, etc., choose a style that blends with the style of your home and your personality as well.
Conclusion
We have discussed some interior designing tips and ideas in this blog; hope these tips come in handy while you are planning to renovate your home interiors. If you don't have enough time to do the interior design of your home by yourself, you can hire the best home interior designers near you and let them handle the hectic tasks of planning, organizing, etc. You can simply approve the design you feel suits your taste & home environment and sit back & relax while the pros take care of the rest.