Top 10 Places to Explore the Beach City "Chennai"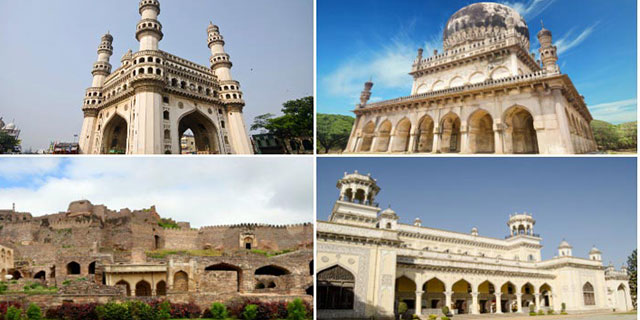 Chennai is the place which treasures India's longest urban beach. Also, it is counted among the fourth largest metropolitan city in India. We welcome you to the Chennai, one of the most visited places in Tamil Nadu by tourists. Chennai is said to be "The Gateway of South India" which keeps maintaining the south Indian tradition and culture. The heritage and rich southern lifestyle fully surround the city. It is tough to visit a bunch of places on the weekend. There are many places ideal to visit for family and resorts for the lovebirds. The city has numerous beaches, temples malls, amusement parks, museums, and other historical monuments, which make it, must visit place in Chennai.
Chennai is also called formerly as "Madras" it is said to be a 369 years old city and is capital of Tamil Nadu. It is considered as the one of the world's fastest-growing city and comes on 13th number regarding cleanliness.
Here we are mentioning the list of visiting places in Chennai with your family:
1. Marina Beach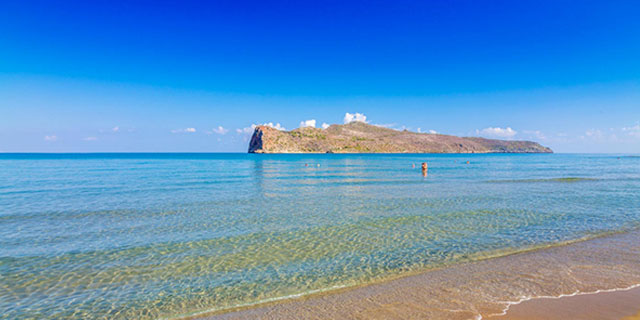 Visiting Timings: Open round the clock
Photography: Allowed
Entry Fee: Free of charge
Distance from City: 9 Kms.
Marina Beach of Chennai is the most beautiful and longest beach in India and the second longest beach in the world. It is one of the places where you can go with the family to spend a wonderful weekend. Marina Beach is the natural beach located along with the Bay of Bengal. To enjoy the most take the morning or evening walk along with the 3 km long of Marina Beach and you will see cricket matches, fortune-tellers, flying kites, fish markets, corn-roasters and families enjoying the sea breeze. It is advised strongly, not to swim there because of the heavy tides in the sea. Marina Beach is also very famous for the lighthouse; it is India's only lighthouse with a lift, from this the city and beach views are tremendous.
2. Arignar Anna Zoological Park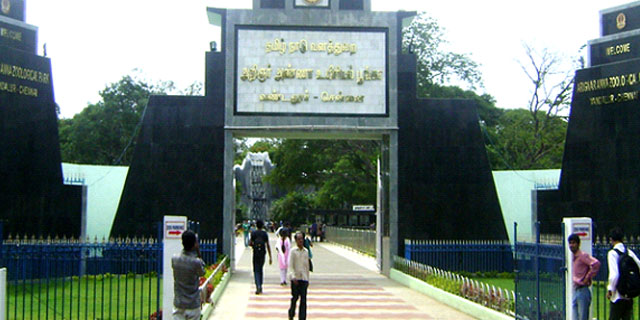 Visiting Timings: 09:00 AM to 05:00 PM (except Tuesdays)
Photography: Allowed
Entry Fee: INR 30 for adults and INR 10 for children between 5-12 years
Distance from City: 32.7 Kms.
The first and largest Zoological Park opened to the public in India, has a vast area of 1300 acres and also known as Vandalur Zoo. The zoo was opened on 24th July 1985 and is affiliated to the Central Zoo Authority of India. This zoological park is the favorite weekend spot for the families, especially children. The park is the house of 1500 species of wild animals including the endangered such as Himalayan brown bear, lion, tiger, elephant and Indian civil cat. Here you can also find many types of reptiles in reptile's house like the king cobra, python, viper and many others. Including all this, they have also created in Jurassic park just to add an exciting element. For children, you will find here Elephant joy rides, children's park, and an education center.
3. Government Museum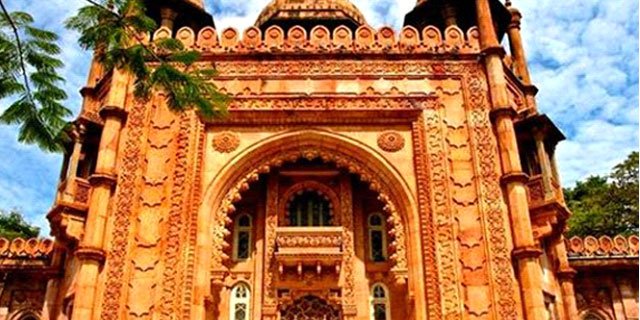 Visiting Timings: 09:00 AM to 05:30 PM, closed on Fridays & National Holidays
Photography: Allowed
Entry Fee: 15 for Indians, Rs. 250 for Foreigners
Distance from City: 4 Kms.
Built by Britishers as Pantheon Complex, this Chennai museum is the best place to visit. The best thing to see is the 3rd building which is known as Bronze Gallery, which has a superb collection of South India Bronze items from the era of Pallava 7th Century to the modern times. It also has the sculptures from the 9th to 11th century of Chola period which includes many statues of Lord Shiva as Nataraja and Ardhanarishvara statues of Lord Shiva and Parvati. The main Archaeological gallery 1st building shows all South Indian culture of 2nd century BC to the 16th century which has Hindu, Buddhist and Jain Sculptures. 2nd building has Anthropology Galleries which display the history of tribal artifacts from that region outside it is a Tiger head which was captured from Tipu Sultan's army in 1799 as the mark of his defeat at Srirangapatnam.
For the family visit, it is also tremendous as it has the National Art Gallery, Contemporary Art Gallery, and Children's Museum, on the same ticket.
4. Fort St. George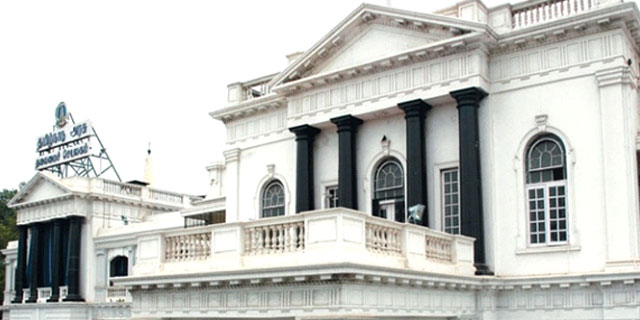 Visiting Timings: 09:00 AM to 05:00 PM & closed on Fridays
Photography: Allowed
Entry Fee: Rs. 5 per person for Indian citizens and Rs. 100 for foreign nationals (entry free for children up to 15 years of age)
Distance from City: 4 Kms.
Completed in 1653 by British East India Company, the fort has facelifts many times. The Fort has a 20 feet thick wall. The Flagstaff at this fort is the largest in India with a height of 150 ft. The Fort Museum is displaying the Chennai's origin and its history also; it shows the fort and interesting military collectibles and artwork from ancient times. The museum also exhibitions a wide range of artifacts like Weapons, Canons, Shields, Uniforms, Manuscripts, Paintings, Letters, coins, medals, etc.
Also within the fort, St Mary's Church is there, which was completed in 1680 and India's oldest surviving church, surrounded by the earlier time graves.
5. Parthasarathy Temple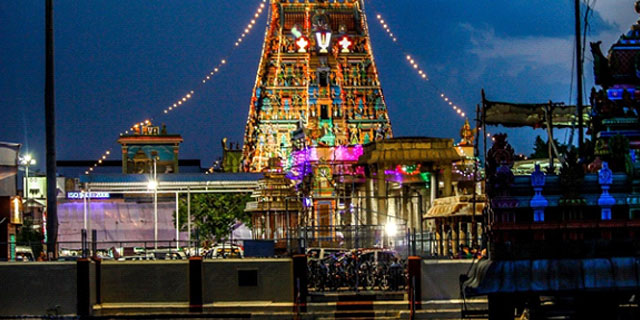 Visiting Timings: Open round the clock
Photography: Allowed
Entry Fee: No entry fee
Distance from City: 8.6 Kms.
Built by the Pallavas in the 8th century, and dedicated to Lord Krishna as the charioteer Parthasarathy, and is the oldest temple of Chennai. The name 'Parthasarathy,' means in Sanskrit the charioteer of Arjuna in the epic Mahabharata. There is the main shrine of Lord Krishna inside the temple, and the secondary shrine inside the temple is of Vedavalli Thayaar, with that of Narasimha and Ranganatha. The temples have the embodiment of Lord Vishnu in his five hands which were named as Narasimha, Rama, Varaha, Ranganatha and Krishna. It has some shrines which were built during the rule of Cholas and Vijayanagara Kings.
6. Chennai Snake Park Trust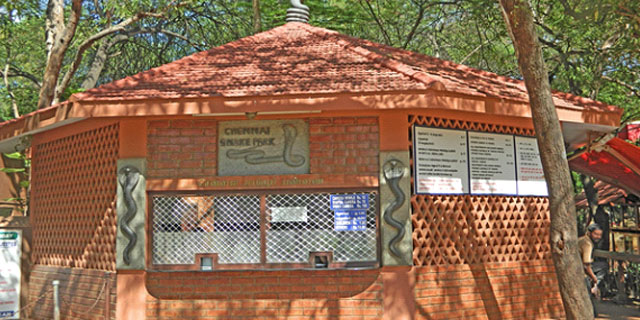 Visiting Timings: 09:00 AM to 05:30 PM except for Tuesday
Photography: Allowed
Entry Fee: Rs. 20.0 per person Adults and Rs. 10.0 per person Children
Distance from City: 8.8 Kms.
Built-in 1972 by herpetologist Romulus Whitaker, Chennai Snake Park Trust is India's first reptile park in India. Chennai Snake Park Trust is located in Guindy, and so it is also known from the name of Guindy Snake Park. If you have excitement to know about the snake life or you want to hold a non-poisonous snake in your hand. There is about 20 species are the display of Indian snakes, three species crocodiles, three species of exotic crocodiles, three species of Indian turtles, four species of Indian lizards and two species of other exotic reptiles and so total 34 reptiles are displayed in the park.
7. VGP Snow Kingdom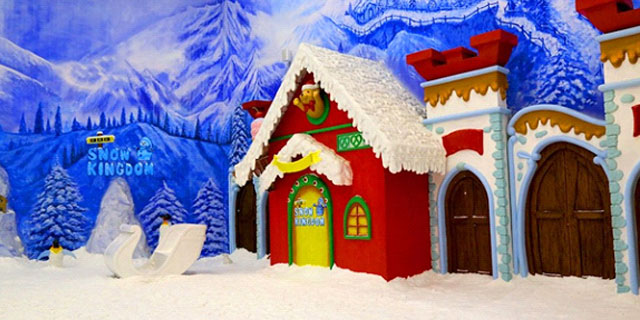 Visiting Timings: 10:00AM to 08:00 PM
Photography: Allowed
Entry Fee: Rs. 550 to 945 per person Adults and Rs. 450 to Rs. 845 per person Children
Distance from City: 8.8 Kms.
In the hot summer you want to enjoy the snow and chilly winds of the hilly area then the best place to visit in Chennai the VGP Snow Kingdom is maintained the area of 14000 Sq. Ft. Minux Six Deg. C, so the snow doesn't melt. VGP Snow Kingdom is situated nearby VGP Golden Beach and an excellent snow park in Chennai where you can walk, touch, and play uniformity snow. In the Snow Park, they will maintain the curriculum and provide you the uniform to water inside the park. Also, the park has maintained a nearby restroom gate at a high temperature, to maintain the body temperature of the visitors and take some respite from the cold. There they have so many rides for children and adults as well.
8. Queens Land (Chennai)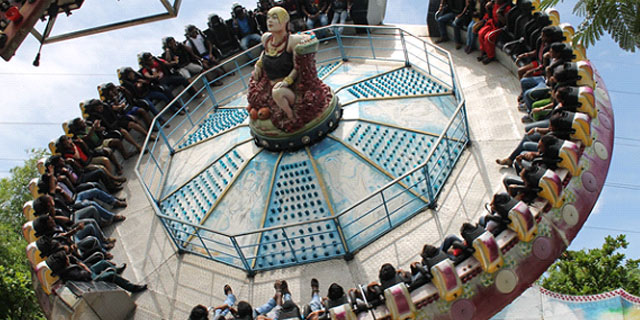 Visiting Timings: 10:00 AM to 05:30 PM on weekdays and 10:00 AM to 6:30 PM on weekends/Holidays
Photography: Allowed
Entry Fee: Rs. 350 per person Adults and Rs. 250 per Children & Children shorter than 2 feet (0.61 m) are given a free entry.
Distance from City: 303 Kms.
Queen's land is an amusement park promoted by Rajam Hotels (P) Ltd. and spread over an expansive area of 70 acres. Queens Land was established in the year 2003 and located at Sembarambakkam. The park is the best option to spend the weekend, but on the weekdays as well you will find the visitors here. The park committee is very humble after taking tickets they will provide you the map of the entire amusement park so, you can easily visit the park in your way.
In Queensland Chennai and you will find total 51 rides are there which has 33 rides for adults and 18 for children. Some of the popular rides of the Queensland Chennai include Free Fall Tower, Cable car ride, Rollercoaster, Simulation theatre, Himalayan Water Ride, Octopus, Bumper cars, Centrex, Mirror House, Alpen Blitz and Queens Land Fairy Train. And the very excitement water rides start from 02:00 PM to 05:00 PM and they also have separate swimming pools of Mens and Womens.  
9. St. Thomas Mount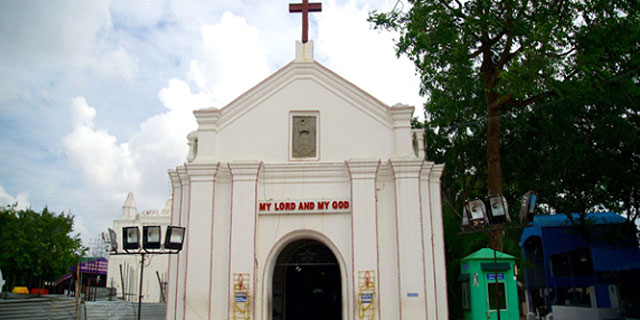 Visiting Timings: Monday to Saturday: 06:30 AM to 06:00 PM and Sunday: 07:00 AM & 06:00 PM
Photography: Allowed
Entry Fee: No entry fee
Distance from City: 18.7 Kms.
St. Thomas Mount is a small mound located in Chennai and named after the Thomas, the discipline of Chennai who died at the same place in Chennai. The St. Thomas Mount is located at Chennai Tamil Nadu near Guindy, and the mount is popularly known as "Peria Malai" or "Parangi Malai". The Portuguese built the church and the shrine of Mother Mary in 1523. They built this shrine at the summit of the 300 foot high St. Thomas Mount. The mount has 160 steps which are built by using pure granite to summit the mount. In the main entrance, it has three crosses at the welcoming arch.
10. Spencer Plaza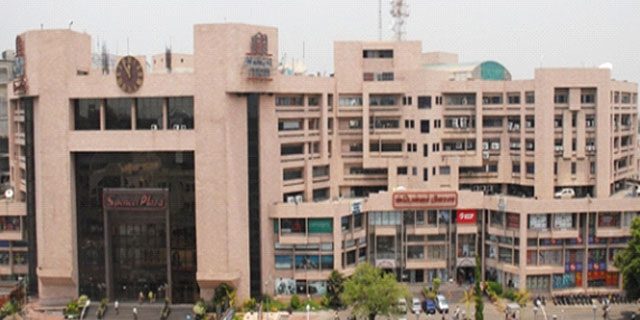 Visiting Timings: 10:00 AM - 11:00 PM
Photography: Allowed
Entry Fee: No Entry Fee
Distance from City: 7 Kms.
Spencer Mall is the first and biggest mall in the city which is located on Anna Salai in Chennai, Tamil Nadu and is one of the popular landmarks of the city. It was built during the period of the British Raj and reconstructed in 1985 on the site of the original Spencer's department store. The Spencer Mall is eight stories building which is a shopping mall cum complex. It covers the area of 600,000 sq. ft. of air-conditioned shopping mail unit. The mall has a number of top brands such as Louis Philippe, Adidas, Nike Bata, VIP Luggage and many others. Equipped with all safety gadgets this high-rise building and its underground sump has a storage capacity of 100,000 liters.
The Spencer Plaza is originally Spencer & Co Ltd. The mall has been developed by Mangal Tirth Estate Limited.
Chennai is the colorful and beautiful city full of entertainment and knowledge. So, if you have a boring weekend turns it into excitement and visit Chennai. 400 sq-km conglomerates of urban villages, Chennai is full of traditions and culture and therefore it is to be called as "Cultural Capital of India".