Economic Ways to Decorate your Home this Diwali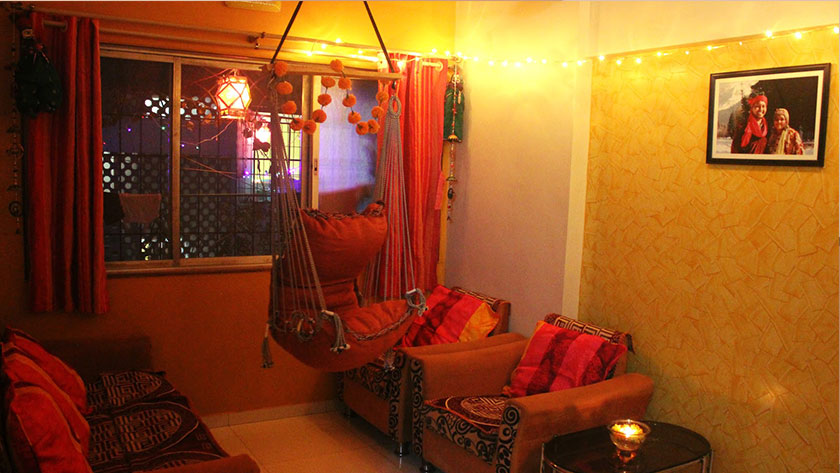 Just a few days to go….
Diwali, the festival of lights, when family and friends meet or visit each other's homes and greet each other. In this occasion, everyone wants to make their home as beautiful as possible. Of course, it starts with cleaning but along with that, there are a few things you can change in your home which can instantly give it a new look in less expense.
Declutter and Deep Clean your Home
Declutter the Entire Home
One of the most effective ways to ensure a thorough clean-up of your home is to sort through all your belongings and get rid of unnecessary items. This way, you make space for new things that are yet to come and also reduce the clutter and mess in your home.
Set a goal for each day
With just a few days to go and a lot of work to be done, it's obvious that you can't comb through the entire house in one go. While on some days you may finish an entire room, you may get only that much time on the other days to clear out a single drawer.
So, set a goal to complete one section of the house every day and finish the task faster. You can also keep track of how much work is pending.
Start with the small things
The feeling of accomplishment, big or small, can push you to achieve more. If you're decluttering for the first time in many years, starting off with smaller tasks, will help you get into the flow. You'll be able to complete the task easily and get the push to complete the next task with the enthusiasm.
Start off by sorting through a desk drawer or a part of your closet; build your momentum and move onto the next one until you get done with the entire house.
Create a room-by-room plan
After having spent a good period of time at home, many small, insignificant items (sometimes, even significant ones) would have found their way into various nooks and crannies. Getting to the core of every corner of the house is much simpler and more thorough if you do it one room at a time.
So, make a list of which room you will hit first, such as 'do the bedroom first', 'bathroom second', and so on. Whichever room you decide to declutter, make sure you scour through the entire room carefully and put aside all the things you don't require anymore or haven't used in a long time.
Make 3 separate piles
Donate, Sell, or Store.
Set up 3 different piles of things while going through each room, so that you don't have to waste additional time thinking about what to do with each item later on.
You can follow the 6-month or 1-year rule for setting aside unwanted things. For example, sell anything that you haven't used in the last 6 months, donate the things you haven't used in the last 1 year, or vice-versa.
Additionally, you can choose to store any item ONLY IF you are sure you'll use it after a while, otherwise the items can be put to better use in someone else's hands.
In this way, you have the option of keeping the things you really want or are unable to part with, make money, and also being the reason for someone's happiness on the day of the festival.
Give a thorough deep clean
Although a major part of the cleaning process is over, just decluttering is not enough. You'll find layers of dust throughout the house after removing and rearranging all the things and will have to clean every surface in the house immaculately.
You can use the same room-by-room plan you made earlier or make a different one to finish one room at a time. For example, clean the bedroom first, then bathroom, kitchen third, and save the living room for the last.
Get the cleaning supplies ready
Now that it's time to execute the plan, make sure the cleaning supplies are ready. To ensure you don't have to spend time in making another list for the same, we have done it for you:
Wear gloves before you start cleaning to keep your hands neat and clean;
For the Kitchen:

To clean shelves – use a cloth soaked in hot water mixed with white vinegar, followed up by a cloth soaked in normal water;
To clean fridge – use a cloth or sponge with a cleaning solution made of half a lemon dipped in vinegar;

For the Bedroom:

Use a cloth or duster to dust every surface;
Use a soft microfiber cloth for glass surfaces;
Broom and Mop the floor;
Use floor cleaner if required;

For the Bathroom:

Use a liquid cleaner and ScotchBrite to scrub the shelves and other surfaces;
Use a solution of equal parts of water and vinegar for cleaning taps, shower caps, wash basin, etc.;
Use a good floor cleaner to scrub the bathroom floor properly;
Apply a toilet cleaner inside the WC and brush it thoroughly;

For the Living Room:

Keep a step ladder or chair ready to clean the fans and higher surfaces;
Use an old cloth to neatly wipe off the dust from above the fans and light fixtures;
Follow up with a cleaning agent (as mentioned above) which helps in quickly cleaning the surface;
Clean from top to bottom
Cleaning is best done from top to bottom and everything in between, so that not a single surface is missed out.
Start dusting the higher surfaces like fans, ceilings, top of cupboards, shelves, and so on. Next, move onto the walls, doors, windows, kitchen-counter-tops and other middle parts of the house.
Finally, tidy up the floors with an intense sweeping-vacuuming-wiping session so that the entire house looks flawless.
Check for maintenance needs
Since you're already doing a deep clean of your house, there can't be a better time to do a complete maintenance check of the house. Go through the home's plumbing, electrical sockets, electricity and water motors, and any appliances or other things that may need fixing.
By doing it now, not only will you be able to save a lot time in the future, but also prevent any defects from becoming bigger problems later on.
Give your Home a Makeover
Over time, the walls of your home start looking dull, the lights look gloomy and aren't as bright as they used to be, and many other things in the house that scream 'Boring'.
Working on the interiors of your home in preparation for the festival is a smart way of making sure your home looks new and interesting for the rest of the year.
Change the home interiors
Whether you are adding new home interiors for the first time or re-doing it, giving your home a fresh look doesn't have to be as expensive as you thought. You have a variety of options and we have listed some of the easiest home decor ideas for every range of budget.
You can decide which of these ideas better suit you and your home and implement them.
Wall Stickers
Modernize your home by putting up wall stickers on the particular wall(s) which look the dullest or is the filthiest. You have the freedom to choose any design of your choice, select a theme for the entire house, and even put them up on any wall in any room.
Wall stickers are an excellent time and money-saving alternative as compared to painting the entire house. They also give your walls a fresh look and you can replace them with new designs as and when you wish.
Curtains and Bedsheets
No home interior is complete without curtains which can effectively increase the look and brightness of any room. Moreover, you can choose the curtain based on whether you'll use it just for the occasion or you want it for long-term use. In addition, you can enjoy the fresh look of the bedrooms with new bedsheets and pillow covers.
Since it's a fairly good investment that will be useful even in the future, you could buy some new curtains and bedsheets that match with the interiors you're planning. You can also save money by taking advantage of the latest deals and offers in this time.
Sofa Cushions and Covers
Another simple yet effective addition to enhance the look of your home is with the sofa cushion sets. They help to not only add color to your room but also keep your guests comfy.
Crockery and Cutlery
People visit each other's homes to greet and celebrate the occasion together and indulge in a wide variety of sweets and savories. New crockery and cutlery will add the feel of novelty in your house, and keep your guests impressed by all your arrangements.
You can easily get offers and deals on kitchen crockery items during the festival season without burdening your wallet.
Decorating your Home
After the intense cleaning, decluttering, and giving a new look to the home interiors, your house is now free of all unwanted things and you're almost ready to welcome Goddess Laxmi into your home. Just put up a few final touches and make your home truly worthy of a Goddess' visit.
Lights
This festival of lights is probably the only time when every single house is lit up with many different kinds of lights. And what better than the lovely 'Diwali fairy lights'; they make the home colorful, give a festive feeling without having to spend extravagantly.
Some people may spend a little extra on bright LED or neon light strips that give a whole new vibe to the surroundings that stays not just during Diwali but throughout the year. You can also add a personal touch to your decorations by putting up hand-made lanterns that instantly makes your room look vibrant.
Diya's
Diwali can never be complete without Diya's. Get some new diyas or lamps from the market and paint them with the colors of your choice. Keep them all around the house on window sills, lining the path of entrance to the house, and so on, and light the lamp of prosperity and joy at home.
If not for the traditional earthen diyas, you can even opt for candles, electrical or battery lamps, or even go green this Diwali with smokeless LED candles which are environment-friendly as well as wax-free.
Rangoli
Rangolis made using flowers, unlike the artificial colors, add a vivid color to the occasion while promising zero harm to the environment. You have the liberty of using different kinds of flowers, make exceptional designs and patterns, and enjoy the freshness, fragrance and beauty of the rangolis at hardly any cost.
Bringing it all together
By following these methods to prepare your home this festive season, you'll not only save a lot of time and money but also save yourself from huge credit card debts. Using natural alternatives in place of artificial ones like home-made cleaning solutions, colorful flowers, and handcrafted decorations will ensure you have a 'Greener Diwali' this year without compromising on any of the festivities.
Also, by taking the decision to donate some of your unused things to people in need, you get a true feeling of happiness knowing that you helped someone to celebrate their Diwali this year.
Finally, after all the hard work of sorting through your items, rearranging them, cleaning the entire house, adding decorations of your choice, and making your home Diwali-ready, it's time to set up your fireworks display and have a joyous celebration. You can opt for eco-friendly options which are low on noise and sound levels but high on the fun factor, and easily avoid burning a hole in your pocket. This way, you will neither have to give up firecrackers this Diwali, nor jeopardize yourself or the environment.
Wish you a Clean and Green Diwali!