Hire Professional & Best Electricians In Pune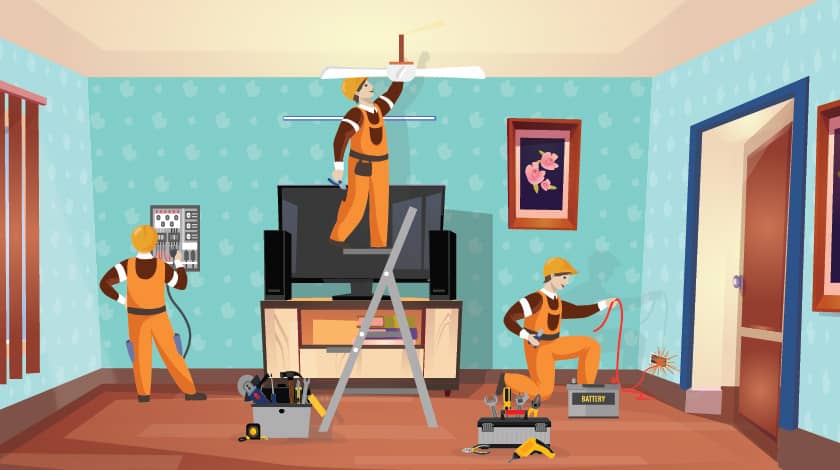 Get in touch with cheap and best professional electricians in Pune near me for any kind of home electrical wiring, electrical repair, or electrical maintenance at home, office, or any commercial establishments. Qualified electricians in Pune offer best electrician services such as fan repair, switch wiring repair, meter repair, fixing fuse wiring, installing electronic appliances, repair of any electronic gadget, new home electrical wiring, complete home electrical repair, or any other required electrical issues. Hiring good electrical technicians nearby will help you get customized electrical services as per your specific requirements, whether it is a planned requirement or emergency electrician needs.
Go through our list of electricians in Pune to find the most suitable nearby electrician for your residential/commercial electrician job.
---
List of Top Electricians in Pune
R M Deshmukh Electrical
Services Offered: Electrical wiring, residential & commercial building electrification, repair, maintenance, installation, office electrification, data wirings, all internal & eternal cabling, ht & lt substation work, earthing job
Address: 14 Ashok Sankul II, 67, Ashok Nagar, Range Hills Road, Ganesh Khind, Shivaji Nagar, Pune
Phone: +917276862000
Email: rmdeshmukhelectricals@gmail.com
Website: http://rmdeshmukhelectricals.com/
Vrushali Enterprises
Services Offered: All type of residential, commercial, industrial electrical work
Address: Survey No- 106/7, Flat No-103, Adinath Market Building, Krushnahatti Chowk, Guruwar Peth, Pune 411042
Phone: +919822343824
Email: contact@vrushalienterprises.in, support@vrushalienterprises.in
Website: https://vrushalienterprises.in/
S K Electrical Repair and Services
Services Offered: Electrical maintenance, home & shop wiring, home appliance repair, CCTV wiring, borewell/ open well pump services, inverter wiring & installation, pop wiring, electrical AMC for society & office, window & door curtain pipe fittings
Address: B No. 4/31, MSEB Colony, Ashok Nagar, Renge Hill Road, Pune 411007
Phone: +919373560538
Email: skelectricalssalesandservice@gmail.com
Website: https://s-k-electrical-repair-and.business.site/
Swamijet
Services Offered: Electrical repairs, panel upgrades, lighting upgrades, surge protection, ceiling fan installation, outdoor and motion lighting, digital thermostat installation, baseboard heating installation
Address: Ubale Nagar, Wagholi, Pune, Maharashtra 412207
Phone: +919673669601
Website: https://swamijet.com/
Gundappa Electrician
Services Offered: All type of electrical wiring, repair, and installation services
Address: PMPML Bus Depot, Pune, Maharashtra 411038
Phone: +919822667545
Website: https://website-4720008163642031740119-electricalengineer.business.site/
JMS Electrician Services
Services Offered: Electrical installation services in Pune
Address: Sr No 51 Sahara Classic Shop number 2, Mitha Nagar, Near d.ed College, Kondhwa Khurd, Pune 411048
Phone: +919890531709
Website: https://jms-electrician-services.business.site/
DZ Electrical Services
Services Offered: All types of wiring and electrical work
Address: Near Jain Mandir, Sacchai Mata Nagar, Katraj, Pune 411046
Phone: +919561386471
Website: https://dzelectricalservices.business.site/
Parmeshwar Deshmukh Electrician Sales & Services
Services Offered: Home wiring, inverter, geyser, boiler fitting, servicing & repairing
Address: Sr no 48/1B Siddhakal Bungalow Lane no 10, Heaven Park, Mohammed Wadi Lane 10, Pune 411040
Phone: +918888065270
Website: https://parmeshwar-deshmukh-electrician.business.site/
SE Electrical
Services Offered: All types electrical maintenance & house, commercial & industrial wiring
Address: New Shukrawar Peth, Pisal Path, Raviwar Peth, Pune 411002
Phone: +919518570058
Website: https://sujay-electricals.business.site/
MA Electrician
Services Offered: All type of electrical works, house & office wiring, UPS installation, single/3 phase meter installation, fan, tube light, jumar fitting
Address: Ashok Chakra Society, Iricen Railway Colony, Koregaon Park, Pune, Maharashtra 411001
Phone: +918530137192
Website: https://maelectrician.business.site/
---
About Electrician Services in Pune
Services provided for electrical services in Pune include basic electrical repair in Pune, along with various other services in all localities in Pune for any kind of accommodation such as home, apartment, office, or commercial establishments.
General electricians offer basic electrical maintenance services such as ceiling fan repair, installation of electronic appliances like heaters, exhaust fans, AC, geysers, etc., they will also check MCB trip issues, repairing fuses/switch outlets, problems in lighting or power, faulty wiring, and various others. Residential electricians in Pune will carry out safe installation of fancy light fixtures, home theatre, LED/LCD TV, doorbell, and any other electronic appliance that you may require to be installed.
Professional electricians in Pune are expert in carrying out complete electrical home inspection before you purchase or move into a new house; they will check for major as well as minor electrical problems such as short circuits, loose connections, problem in lighting, burning smell in switchboards, improperly working electrical sockets, MCB, meters, and so on. Pune electrical technicians will also inspect the entire home electric wiring running throughout the house for old, faulty wiring, and replace them; domestic electricians will also replace old transformers within the building or on the roof space to prevent shocks.
---
Hire Cheap and Best Electricians Online Pune Near Me
Get in touch with licensed electricians in Pune to make sure your electric issues are resolved by highly trained professionals having good experience in the field. All you need to do is get in touch with cheap and best electrician Pune near me and explain the specific electrical services you require.
If you need electrician services in Pune at your current home or office, it is best to look for good electricians near me in Pune, so that you can get quality and professional electrician services immediately on time without wasting precious minutes or paying extra for their travel to your location.
Before relocating to your new home within Pune, it's advisable to inspect the house for any short circuits, wiring issues, loose connections, etc. To ensure you and your family have a safe environment at the new place, hire best electrician services companies for complete electrical repair solutions in Pune and get your issues resolved.
Therefore, search for online electricians in Pune from whichever locality you are currently in, and explain your specific requirements to them; professional electrician services in Pune who will not only take care of the complete home electric wiring but also perform the necessary domestic electrical installation and repair in case of faulty electrical points.
Also, remember to hire packers and movers in Pune to enjoy quick and smooth relocation. You can either directly contact relocation companies from our list of packers movers or share your requirements with us and instantly get references of 3 best match movers along with their cost estimates.
---
Before hiring professional electrical services companies in Pune, make sure to have a look at the various services they provide, the time taken to resolve your issues, how much support they will give you from start to end. Get in touch with the right electrician services company in Pune depending on the type of wiring, installation, or repair services you require.