Hire Cheap And Best Electricians In Mumbai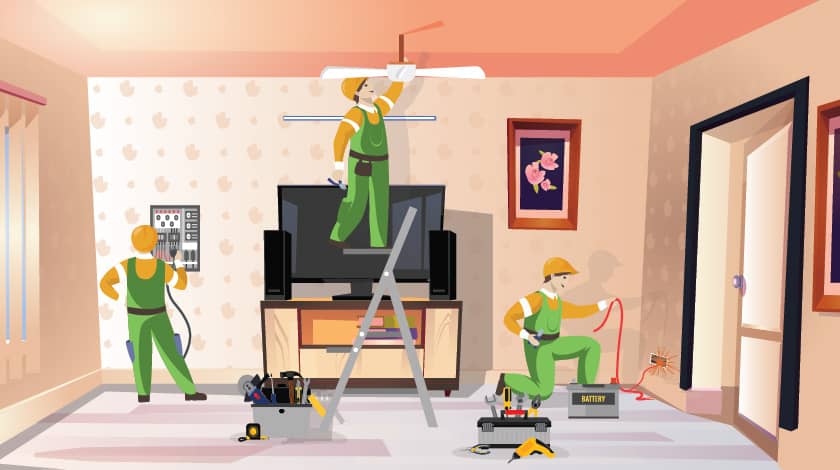 Get in touch with cheap and best electricians in Mumbai near me for any kind of home electrical wiring, electrical maintenance, or electrical repair at house, office, or any commercial establishments. Professional electricians in Mumbai offer first-class electrician services such as fan repair, fixing fuse wiring, switch wiring repair, meter repair, repair of any electronic gadget, installing electronic appliances, new home electrical wiring, complete home electrical repair, or any other required electrical issues. Hiring experienced electrical technicians nearby will help you get tailor-made electrical services as per your specific requirements, whether it is a planned requirement or emergency electrician needs.
Tell us your Shifting needs and get free quote from top 3 moving companies near you for your upcoming relocation.
Go through our list of electricians in Mumbai to find the most suitable nearby electrician for your residential/commercial electrician job.
---
List of Top Electricians in Mumbai
AS Electricals
Services Offered: Electrical safety auditor, electrical maintenance, energy auditor
Address: Shop no 23 New shopping center, Government Colony, Near Rajdhani Bakery, Bandra East Mumbai, Maharashtra 400051
Phone: +917021219645, +918452040929
Email: as@asconsultant.in, electrical@asconsultant.in
Website: https://www.aselectricals.com/
Electrician Contract
Services Offered: All type of residential electrical services at an affordable price
Address: 1188/95, Anand Nagar, Jogeshwari West, Mumbai, Maharashtra 400102
Phone: +919833083766
Email: electriciancontract@gmail.com
Website: https://www.electriciancontract.net/
Francis Electrician
Services Offered: Full house wiring, servicing & repairs of all types of electronic gadgets like air-conditioners, refrigerators, washing machines, geysers, microwave ovens, water pumps, mixers/grinders, fans, heaters, water purifiers, tv/dvd players/music systems, and other electronics
Address: Francis Electrician, Kolivery Village, Kunchi Kurve Nagar, Kalina, Santacruz East, Mumbai, Maharashtra 400098
Phone: +919819966928, +919920540495
Email: franciselectrician@gmail.com
Website: https://franciselectrician.weebly.com/
Afzal Electrician
Services Offered: Electrical installation & repair services in Mumbai
Address: Room No. 7, Rafa Apartment, near La Delite Bakery, Versova, Andheri West, Mumbai, Maharashtra 400061
Phone: +919820770579
Website: https://afzal-electrician.business.site/
Arif Electrician
Services Offered: Electrical wiring & installation services
Address: 16th Rd, Khar West, Mumbai, Maharashtra 400052
Phone: +919768268843
Website:https://website-395936337872581934091-electrician.business.site/
Tarun Electrician
Services Offered: All type of electrical wiring & installation
Address: Service Shop no.2, Thakur House, Lokmanya Tilak Road, Babhai Naka, Borivali West, Mumbai 400092
Phone: +919930356122
Website: https://tarun-electrician.business.site/
T N Electricians
Services Offered: All kind of electrical wiring and maintenance
Address: Lit Market, Powai, Mumbai 400076
Phone: +919762601600
Website: https://tnelectricians.business.site/
Electrician Sion
Services Offered: Electrical wiring & installation services
Address: 133-131, Swamy Vallabhdas Rd, RB2 Central Railway Quarters, Sindhi Colony, Sion, Mumbai, Maharashtra 400022
Phone: +919768434540
Guru Electrician
Services Offered: Electrical wiring & installation services
Address: A12, Johnson Dsouza Compound, Opposite Boomerang Gate No. 2, Chandivali, Andheri East, Mumbai, Maharashtra 400072
Phone: +919867418773
24 Hours Electrician Service
Services Offered: Electrical wiring & installation services
Address: Mount Mary, Bandra West, Mumbai, Maharashtra 400050
Phone: +919930404573
Are you looking for shifting companies for upcoming relocation ?
---
About Electrician Services in Mumbai
Services provided for electrical services in Mumbai include basic electrical repair in Mumbai, along with various other services in all localities in Mumbai for any kind of accommodation such as apartment, home, office, or commercial establishments.
General electricians offer basic electrical maintenance services such as ceiling fan repair, installation of electronic appliances like AC, heaters, lighting, exhaust fans, geysers, etc., they will also check MCB trip issues, repairing fuses/switch outlets, problems in lighting or power, faulty wiring, and various others. Residential electricians in Mumbai will carry out safe installation of fancy light fixtures, LED/LCD TV, doorbell, home theatre, and any other electronic appliance that you may require to be installed.
Professional electricians in Mumbai are expert in carrying out complete home electrical inspection before you purchase or move into a new house; they will check for major as well as minor electrical problems such as loose connections, short circuits, burning smell in switchboards, problem in lighting, improperly working electrical sockets, MCB, meters, etc. Mumbai electrical technicians will also inspect the entire home electric wiring running throughout the house for old, faulty wiring, and replace them; domestic electricians will also replace old transformers within the building or on the roof space to prevent shocks.
---
Hire Cheap and Best Electricians Online Mumbai Near Me
Get in touch with licensed electricians in Mumbai to make sure your electric issues are resolved by highly trained professionals having good experience in the field. All you need to do is get in touch with affordable electrician Mumbai near me and explain the specific electrical services you require.
If you need electrician services in Mumbai at your current home or office, it is best to look for good electricians near me in Mumbai, so that you can get quality and professional electrician services immediately on time without wasting precious minutes or paying extra for their travel to your location.
Before relocating to your new home within Mumbai, it's advisable to inspect the house for any short circuits, loose connections, wiring issues, etc. To ensure you and your family have a safe environment at the new place, hire best electrician services companies for complete electrical repair solutions in Mumbai and get your issues resolved. Therefore, make sure you search for trusted online electricians in Mumbai from your current area and explain your specific requirements to them; professional electrician services in Mumbai who will not only take care of the complete home electric wiring but also perform the necessary domestic electric installation in case of faulty electrical points.
Also, remember to hire packers and movers in Mumbai to enjoy safe and smooth shifting. You can either directly contact relocation companies from our list of packers movers or share your requirements with us and instantly get references of 3 best match movers along with their cost estimates.
---
Before hiring affordable electrical services in Mumbai, make sure to have a look at the various services they provide, how much time they will take to resolve your issues, how much support they will give you from start to end, and how much they will charge for different electrical services. Get in touch with the right electrician in Mumbai for the specific electric wiring, electrical installation, or home electric repair services you require.