Hire Professional & Best Electricians In Hyderabad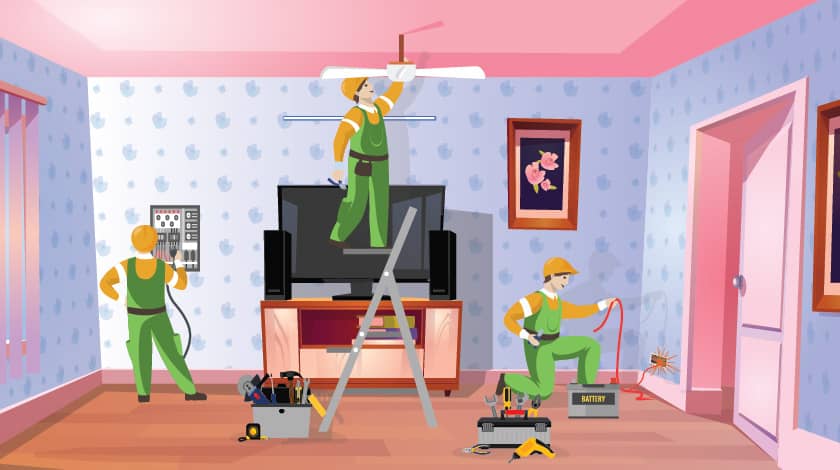 Get in touch with professional electricians in Hyderabad near me for any kind of home electrical wiring, electrical repair, or electrical maintenance at home, office, or any commercial establishments. Good electricians in Hyderabad offer best electrician services such as fan repair, fixing fuse wiring, meter repair, switch wiring repair, installing electronic appliances, repair of any electronic gadget, new home electrical wiring, complete home electrical repair, or any other required electrical issues. Hiring professional electrical technicians nearby will help you get customized electrical services as per your specific requirements, whether it is a planned requirement or emergency electrician needs.
Tell us your relocating needs and get quote from top 3 moving companies in Hyderabad for easy relocation.
Go through our list of electricians in Hyderabad to find the most suitable nearby electrician for your residential/commercial electrician job.
---
List of Top Electricians in Hyderabad
Doorstep Electrician Services in Hyderabad
Services Offered: Fuse box repairs and rewiring, electric central heating systems and electric underfloor heating, install, repair, and maintain all electrical appliances
Address: Home No 3rd Floor, Annapurna Block, Hyderabad 500082
Phone: +919177328032
Email: imranpashahyderabad@gmail.com
Website: https://doorstep-electrician-services-in-hyderabad.ueniweb.com/
Torch Everyday
Services Offered: Switchboard, pop LED wiring, power issue, UPS installation & repair, shock earthing repair, new electric wiring, fan, geyser, water motor repair
Address: H.No 19, 67, Aqsa Masjid LN, Prashanth Nagar, Roadamestri Nagar, Hyderabad, Telangana 500055
Phone: +918008822924
Website: http://www.torcheveryday.com/
Hyderabad Electrical Services
Services Offered: Electricians, inverter technicians, repairs electric appliances, CCTV technicians
Address: 5-7-425, opp Rahmath complex, Nampally Market, Nampally Road, Hyderabad, Telangana 500001
Phone: +918341335255
Website: https://hes34.com/
Reddy Electrician
Services Offered: Fan, tube lights, wiring, switchboard problems, MCB's, LED tube lights, fall ceiling lights, coolers, water geyser, gate lights, and more
Address: Chaitanya Nagar, BN Reddy Nagar, Hyderabad, Telangana 500070
Phone: +917337242463
Website: https://achyuthresu.wixsite.com/reddyelectrician
Mogo Electrician Services (MES)
Services Offered: All kind of electrical installation service
Address: Danaiah Nagar, Uppuguda, Hyderabad, Telangana 500053
Phone: +918125965064
Website: https://mogo-trades.business.site/
Wipia Electrician Service
Services Offered: Lighting, wiring, fuse box, MCB repair & installation, fan/ AC installation, etc.
Address: Ambedkar Nagar, Hafeezpet, Hyderabad, Telangana 500049
Phone: +917075238950
Website: https://wipia-electrician-service.business.site/
Sri Chandala Electrician Services
Services Offered: Electrical installation services, motor repair, etc.
Address: Langerhouze, Bapu Nagar, Near Bus Stop, Hyderabad, Telangana 500008
Phone: +919908409380
Website: https://sri-chandala-electrician.business.site/
Electrical Service
Services Offered: All kind of electrical wiring, installation, and repair services
Address: 12_2_881/51, Zeba Bagh, Asif Nagar, Hyderabad, Telangana 500028
Phone: +919398468870
Website: https://electricalservice-electricalinstallationservice.business.site/
Shiva Electrical
Services Offered: Household electrical works, geyser repair & installations, wiring, bore motor works
Address: Plot no. 314, Shop no.2 HMT Hills, Addagutta Society, Kukatpally Hyderabad 500072
Phone: +919010880108
Website: https://shiva-household-electrical-works-geyser-repair.business.site/
Anwar Electricals
Services Offered: Home appliances repair & installation, geyser repair, washing machine repair, UPS repair and services, and other electrician works
Address: 18-13-132/I, Rd Number 19, Ismail Nagar, Chandrayangutta, Hyderabad, Telangana 500005
Phone: +918686125066
Click here to Hire top professional moving companies for you affordable shifting.
---
About Electricians Services in Hyderabad
Services provided for electrical services in Hyderabad include general electrical repair in Hyderabad, along with various other services in all localities in Hyderabad for any kind of accommodation such as home, flat, villa, office, or commercial establishments.
General electricians offer basic electrical maintenance services such as ceiling fan repair, installation of electronic appliances like exhaust fans, heaters, AC, geysers, etc., they will also check MCB trip issues, problems in lighting or power, repairing fuses/switch outlets, faulty wiring, and various others. Residential electricians in Hyderabad will carry out safe installation of home theatre, fancy light fixtures, LED/LCD TV, doorbell, and any other electronic appliance that you may require to be installed.
Professional electricians in Hyderabad are expert in carrying out full electrical home inspection before you purchase or move into a new house; they will check for major as well as minor electrical problems such as loose connections, short circuits, problem in lighting, improperly working electrical sockets, burning smell in switchboards, MCB, meters, etc. Hyderabad electrical technicians will also inspect the entire home electric wiring running throughout the house for old, faulty wiring, and replace them; domestic electricians will also replace old transformers within the building or on the roof space to prevent shocks.
---
Hire Cheap and Best Electricians Near Me in Hyderabad
Get in touch with licensed electricians in Hyderabad to make sure your electric issues are resolved by highly trained professionals having good experience in the field. All you need to do is get in touch with cheap and best electrician Hyderabad near me and explain the specific electrical services you require.
If you need electrician services in Hyderabad at your current home or office, it is best to look for good electricians near me in Hyderabad, so that you can get quality and professional electrician services immediately on time without wasting precious minutes or paying extra for their travel to your location.
Before relocating to your new home within Hyderabad, it's advisable to inspect the house for any short circuits, wiring issues, loose connections, etc. To ensure you and your family have a safe environment at the new place, hire best electrician services companies for complete electrical repair solutions in Hyderabad and get your issues resolved.
Therefore, search for online electricians in Hyderabad from whichever locality you are currently in, and explain your specific requirements to them; professional electrician services in Hyderabad who will not only take care of the complete home electric wiring but also perform the necessary domestic electrical installation and repair in case of faulty electrical points.
Also, remember to hire packers and movers in Hyderabad to enjoy quick and smooth relocation. You can either directly contact relocation companies from our list of packers movers or share your requirements with us and instantly get references of 3 best match packers along with their cost estimates.
---
Before hiring professional electrical services companies in Hyderabad, make sure to have a look at the various services they provide, the time taken to resolve your issues, how much support they will give you from start to end. Get in touch with the right electrician services company in Hyderabad depending on the type of wiring, installation, or repair services you require.