Hire Professional & Best Electricians in Delhi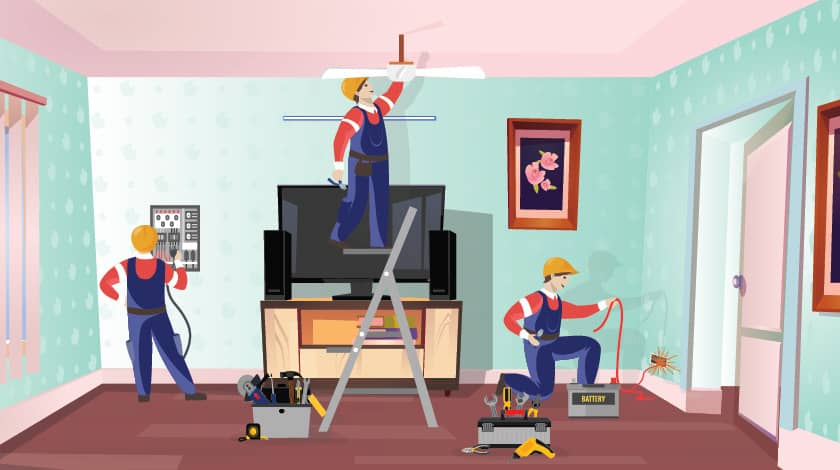 Get in touch with professional and affordable electricians in Delhi near me for any kind of electrical maintenance, electrical wiring, or electrical repair at home, office, or any commercial establishments. Qualified electricians in Delhi offer best electrician services such as meter repair, fan repair, switch wiring repair, fixing fuse wiring/ short circuit issues, installing electronic appliances, repair of any electronic gadget, complete home electrical repair, new home electrical wiring, or any other required electrical issues. Hiring good electrical technicians nearby will help you get tailor-made electrical services as per your specific requirements, whether it is a planned requirement or emergency electrician needs.
Go through our list of electricians in Delhi to find the most suitable nearby electrician for your residential/commercial electrician job.
---
List of Top Electricians in Delhi
Call to Help
Services Offered: Switches, Sockets, Fuse Boxes Rewiring, Appliance Repair, Lighting, Smoke Alarm, Security Installation
Address: 39A, Fashion Street Shahpur Jat, New Delhi - 110049
Phone: +919873236987, +918368169345
Email: info@calltohelp.in
Visit Site: http://www.calltohelp.in/
Right Handy
Services Offered: Sockets, Switches, Tubelight, Lamp, Fuse, Fan, MCB & Fuse, Switchboard, Geyser Installation, and Repair
Address: Shop No 17 Block D-95 A, Noida Sector 40, Noida - 201303
Phone: +917065590009
Email: yourrighthandy@gmail.com
Visit Site: http://www.righthandy.com/
Turbo Refrigeration
Services Offered: Electrical installation & upgrading services, and complete home electrical maintenance
Address: A 437 Durga Vihar Opposite A 460 Near Sainik Farm, Khanpur, New Delhi, Delhi 110062
Phone: +919818851473
Email: info@turborefrigeration.in
Visit Site: http://www.electricianatyourdoor.in/
Rahul Electrician
Services Offered: AC, Geyser Installation, and Wiring Services
Address: Sector 4 Rd, Sector 4, Dwarka, Delhi 110078
Phone: +919871888606
Visit Site: https://rahul-electrician-electrical-installation-service.business.site/
Fafa Electrician & Technician
Services Offered: Chimney, Microwave, Inverter, AC, Fridge, Mixer, Fan, Cooler, Room Heater, Washing Machine, etc., Installation and Repair
Address: A29 Ganesh Nagar, Pandav Nagar Complex, Delhi 110092
Phone: +919868671865
Visit Site: https://fafaelectrician.business.site/
RK Electrical Work
Services Offered: All Kind of Electrical Installation & Wiring Services
Address: F559/6 Alivihar, Sarita Vihar, New Delhi 110076
Phone: +917701854069, +917065916561
Visit Site: https://rk-electrical-work.business.site/
Shivraj Electricals
Services Offered: Electrical repair maintenance & installation services
Address: G 11/89, Sector 15 Rohini, New Delhi, Delhi 110089
Phone: +918802942010
Visit Site: https://shivrajelectricals.business.site/
House Electric
Services Offered: Inverter & Battery Repairing, Installation, AMC Work, Wiring Fault, APC 40KVA UPS Mains Problems, Fan Repairing, etc., At Home, Apartments, Industrial, Commercial, Schools, Office, Flats
Address: 191A, Malikpur Village, Tagore Park, Delhi 110009
Phone: +919773644275
Visit Site: https://house-electric.business.site/
JK Electrician
Services Offered: House Wiring, Single and Three Phase Wiring
Address: RZF 401/2 Raj Nagar, Part-2, Palam, Delhi 110077
Phone: +919650969178
Email: jaatukumar2@gmail.com
Visit Site: https://jkelectrician.business.site/
Electrician Guru Ji
Services Offered: Fuse Repair, Inverter Installation, and Repair, Wiring, etc.
Address: L-109, Gali Number 3, Part -1, Jaitpur Extension, Badarpur, New Delhi 110044
Phone: +917827753174
Visit Site: https://akash-electrician.business.site/
---
About Electrician Services in Delhi
Services provided for electrical services in Delhi include basic electrical repair in Delhi, along with various other services in all localities in Delhi for any kind of accommodation such as home, apartment, office, or commercial establishments.
General electricians offer basic electrical maintenance services such as ceiling fan repair, installation of electronic appliances like heaters, AC, exhaust fans, geysers, etc., they will also check MCB trip issues, problems in lighting or power, repairing fuses/switch outlets, faulty wiring, and various others. Residential electricians in Delhi will carry out safe installation of fancy light fixtures, LED/LCD TV, doorbell, home theatre, and any other electronic appliance that you may require to be installed.
Certified electricians in Delhi are expert in carrying out complete electrical home inspection before you purchase or move into a new house; they will check for major as well as minor electrical problems such as short circuits, loose connections, improperly working electrical sockets, problem in lighting, burning smell in switchboards, MCB, meters, and so on. Delhi electrical technicians will also inspect the entire home electric wiring running throughout the house for old, faulty wiring, and replace them; domestic electricians will also replace old transformers within the building or on the roof space to prevent shocks.
---
Hire Cheap and Best Electricians Online Delhi Near Me
Get in touch with certified electricians in Delhi to make sure your electric issues are resolved by highly trained professionals having good experience in the field. All you need to do is get in touch with affordable electrician Delhi near me and explain the specific electrical services you require.
If you need electrician services in Delhi at your current home or office, it is best to look for good electricians near me in Delhi, so that you can get quality and professional electrician services immediately on time without wasting precious minutes or paying extra for their travel to your location.
Before relocating to your new home within Delhi, it's advisable to inspect the house for any short circuits, wiring issues, loose connections, etc. To ensure you and your family have a safe environment at the new place, hire best electrician services companies for complete electrical repair solutions in Delhi and get your issues resolved. Therefore, make sure you search for trusted online electricians in Delhi from your current location and explain your specific requirements to them; professional electrician services in Delhi who will not only take care of the complete home electric wiring but also perform the necessary domestic electric installation in case of faulty electrical points.
Also, remember to hire packers and movers in Delhi to enjoy safe and smooth shifting. You can either directly contact relocation companies from our list of packers movers or share your requirements with us and instantly get references of 3 best match movers along with their cost estimates.
---
Before hiring cheap and best electrical services in Delhi, make sure to have a look at the various services they provide, how much time they will take to resolve your issues, how much support they will give you from start to end, and how much they will charge for different electrical services. Get in touch with the right electrician in Delhi for the specific electric wiring, electrical installation, or home electric repair services you require.